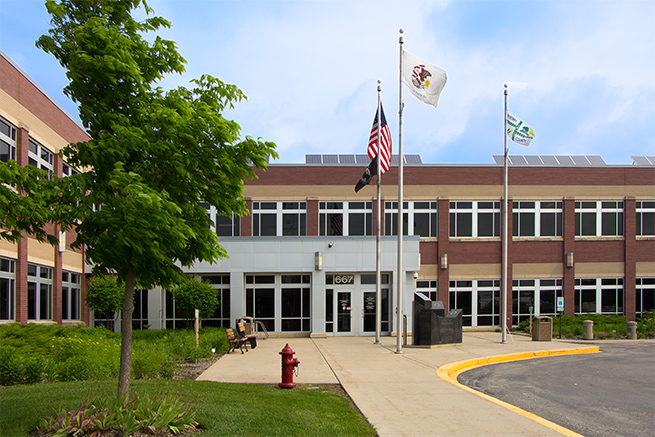 Each year, ELGL honors the "Best Places to Work in Local Government" by sharing the policies and programs that make towns, cities, and counties great places to work. This series showcases our 2021 honorees. View all 2021 award winners here.
---

McHenry County, IL
---
Why they're the best: Work-Life Balance & Benefits

Programs they offer: Flexible scheduling, Summer hours, Floating holidays, Walking or active meetings, Innovative health benefits, Mental health training and a culture of mental health support
Learn more:
McHenry County has been very open to the idea of allowing staff to work from home in the past 1.5 years. The County has promoted health, including providing identified outdoor walking paths to encourage active meetings.
---
Why they're the best: Workforce Development

Programs they offer: Succession planning, Cross training opportunities, Organizational structure, Radical transparency in decision making
Learn more:
McHenry County, especially in some Departments, has encouraged the development of staff through training and cross-understanding opportunities. In some instances, skip-level and meet-and-confer methods have been employed with staff.
---
Why they're the best: Employee Engagement

Programs they offer: Creative engagement policies (e.g. employee-driven programs and events), Employee recognition, Employee health and wellness focus – and investment, Dedicated space for employees (out of the public, for lunch, relaxing, meetings, etc.), Awesome internal communications strategies, Innovation teams and cross-departmental teams/trainings/focus
Learn more:
McHenry County has employed countywide emails to staff that convey broad-level messaging to staff, especially important during the pandemic. The County recognizes staff on both a regular and annual basis, allowing for supervisors and managers to recognize high performing staff. The County has developed innovative and incentive-based health initiatives through its Human Resources Department.
---
Why they're the best: Recruitment

Programs they offer: Creative recruitment (e.g. using social media and other digital tools, or holistic and values-based evaluation of candidates), Elimination of educational requirements
Learn more:
While not name-blind, the County will allow for qualified applicants to seek employment with the County, and outside of specifically education-required positions, has sought the applicants who could best perform the job. This has resulted in amazing hires that might otherwise be overlooked. Social media and other mediums have been commonly employed to seek new applicants.
---
Why they're the best: Other important workplace programs
Learn more:
The County encouraged the development of a bicycle program to allow for staff to self-transport to-and-from the local downtown area. The program ended with the closure of the bicycle operation (no fault of the County), but is being reconsidered.
One of the best aspects of the County is localized IT staff. They are internal staff, and locally available to troubleshoot problems at a very personal level rather than through an online portal or phone call.
The County encourages the development of staff in their professional roles. We are not micro-managed and can complete our jobs without excessive oversight . This encourages the proper amount of free thought, but also encourages the managerial conversations that are completely necessary.
---
Special thanks to Hans Mach, Community Development Administrator, Grantmaking Division for this nomination. He writes, "I would like to recommend our County Administrator, Peter Austin, be recognized for developing a strong workplace and for encouraging the development of County staff. Mr. Austin has allowed managers to make effective and appropriate workplace decisions that allow staff and the community to thrive." Please connect with Hans if you'd like to learn more about McHenry County programs.