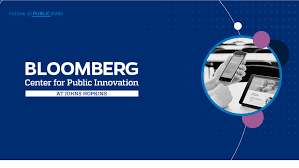 The new Bloomberg Center for Public Innovation at Johns Hopkins University is currently recruiting two exciting positions. The roles are based in Baltimore and would work with the center's Academic Practice, where we bridge research and practice to advance the field of public innovation in city halls around the world.
We are looking for candidates with a passion for cities and public service and the curiosity and courage to test new ideas.
One position is the Program Administrator for Fellowships and Faculty, who will work with Hopkins faculty and the center's public innovation fellows, who are leading civic innovators from the US and abroad that spend two years with us to develop thought-leadership. The program administrator role is responsible for managing programs that promote the implementation of the center's research agenda and related activities, including seminars, speaking engagements, and fieldwork. LINK
The other position is the Program Coordinator for Student Engagement and is focused on managing the center's student-facing programs where Hopkins undergraduate and graduate students work directly with cities to tackle pressing priorities by promoting public innovation practice and research. LINK
The Academic Director, Francisca Rojas, is happy to chat with any interested candidates – her email is [email protected] and cell 202.499.9788.