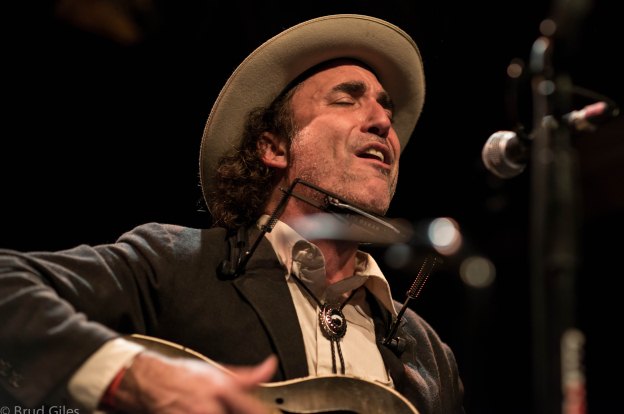 After a full day on "wonking" it out at #ELGL13, we'll celebrate our community at a Social Hour sponsored by Johnson Controls. The social hour will be highlighted by a performance from Blues Master Joe McMurrian. Joe has performed at the Portland Blues Festival and has been described by Oregon Music News as,
"..brilliance, tension, effortless charm, dynamism, taste, character, and heart. Strong stuff. This one ain't poured from the house well. This is the stuff they break out for the serious customer.."Joe McMurrian is one of those rare players who has developed his own idiosyncratic instrumentalist's vocabulary. Never meaninglessly showy, but a fierce approach which is continually, assuredly asserting itself as a voice —despite uncanny reverberations of the past—like no other. That he has done this with his songwriting too is almost a bit unnerving. But perhaps in the end, it may be the vocals that penetrate the most. A strange marriage of smoky tone, restraint, exuberance, and implied weariness.."
Connect with Joe: Facebook, Twitter,  World Wide Web, YouTube
Background Check on Joe
Joe McMurrian is a Delta Blues/Roots songwriter/ guitarist based in Portland Oregon. He has a rich capability to infuse tradition with contemporary invention through his intense finger-style, slide guitar work and original storytelling. Joe is deeply influenced by the Delta Blues and American Hill country masters like Skip James, Son House, Doc Boggs, Robert Pete Williams, Fred McDowell, Robert Johnson, Bukka White, R.L Burnside, Roscoe Holcomb, Blind WIllie Johnson, Lightning Hopkins and modern players like Buddy Guy, Bert Jansch, Jimi Hendrix, Cream, Leo Kotke, Doc Watson, James Blood Ulmer, Chris Whitley, Junior Kimbrough and Rajeev Tarnoth. Joe blends all these influences into a powerful modern gumbo that can switch from gut wrenching hard driving deep blue's to intricate acoustic ballads. Recently Joe has formed the power quartet Woodbrain, signed with Memphis Label Yellow Dog Record and has picked up the electric guitar he used to play so much as a teen and plugged into an amp full of electricity to explore the endless possibilities available to this dynamic new band sound. The result is the new release, Swimming in Turpentine, an album that promises new & exciting things things to come for Blues and Roots music.
When he was 9 Joe found his father's steel slide guitar up in the attic and decided to start playing. His father still played a little slide and standard guitar that he used to play in the 40's, so Joe learned the basics of various Willie Nelson, Muddy Waters and Jimmy Rogers songs. 32 years later he still likes it.
Joe is a native of the Northern California, San Joaquin Delta region. Eight years ago he relocated with his family to Portland after a ten year stay in various areas of Los Angeles where he went to art school and performed on streets and in the clubs to hone his craft. As a solo artist, McMurrian released his debut, "Rain of Days", which was voted the #2 best independent blues release of 2006 by the International Blues Foundation of Memphis as well as reaching the #5 slot on Japan's Tower Records chart.
In Los Angeles he played every acoustic venue available, as well as receiving weekly airplay on the prominent radio station KCRW in Santa Monica. Joe has performed at countless venues & numerous festivals Including the Portland Waterfront Blues Festival (the past 4 years), Portland Brewers Festival, Park City Utah Founders Tile Bluegrass and Folk Festival, Pasadena Blues Festival, String Summit and the Listening Room concert series in Los Angeles. He has appeared with such luminaries as John Mayhall, Paul Geramia, LouisianaRed, Keb Mo, Paul Livingstone, Eddie Kirkland, John McEuen, Charlie Musslewhite, Preacher Boy, Canned Heat, Sonny Landreth & Little Charley and the Nightcats to name a few.