Brandon Chapman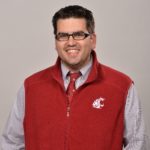 Director of Marketing and Communications, Washington State University & Pullman City Councilor
---
Favorite song from 2018: 
Not sure. I love anything with sick Latinx beats. My 11 year old and I had a routine of listening to X by J. Balvin on the way to the ballpark every day, so probably that one.
Favorite book from 2018: 
Walkable City Rules by Jeff Speck.
Proudest work accomplishment in 2018: 
Introducing Indigenous Peoples' Day in Pullman and getting it through the process and passed, which then started another process of Washington State University doing the same thing. I felt proud of this because we have a welcoming community but it still takes courage to do something that will make some folks upset (and I did have a fellow council member not very happy about it).
People who most positively impacted you in 2018: 
Steve Hall, and family-practice doc in Pullman with whom I rendered a lot of community service. He reminded me of how to serve with all my heart and do it for the right reasons.
New Year's Resolution(s) for 2019: 
Be as positive on Twitter as I am on Facebook… don't get caught up in the negativity that besets us so greatly these days.
Prediction(s) for 2019: 
Banner year for the City of Pullman.
What question(s) should we ask on the next new member questionnaire? 
What hashtag best describes you?