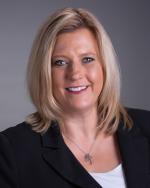 Brenda Shott

Assistant CEO, Finance and Internal Operations, Orange County Employees Retirement System, CA
---
So far, what's your proudest accomplishment in 2019?
It's still early in the year and I have a list of things I want accomplish 2019.  But, at this point in the year,  I am proud that I have already begun making progress on moving forward in reaching my goals!!
Valentines Day is in February. What do you "love" about your job?
As the Assistant CEO of a retirement system, I love being a part of pursuing our Agency's mission of providing secure retirement and disability benefits with the highest standards of excellence.  Every day is an adventure here at the Orange County Employees Retirement System (OCERS)  which allows me to  continuously learn!
(Complete the sentence) Before I die I want to…
I am not one to wish my life away, so I will continue to embrace and enjoy the rest of my working years.  But,  I am absolutely looking forward to enjoying my retirement years and traveling the world.  I will make sure to visit Germany, Italy and Ireland as they are on the bucket list!
10 Year Challenge! What were you doing in 2009? How did it help you reach your current position?
In 2009 I was the CFO of two JPAs that built and operated toll roads in Orange County California (Transportation Corridor Agencies – TCA).  That position helped me reach my current position because TCA was a participating employer in the retirement system.  After working with OCERS' staff on a number of issues, I became very interested in the actuarial valuations as well as the investment portfolio of OCERS.  When they had an opening for their Assistant CEO, I saw it as an opportunity where I could bring value to an organization and I could grow my knowledge of an industry that intrigued me!!
(Complete the sentence) The first time I heard about ELGL was…
At a GFOA Conference two years ago.  One of the speakers spoke very highly of ELGL so I made a note of it.  I came across that note recently and I figured it was worth a look!!
What question should we have asked? What's the answer?
Where did you travel to in 2018?
Scottsdale & Phoenix, AZ,
Wake Forest, NC
San Diego, CA
Lake Havasu, AZ
Washington, DC
Philadelphia, PA
Cabo San Lucas, Mexico
---
Welcome to ELGL! We profile our members so you can learn more about them and also connect on Twitter and LinkedIn to grow your local government network! Reach out to our new and renewing members and strengthen your local gov community.