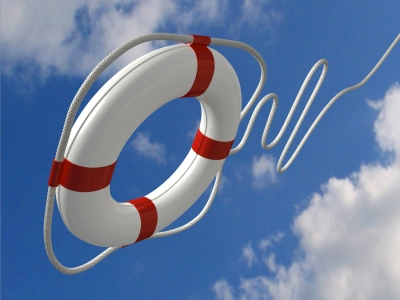 What I'm Watching: F1 German Grand Prix: Chaos in the Rain
What I'm Reading: The Five Disfunctions of a Team by Patrick Lencione
What I'm Listening To: Criminal Episode #119: Using a concrete Budha statue to reduce city littering!
---
One of my favorite Morning Buzzes (Buzz's?) was Will Hampton's presentation of the Bleiker Life Preserver as a communication template and consent building strategy. The idea of a life preserver being tossed out when the waters in local government get murky for us, is outstanding.
I have hung another life preserver on a hook, ready to remind me to bring the audience with on the journey… not just surprise them with a final destination.
Let's consider the following, hypothetical scenario: You're excited for tonight's board meeting. You finally get to present on a budget request to add an employee to handle communication and community engagement needs. You're excited because you've been pondering this idea for a long time. Maybe you've been exploring the idea through ELGL members and being aware of the good work that is being done in other communities. You've brought yourself up to speed on the hows, the whys, and maybe even a funding source in your budget to handle the new position.  You are sure that it even aligns with goals previously set by the board.
And then the presentation bombs and you're standing there like:
Instead of talking about how to accomplish the new hire and what future goals to set, you're suddenly at first base with a board that isn't sure what a communications person even does, let alone why they would see the need to hire one.
(Oopsie.)
Consider this a reminder to remember where your audience is at on the progression of a thought or idea. It's easy to get hyper engaged on a topic, and when I'm ready to share a thought, idea, or hope… that I don't start early enough in the narrative.
Like if I was introducing a path forward with a consultant to introduce emotional intelligence (EQ) to our organization without having first checked in to make sure our leadership team understands what EQ is.
(This is a hypothetical example, of course.)
(Oopsie.)
Being an engaged local government professional can mean that you're brain is running FAST. This isn't bad. Just don't fall into a trap of forgetting to stop and bring others up to speed.  Share the knowledge and build a base of understanding. Then hit that idea out of the park. Because sometimes the idea is still good, we just need to bring our audience with.
F1 Driver Lewis Hamilton via GIPHY
I'd love to hear about other life preservers that you use as reminders.  Hit me up on Twitter @mskibbe.
---
Today's post is by Mike Skibbe, Deputy Director of Public Works with the Village of Buffalo Grove, IL.  You can read more of his musings at ELGL.