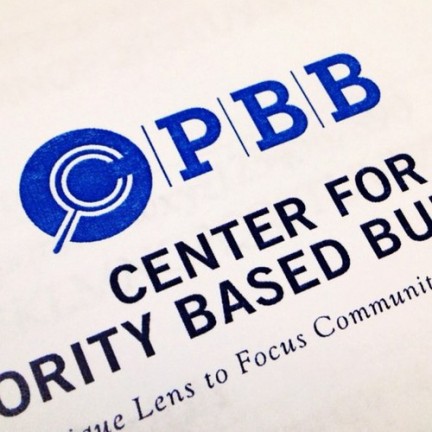 Center for Priority Based Budgeting (CPBB)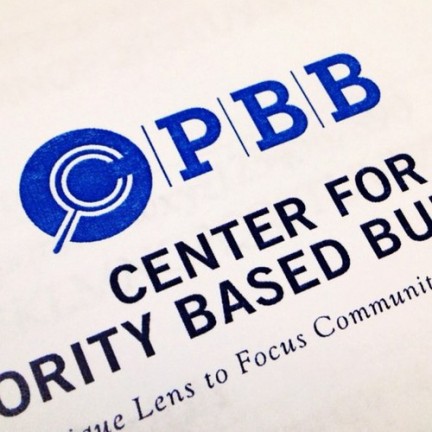 Stay Connected: Blog, Email, Facebook, LinkedIn, Twitter, and Website
Background Check
The Center for Priority Based Budgeting™ (CPBB), a Denver, Colorado-based non-profit organization established in 2010, provides technical and advisory services to assist local governments, school districts and other non-profit agencies achieve Fiscal Health and Wellness through Priority Based Budgeting. This creative and innovative process, developed by CPBB, enables communities to reassess their priorities in order to make sound, long-term funding decisions. Establishing a non-profit solidifies CPBB's mission of being a trusted advisor and a dependable, objective resource, assisting local government leaders who are seeking service excellence, transparency to their stakeholders and a strong desire to achieve the Results that are important to their community.
[youtube http://www.youtube.com/watch?v=BCirxOwraUo&w=560&h=315]
From large organizations (such as the cities of Cincinnati, Ohio, Sacramento, California and Edmonton, Alberta) to mid-sized communities (like the Colorado cities of Boulder, Wheat Ridge and Fort Collins) to smaller communities (such as Blue Ash, Ohio and Douglas County, Nevada), the processes and tools developed by CPBB have proven effective, scalable, and best of all, repeatable.CPBB has already led over 40 communities through this comprehensive body of work. As a result, in 2012, ICMA established Fiscal Health and Wellness through Priority Based Budgeting as a leading practice for local governments.
Q & A with Erik Fabian, Chief Creative Officer
Highlight

three things

that we need to know about CPBB and its mission.
First, we're a non-profit, motivated entirely by the idea that we can bring an entirely new way of looking at resource allocation (a "new lens") to every community who identifies with the questions we're digging into around prioritizing.
Second, in terms of this "new lens," what we mean by that is a way of looking at resource allocation that is driving many new conversations, so different from traditional budgeting – a way to answer what we think are some of the more relevant questions for our organizations:
What is the local government uniquely qualified to provide, for the maximum benefit to citizens for the tax dollars they pay?
What is the community truly mandated to provide? What does it cost to fulfill those mandates?
What are the appropriate programs to consider establishing or increasing user-fees?
What are the appropriate programs to consider partnerships with other community service providers?
What services might the local government reach consensus about "getting out of the business" of providing?
Where are there apparent overlaps and redundancies in a community where several entities are providing similar services?
Where is the local government potentially competing against businesses in its own community?
The new lens of priority-based budgeting makes it possible for elected officials, citizens, decision-makers and staff to agree and:
To see how to align scarce resources with the highest priorities of our communities.
To see the most appropriate service provider for the programs we offer.
To see what services residents are willing to pay for.
To see public and private-sector partnerships ripe for leveraging.
To ultimately see a new way of determining which  services our local government is best suited to provide—services that have the greatest impact for the resources within the community's means.
Third, Priority Based Budgeting (the entire body of work: Fiscal Health and Wellness through Priority Based Budgeting) has been declared a Leading Practice by ICMA. As you may have heard, ICMA and the Alliance for Innovation have partnered in the creation of ICMA's Center for Management Strategies. The Alliance has formally taken on the role of identifying and vetting "Emerging Practices" that stand at the frontier of innovation in local government management. And as a result of the vetting process, ICMA has the role of identifying the "Leading Practices" that every local government would benefit from implementing. The idea is that "Leading Practices" are being differentiated from "Best Practices," in that Leading Practices ARE Best Practices, but they are also immediately relevant for today's needs in local government. (Priority Based Budgeting was among the first two to go through the vetting and confirmation process).
Provide a few examples of cities that are effectively using PBB.
Case Studies: Walnut Creek CA, Cincinnati OH, Monterey CA
We know you've opened a Portland office, talk about the reasons behind it and any work you've done with cities in the Pacific Northwest.
The City of Tualatin, Oregon is among the very first to adopt the Fiscal Health Diagnostic Tool, putting it to use in 2009 and continuing to this day. Fiscal Health has become a means of communication – a translator of financial information for decision makers. In fact, since 2009, the City has been so diligent about using the Diagnostic Tool to maintain their Fiscal Health, we joke that they have prevented the need to ever use Priority Based Budgeting! The City uses Fiscal Health to communicate with elected officials, and as a data-visualization tool that depicts real-time impacts of various scenarios with a financial impact.
We're so pleased to announce that the City of Springfield, Oregon will be the first to go through the Priority Based Budgeting process. Their work begins this June (less than one month) and we'd love to share stories about their journey with ELGL, as implementation takes place. What's awesome about Springfield is that they've already accomplished much of what look for in terms of identifying and defining the answer to the question: "why do we exist? What are we in business to do?" The answer to that question is what we call "Results" against which services are evaluated and scored. For them to have "Results" already in place means that we can build naturally upon work they've already done!
Other organizations near Oregon and the Pacific Northwest include the City of Sacramento, California (to the south), Douglas County, Nevada (to the southeast), the City of Billings, Montana and the City of Post Falls, Idaho (to the east)
We'd love to have more involvement in the work of local government in the Pacific Northwest, what we constantly see to be among the most innovative and progressive communities in the Country. This is the number 1 reason driving our decision to open a Portland office.
What are the important criteria to consider on whether to use PBB in our organization?
We love trying the old criteria "begin with the end in mind" and imagining what would happen. That seems to be the most important criteria. So let's try it out. Imagine, for example, if there was a way to partner with other local governments, other non-profits, and/or other businesses in your community that would result in better service delivery, with a more efficient use of the resources to deliver that service, would you want to know for what services you could find this answer? And would you be willing to take the next steps of making the change to achieve this partnership? (this is going to come out of the PBB process; the next step is implementing the partnership)
If you answer "yes" then your organization is ready.
If the answer is "no" then you might still be ready, but it would take some further discussion.
ELGL is hosting its annual conference in October, give us three ideas for topics or speakers that we should include.
Citizen Engagement – such great things are happening on this front, and today's citizens have better and more meaningful ways to influence decision making than ever before. Especially on the technology front, citizen engagement is accessible to everybody.
Shared Services (Public / Public and Public / Private Partnerships) – local government no longer needs to be everything to everybody. We heard Bill Clinton give a speech recently where he said the single thing he'd love to "do-over" from his Presidency would be to understand all of the non-profits out there, what they're doing, and how government could partner better. It's more efficient, there's less duplication, and we must find the best providers of services who have the greatest chance of achieving great outcomes. We feel the same thing about local government. Some of the best things taking place in a community are coming about from partnerships, where local government is the leader, the facilitator and often times a key partner, but not always necessarily the only possible service provider (see this great story from the City of Fort Collins, CO regarding Economic Development ).
Fiscal Health & Priority Based Budgeting – ultimately, everything comes back to resources, dollars, taxation, and what a community can afford to accomplish. We're working on this piece of the puzzle, and have some great stories to tell!
What are your impressions of local government in the Portland area? What about the role of Metro?
Portland's unique Commission form of government intrigues us.  In general the city seems relatively well governed. Of most interest to us is the huge opportunity area that appears to exist, and we'd love to find a way to get the "new lens" in front of the City.
In the realm of public/public partnerships, we have seen again and again how cities and counties can achieve a sweet spot for collaborative service delivery. The trick is identifying just where those opportunities exist. When we read the recent Audit Report: Urban Services Policy & Resolution the sentence that was music to our ears was  "…the IGA does not provide enough specificity to work in today's government environment and does not provide, as some appear to believe, a comprehensive listing of the City's core, basic services." The CPBB strongly endorses a thorough understanding of all services a city provides – in fact, step 3 of the PBB process is the development of a comprehensive program inventory.
Street maintenance – The City's focus on public transport is admirable. Many other cities covet the public transport infrastructure that exists here.
As far as Metro, this is another example of a unique governing model. With Metro primarily concerned with land use planning across its three county jurisdiction, it appears to have been successful in planning for and managing smart regional growth.
What will CPBB look like in 2020?
CPBB is intent on helping communities get the absolute most out of their resources, from all of a community's service providers – public and private. By 2020, we hope to see more of a community's institutions participating in the PBB process so that we can effectively prioritize dollars across a greater spectrum of service providers. Imagine what happens when we see the allocation of an entire community's contribution, measured across every service provider – public and private! Imagine the opportunities for partnership; for finding the best service providers for specific programs; for minimizing redundancy and maximizing value. We're already seeing how that happens right now. By 2020 we'll be seeing the effective interplay between all service providers in a community, with results driving the conversation.
Best things about living in PDX:
Food scene
Powells
City Club
Proximity to ocean, desert and mountains
Urban Growth Boundary
Local distilling
OMSI
Public transport (and commitment to bicycling)
Worst things about living in PDX:
Traffic on I-5
MAX train power outages
Permanent lines outside Apizza Scholls and Porque No
Finally, we know CPBB has an active social media presence. Talk about CPBB's strategy in using social media and which social media outlets do you find most effective?
CPBB's social media strategy is to consistently and frequently provide relevant information revolving around innovative work of local governments. We want to break the mold that all local government is boring.
We, like most, utilize twitter, Linked In, Facebook and an active blog. Tying these social media opportunities together in a coherent, engaging and entertaining way is imperative for us. Linked In "groups" has been very effective for us and we participate in dozens of group conversations. But Twitter is our most effective tool as it allows us to notify folks of new blog or LI content and invite folks to participate. Finally, we also focus (to the extent possible) on the positive and always look for ways to recognize those who are making innovative and creative impacts in their communities.
Supplemental Reading
Center for Priority Based Budgeting 2013 Conference
Longmont, CO City Council Steps into Priority Based Budgeting
Achieving Fiscal Health and Wellness through Priority Based Budgeting
[youtube http://www.youtube.com/watch?v=ChLl0oLIFaQ&w=420&h=315]