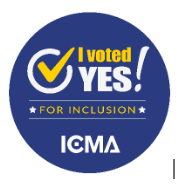 This post is by ELGL member Heather Geyer, City Manager, City of Northglenn, CO. She's also the Mountain Plains Senior Vice President on the ICMA Executive Board. Follow Heather on Twitter and LinkedIn.
---
"You can't be what you can't see." These words have always been with me throughout my local government career, but especially so since I joined the ICMA Executive Board two years ago.
The topic of diversity and inclusivity has been a challenging topic for the Executive Board. This may come as a surprise to some, but many may be aware of the start-stops.
Fortunately today, we are making progress. I admire and thank my Board colleagues who for the past two years have rolled up their sleeves and dug into very difficult conversations that first lead to the creation of a Diversity sub-committee and ultimately led to the entire Board bringing forward four constitutional amendments. 
Why do I share the difficulty that the ICMA Board has had on this topic? I think we are at a moment in history when we cannot diminish the importance of the Board identifying the barriers that exist in our own professional association.
While these now identified barriers served a purpose at a certain point in time in our association history, I do not believe they are useful to who we are today and where we are headed. I am also a firm believer that if we are truly going to be the leading local government management organization, our association leadership needs to practice what we preach.
I often get asked why I support the constitutional amendments and for me it is simple. Our association needs to reflect the democratic principles we live, breathe and uphold in our communities daily.
I don't take for granted a single opportunity that I have had as an ICMA member, from my first conference to the EDLP to Leadership ICMA to now serving on the Executive Board. ICMA has played a significant role in preparing me to become a city manager and I want those same opportunities to exist for others, not only today, but well into the future.
We all know there is no one "right" path to becoming a city manager and we all know that becoming a city manager isn't the goal for everyone. Is there room for managers and non-managers ICMA? Absolutely!  
I'll never forget being very moved by the words of Bonnie Svrcek, City Manager of Lynchburg, when I heard her speech as ICMA President. Later it was the words of Pat Martel, retired City Manager, West Coast Regional Director, then the words of my fellow Board colleague and Past President, Karen Pinkos, City Manager of El Cerrito and most recently, President Jane Brautigam, City Manager of Boulder.
For the first time in ICMA history, we have two back-to-back female presidents. I cannot wait for the day when percentage of female city managers is 50+ percent of our profession. Below 20 percent or just above 20 percent is not enough. Change cannot happen if we do not remove our own institutional barriers.    
Voting closes on February 10th and as we move into the final days…I can share that I am hopeful that our membership is ready for change. If the outcome isn't what we hope for come next week, I know that the Executive Board is committed to fully debriefing the vote results and next steps when we convene for our next quarterly Board meeting.  
A special thank you to the leadership of Colorado City County Management Association (CCCMA) who have endorsed these measures.
---
A Closer Look at the Four Constitutional Amendments
#1 – VOTING RIGHTS
Extend voting eligibility to Affiliate Members in service who have been a member of ICMA and serving in a local government for five years. Affiliate members retain voting rights only if they are in service to a local government.
#2 – EXECUTIVE BOARD DIVERSITY
Extend eligibility to serve on the Board in the designated non-CAO position to Affiliate Members in service (entry-level, mid-management and department directors) who have been a member of ICMA and serving in a local government for five years.
#3 – REGIONAL NOMINATING COMMITTEES
Allow any ICMA member serving in a local government and in good standing to serve as the appointed representative to the Regional Nominating Committee.
#4 – IMPLEMENTATION
Amend the Constitution to remove the current requirement that amendments take place 10 days from the vote and replace it with the requirement that any proposed ballot amendment will include an implementation timeline.
---
More resources: