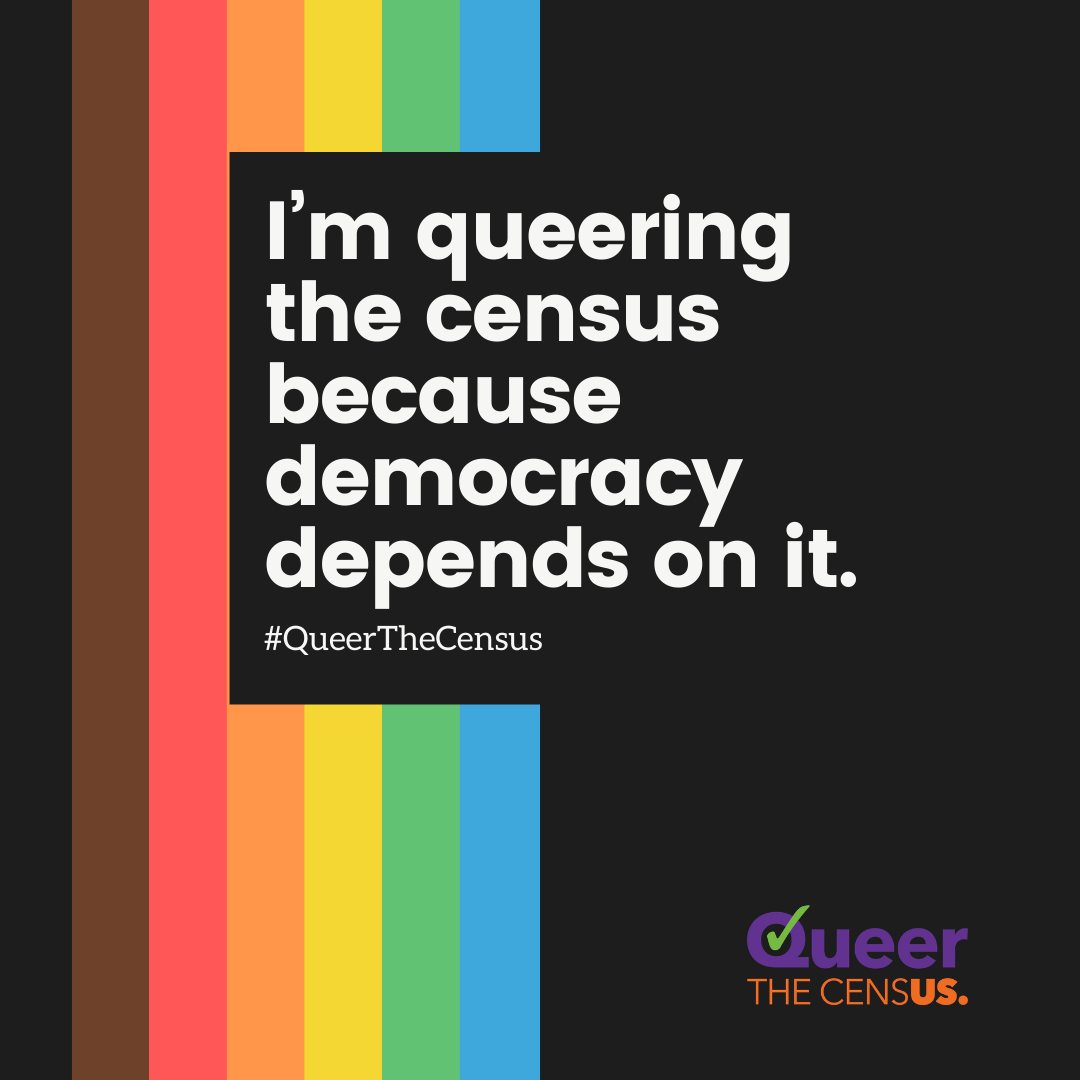 The National LGBTQ Task Force invites local government to participate in a very special Census Week of Action during Pride Month.
There are five days of actions, starting June 22nd and running through June 26th, for LGBTQ individuals and communities to share the many ways in which we all count and how each one of us deserves to be counted.
So whether with words, art, or dance, we are counting on you to join us in Pride and celebration!! Below are the days and how you can get involved:
---
Monday 6/22: I #QueerTheCensus Because
Share why you're filling out the Census.

Post to social media with #QueerTheCensus, #QTC, and #BeYouBeCounted.
---
Tuesday 6/23: Taking The Census
This year, the Census has taken some steps forward and other steps nowhere, when it comes to LGBTQ people being counted. While same-sex relationships can be identified in one question, gender that isn't binary cannot.
We're asking LGBTQ community members to share stories about their experiences taking the Census by post your story via social media (FaceBook, Twitter, IG), tag the Task Force (@thetaskforce), and use our hashtags (#QTC #BeYouBeCounted, #QueerTheCensus).
---
Wednesday 6/24: Census and Your Community
There is a lot at stake for your local community tied to the 2020 Census. For the next ten years levels of government and nonprofit funding, school districts and school funding, city planning, government representation, and so much more will be based on numbers from the 2020 Census. Share a fact you found out about your state and how it's tied to the Census from our fact sheets here.
---
Thursday 6/25: Census and the Future Haiku
Given the wide range of funding, programs, and democracy initiatives that are impacted by the outcome of the 2020 Census, imagine the next ten years and what it could look like if we achieved a fair and accurate count.
Imagine what our future could look like if we had a fair and accurate count.

Write a poem using the haiku format of three lines, 17 syllables

Share your haiku with us and post on your preferred social media platform using #QueerTheCensus #BeYouBeCounted #QTC
---
Friday 6/26: I Dance Because I Count
As our Pride Week of Action comes to an end, come celebrate with us! Thank you for taking part in our week and ensuring you and your fellow LGBTQ+ peers are being counted in the Census. Though Prides across the globe have been canceled, we're still in the Pride month spirit and we're going to dance about it! · Pick a song from our Census playlist and make a home video dancing to the beat of your own drum.
Make sure to use the hashtag #BeYouBeCounted and tag the National LGBTQ Task Force in your post.
We will be showcasing all the wonderful LGBTQ+ people who have been counted in this year's Census and why that's a reason to celebrate! We hope you can join us!