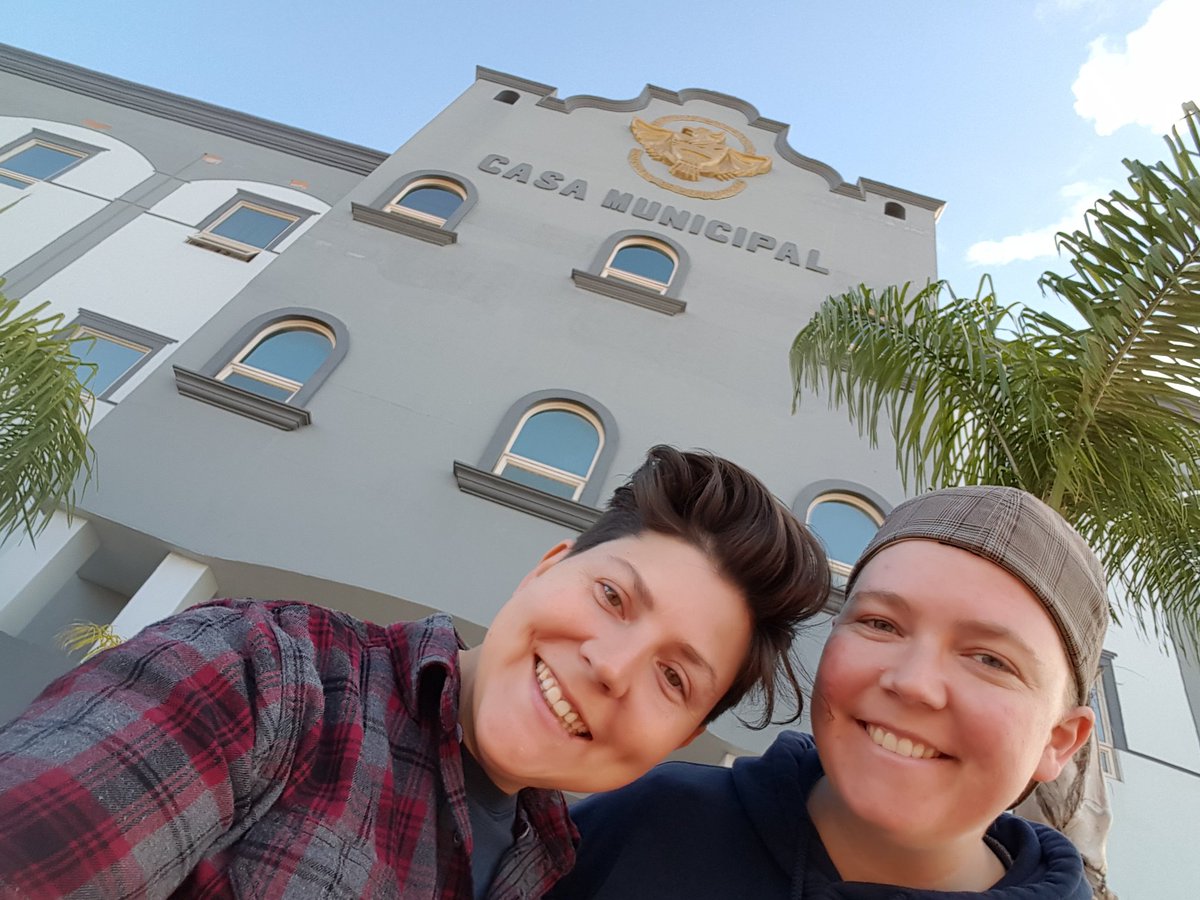 This guest blog is by Pam Davis (Weir), Assistant to the City Manager, City of Goodyear. Connect with Pam on Twitter.
---
My love for the #cityhallselfie borderlines on the absurd. Since January 2015, I have shared more than 30 selfies from communities in 11 states and 2 countries.
I don't travel anymore without making time for at least one, and those close to me have come to expect me to squeal with excitement and whip out my phone upon spotting a public facility.
To me, the #cityhallselfie is the ultimate outlet for my obsessive passion for local government. I could go on forever about all the reasons I love it: it inspires basic engagement with local government, it promotes enjoyment of public spaces, it has allowed professionals and residents across the globe to connect and compete over their favorite city and county buildings, it has helped me increase my professional network, and so much more.
These selfies have also contributed to my personal life in very positive unanticipated ways. I'm barely exaggerating when I say they contributed significantly to the evolution of my relationship with my wife, Leanne, who I recently married in April.
So thanks, ELGL, for not only supporting my professional development but also for bringing me closer to the love of my life.
I met my talented, graphic designing, woodworking, Air Force veteran superstar wife thanks to the internet. On our first date, I was already gushing about my Knope-like love for all things local government.
Thankfully, she found this endearing and interesting—we wouldn't have lasted long if she hadn't.
Our first #cityhallselfie together was on our third date in early 2016.
We were on our way to her favorite makerspace to do some crafting, and passed right by City Hall in Chandler, Arizona. I knew she was a keeper when she not only tolerated me stopping to take the picture, but eagerly jumped into the frame.
Her appreciation of my silly passion is one of my favorite things in the world. This was also our first-ever photo together of any kind, so it will always be a REALLY big deal.
The first #CityHallSelfie Day in 2016 fell around the 8-month mark of our relationship.
Leanne was out of town on a month-long adventure camping and writing along the Mississippi River, and I was home running around the west valley snagging as many selfies I could on a single lunch break from my job in Goodyear.
I had told Leanne about the holiday, but I had no idea she would go on to become an award-winning selfie-taker that year. Her #cityhallselfie in Deer River, Minnesota would lead to her place in history as the first ever citizen-selfie award winner.
Needless to say, I'm pretty sure our fate was sealed at that point. How could I ever find someone more amazing in my whole life?
We celebrated our one-year anniversary in Rosarito, Mexico.
Leanne proposed to me on the beach at sunset using a custom-made view master filled with photos of our relationship including—you guessed it—our first selfie.
It was the most whimsical and romantic moment of my life. We enjoyed exploring Baja California the next morning.
What's the first thing we did as fiancés you ask? Took a #cityhallselfie of course!
Quick emotional side note: being a government nerd while also being gay has not always been easy or joyful. For the most part, those are stories for a different blog.
But consider this: I had the right to walk into my local county clerk's office and apply for a marriage license for less than three years before I got married.
For most of my life, I couldn't imagine that being possible.
While I have wanted to dedicate my career to government since I was a teenager, I did not have access to the same rights and privileges that were given to others by the very organizations I have served.
So, while our actual wedding was spectacular, visiting the Clerk of the Superior Court of Maricopa County, Arizona a few days prior knowing that my government would recognize our love had me crying like a baby.
Marriage license #CityHallSelfie.

Of all the selfies I have taken in the past three years, the one with my marriage license brings me the most pride.
And now, the drum roll…
I have been waiting 3 months to unveil the most exciting #cityhallselfie photoshoot of all time in honor of the upcoming 2018 #CityHallSelfie Day. Leanne and I followed the trend of doing a "first look" photo shoot just before getting married. It was a great opportunity to connect and steal a moment before the chaos and emotion of the day.
When we were discussing potential locations, Leanne pointed out that our venue was just a couple of miles away from Phoenix City Hall—there was no better place to stage it. Seriously friends, I hit the wife jackpot. She came up with the best idea to indulge my inner Knope on our WEDDING DAY.
Without further ado (because there has been enough already), here are a few of my favorite shots from the greatest day of my life:


I hope you will all join me on August 15th for my favorite holiday of the year, ELGL's #CityHallSelfie Day.
You never know—in the midst of all that municipal love, you just might connect with the person of your dreams.