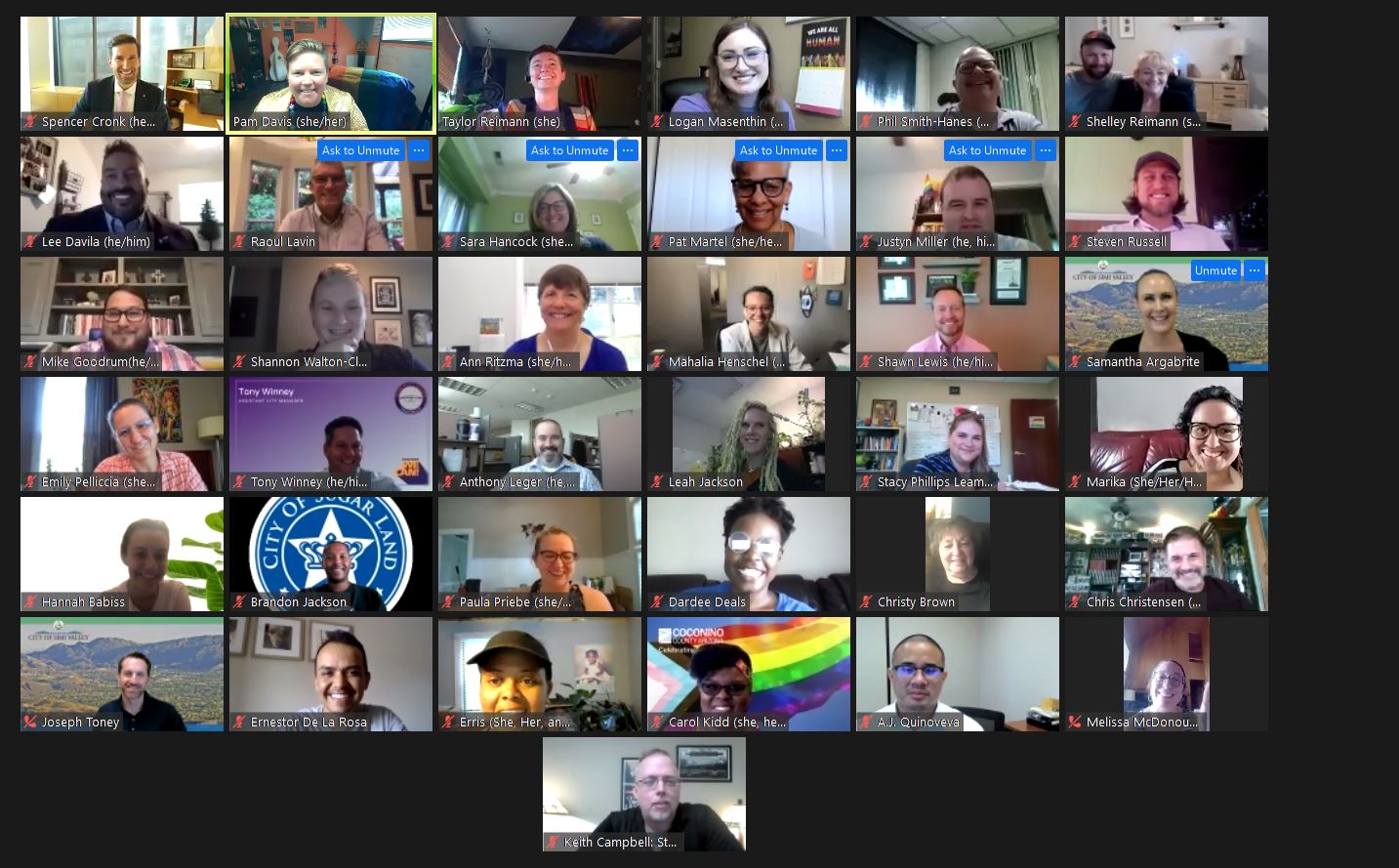 ELGL is the proud host of CivicPride content. The mission of CivicPRIDE is to advance inclusive local government by empowering LGBTQIA+ leadership. It is a national association for local government professionals of all gender and sexual identities.
---
CivicPRIDE was thrilled to host its first ever virtual Inclusion Summit in June of this year. The four-hour, virtual event included a combination of education and storytelling over three dynamic sessions hosted by local government practitioners from around the United States. It was a wonderful way for LGBTQIA+ local government professionals and their allies to learn ways to make organizations more inclusive, hear about the experiences of LGBTQ+ professionals, and connect with colleagues to celebrate the conclusion of Pride Month.
The Summit had over 200 registrants and the team received some great feedback afterward. Here is what some of the CivicPRIDE Board members had to say about the event:
Pam Davis – "Hosting CivicPRIDE's first summit was both a personal and professional "pinch me" moment. It was a dream to share virtual space with local government colleagues from across the United States to share stories, celebrate our identities, and develop new ideas for improving the ways we all serve our communities. I am grateful to our courageous speakers and committed attendees."
Taylor Reimann – "Online events are sometimes a real hit-or-miss when it comes to how engaging they are, and with the Summit being our first attempt at a large online event we didn't know what to expect. I was thrilled to see all of the interaction that was sparked and sustained in the chat, discussions, Q and A, and in the happy hour afterward! I think that kind of activity speaks to the desire for these spaces and conversations to exist, our queer colleagues and allies are looking for these connections and it was incredibly fulfilling to see that network stimulated and grow in real time in a virtual environment."
Logan Masenthin – "The Inclusion Summit provided a unique opportunity for CivicPRIDE to showcase its work and provide education, but also to simply celebrate queerness in the profession. Even with a large group in a virtual format, I felt connected and safe sharing stories with the attendees. It was fun, engaging, informative, heartfelt, and such a wonderful way to close out Pride Month."
Justyn Miller – "CivicPRIDE's Summit was a great opportunity to showcase the importance of LGBTQIA+ issues in Local Government. Attendees got to experience a wide-range of views and topics about how to and the importance of promoting inclusion in our organizations. It was a great opportunity for LGBTQIA+ individuals in local government to share and communicate the realities of working in the field. We hope it shines a light about the importance of inclusion, uplifts other LGBTQIA+ voices in local government, and showcases the many rewards of a career in local government."
Nathan Bassett – "My favorite part of the discussion of our inaugural Inclusion Summit was during the panel when Mayra Cantu spoke about intersectionality and the impact her Latina heritage has had on her experience. I grew up Mormon, and though I am a cis white male with a plethora of privilege, the stories Mayra told resonated with me. At the base of my identity is the intersection of my cultural upbringing as a Mormon and my experience as an LGBTQIA+ person in that religious environment. Intersectionality is a cornerstone of our society, and I look forward to discussing it at future CivicPRIDE events."
Sara Hancock – "CivicPRIDE's Inclusion Summit was an exciting and special event for me.  It represented the beginning of many more opportunities to grow with our communities and expand the visibility of LGBTQIA+ local government leadership.  I especially appreciated the fellowship of the attendees and the great conversations and questions.  I very much look forward to planning another!"
CivicPRIDE hopes to hold many more events like this in the future. If you missed the Summit, or attended and enjoyed it, stay connected with us and keep an eye out for more! Follow us on Twitter @CivicPrideLGBT, subscribe to our newsletter, or email us at [email protected]!