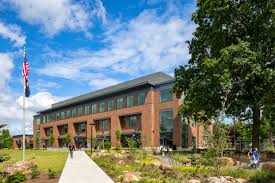 Clackamas Community College is located in Oregon City, OR. CCC is an ELGL All-In member!
---
Clackamas Community College's Connections with Business and Industry provides comprehensive business support to help you get the tools, staffing, training and resources needed to succeed.
This fall, CBI is offering a variety of professional development opportunities. You don't need to be a student to attend.
The courses are:
Emerging Leader

8:30 a.m.-12:30 p.m. Tuesdays, Oct. 15, 22, 29 and Nov. 5, 12, 19, Oregon City campus. $695/person
Learn about leadership roles, interacting with different personalities, effective communication, conflict resolution, goal setting and time management.
Mentor Training

8:30 a.m.-12:30 p.m., Sept. 23 and 24, Oregon City campus. $249/person
Understand various personality styles in decision making, communication and work style in the workplace. Participants will learn the role of a mentor and how to listen, provide support, encouragement and motivation.
Customer Service

8:30 a.m.-12:30 p.m., Sept. 25, Oregon City campus. $109/person
Learn how to improve customer interaction through listening and effective communication. These skills will improve customer retention, and address challenges, and provide value and service to the customer.
Intro to LEAN

8:30 a.m.-12:30 p.m., Oct. 9, Oregon City campus. $109/person
This introductory workshop explores basic tools used to improve business processes by eliminating waste and fostering continuous improvement.
Conflict Resolution

8:30 a.m.-12:30 p.m., Oct. 23, Oregon City campus. $109/person
Learn practical techniques for managing workplace conflict. Participants learn to identify and practice effective conflict resolution skills that improve working relationships and foster collaboration.
To register or for more information, visit www.clackamas.edu/customized-training or call 503-594-3200.