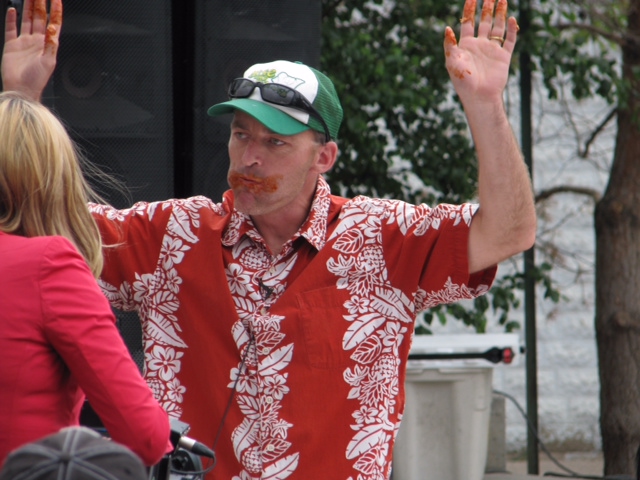 Nifty Fifty Takeaways
What do we hope to learn from this series? We hope you will gain a better understanding of the unique characteristics of local government in each state, we hope you will learn that there are others like you who are motivated to make a difference through the public sector, and we hope you will learn that it is best to learn from others' mistakes than yours.
P.S:  Contribute to the Fifty Nifty project by sending those names in your lil' black book to ELGL.
Our Take on Colorado

We are back visiting the Mile High State to check in on the state of affairs in Colorado with Clint Kinney, Village of Snowmass Town Manager. You may recall that the Nifty Fifty has visited Colorful Colorado before, learning about the states unique governance characteristics from Tim Gagen (Breckenridge Town Manager) and the world of budgeting with Indiana University graduate Robb Kolstad. We've had the good fortune to connect with a few others in Colorado including James Becklenberg at the consolidated city/county of Broomfield and Dan Weinheimer at the City of Fort Collins.
When we reflect on Colorado, we think about that friend from college who randomly migrated to Colorado without a job and much of a plan. This may have something to do with the great skiing, incredible beverages, and the "pot shops." When we think of less anecdotal characteristics of Colorado, we find universal envy at their light rail, we acknowledge their innovative use of the former Stapleton Airport, and we marvel at the Rockies (the mountains not the baseball team).
Here's a look at some of the "interesting" laws enacted by other Colorado cities.
Cripple Creek: It is illegal to bring your horse or pack mule above the ground floor of any building.
Boulder: It is illegal to permit ones llama to graze on city property.
Aspen: Catapults may not be fired at buildings.
Alamosa: Throwing missiles at cars is illegal.
Sterling: Cats may not run loose without having been fit with a tail light

Background Check


Clint Kinney (LinkedIn) currently serves as the Town Manager of the Town of Snowmass Village. Snowmass Village is a mountain community of over 2,800 residents located near several of Colorado's most popular ski areas. In addition to his experience as City Manager, Kinney earned an undergraduate degree from Fort Lewis College in Durango, CO and an M.P.A. from the University of Kansas. After obtaining an M.P.A he returned and worked in the City Manager's Office in Durango, CO for five years before accepting a position with the City of Fruita, CO.
During his tenure at Fruita, CO the community grew from 6,000 to 13,000, following a development plan that included key infrastructure improvements, downtown revitalization, police department and community recreation center. While $65 million in capital improvement helped Fruita grow, quality of life projects also drive a creative effort to market Fruita. This past September, after twelve years serving at the helm in Fruita, Kinney accepted his current position. When it comes to following a career path, there seems to be no denying Kinney has found the right spot. Mountain air, outdoor trails, winter sports – calling Snowmass Village home doesn't sound half bad and Kinney seems to agree. In the words of Kinney, "When you get to have a job that you want in a place that you want to live, it's home-run stuff."
So if Clint and the Village of Snowmass are starting to sound familiar, they should. This isn't the first time Clint Kinney has been mentioned on the ELGL website, you may remember reading about him and his sage like wisdom in a recent Philip Smith Hanes post entitled something along the lines of "Cool Like Clint". As a Manager, Kinney has made a name for himself and a skill set that includes a unique blend of being able to listen and bring a bit of humor into the day to day of local government. Clint values partnerships and finds the details of local government to be nothing short of fun. In reading the press releases and website bio's it doesn't take long to get the impression Clint Kinney is not only a leader but inspiring others to pursue a career in local government. When speaking about local government and his recent career move, Kinney managed to capture all that makes local government great when he said "It's fun and it's what I do, and to be able to do it here, it's pretty awesome".
Lightning Round


Best piece of advice you received from your mentor:
RELAX. Remember, being a city manager is not like performing brain surgery. Don't act like it is.
In a dream world, which bands
would headline your retirement party?
Jimmy Buffet would open for the Beastie Boys.
Before I die I want to… Make sure I live all I can.
Three most influential books in your life.
How Good People Make Tough Decisions, Rushworth Kidder
The Monkey Wrench Gang, Edward Abbey
Anything written by Cliff Note.
If you could FaceTime with five people (dead or alive and not including family members), who would be on the list?

When I FaceTime with people they can see me roll my eyes at them, so I would much rather make a phone call.  That said, I would probably fill the list with past presidents and founding fathers.
Describe the inside of your car. It's an old 1998 Honda Accord.  Does it really matter?
What's the meaning of life? To figure that out.
Q & A

Three bullet points that best describe local government in your state:
Professional
Committed
Needed
We'll assume you didn't grow up dreaming about a career in local government. What was your dream job as a 12-year old? What was your first local government job? How did you end up in local government?
When I was 12 I wanted to be a
professional chef.  At some point I was told that I did not have the necessary attention to detail to be successful in that occupation.
My first job in local government was painting streets for the City of Arvada.  It was a summer job for my first couple of years of college.
I was always interested in politics and I had family that worked in local government so I started with a pretty good basis.  Then in college I ended up landing a great internship in the Durango City Manager's Office.  After 6 months as an intern, I knew this was the field I wanted to be in.
Give us your top three career accomplishments.
Working in three great communities that I wanted to live in and could be truly committed to: Durango, Fruita, and Snowmass Village
We often learn from our mistakes. Name one or two career mistakes that you have made that you think we could learn from.
So many mistakes, so little time………….. lets see:  I would break my mistakes into two themes:
1)  When I ignored my gut feeling and tried something that really challenged my core values
2)  When I tried to do what I thought someone else would think was best instead of what I thought was best.
Our experience has been many of our friends, family, and neighbors are not well versed in what it is we do in local government, many think we are a "planner" or "mayor." Has this been your experience?

Yes, absolutely.   When asked in passing, I usually let the "planner thing" slide.  But when someone asks in detail, I generally try to explain that I work for the mayor/council and that  Planning is only one department that I get to work with; other departments include  Public Safety, Housing, Transit, Public Works, etc.  Then I politely wake the person up after they have passed out from boredom.
How can local governments better communicate their role in the everyday lives of the community?
Honestly, I don't know that it should be a high priority to simply communicate our role in everyday lives.  Sometimes I think we just need to get the work done.  I think a harder, more important question would be "How do we make sure we get the appropriate level of input, both breadth and depth, from the community members on important issues?"
Would you encourage your family and friends to consider a career in local government?
Absolutely!
Hypothetically, if we find ourselves interviewing for a job in front of you, talk about three steps we can take to make a good impression.
Be confident, but absolutely not cocky
Be well prepared. Know about the community and the position.  Interview me about the position.  Ask me hard questions.
Show passion for the work.
Mentoring is such an important part of local government. Name three of your mentors.

I have a lot of friends and colleagues I rely on for insight, guidance and advice.  I need all the help I can get.  That said, I think the word mentor is getting overused.  My professional mentor was Robert F. Ledger, Jr.  Bob and his administrative assistant Karen Young took me under their respective wings and showed me how the real world works.   I will forever be grateful to them.
In 2018, local government will be… 
largely what it is today; very important and little understood.
What question(s) should we have asked you? 
You should have asked me for my green slime recipe.  It is a delicious summertime cocktail.
Supplemental Reading

Cool Like Clint: Should I change jobs? 
Clint Kinney dives into Snowmass Town Manager job
Clint Kinney signs on as Snowmass Town Manager
New Snowmass Town Manager at home in new job
Link: 50 Nifty Archives