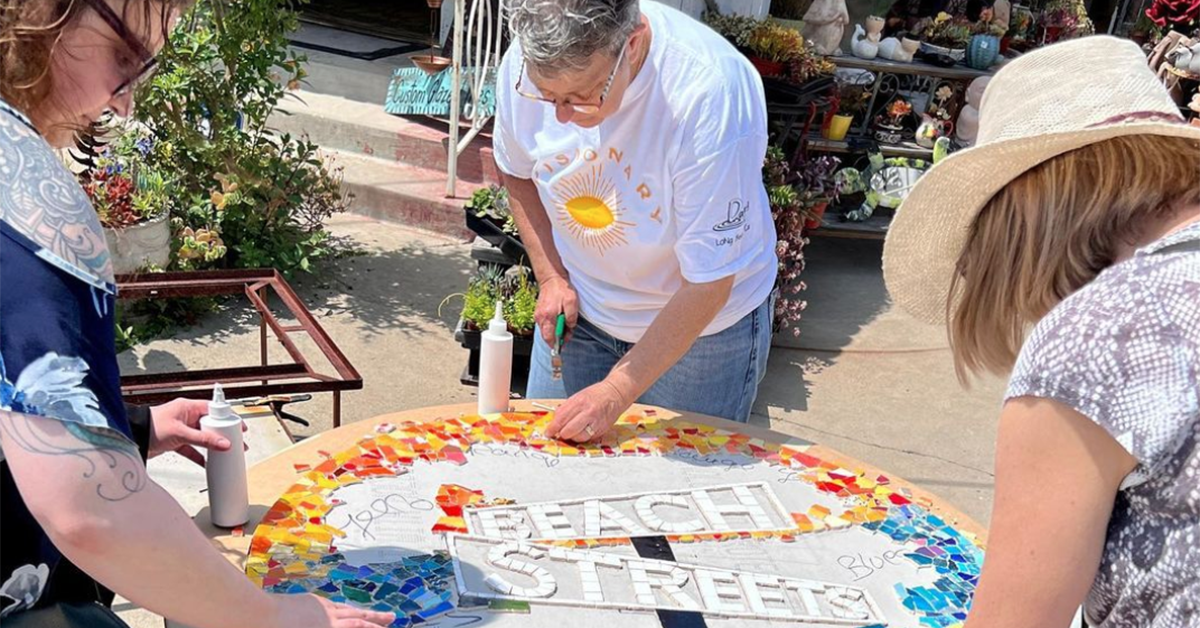 Today's Buzz is by Meredith Reynolds, Deputy City Manager for the City of Long Beach. Follow Meredith on Twitter, LinkedIn, and Instagram. 
What I'm watching: Vintage Perry Mason episodes. This helps to understand the modern Perry Mason detective show, of which I've successfully binged Season 2.
What I'm working on: Planning our All-City Manager's Retreat, an annual gathering of all managers across our city for a day of learning and togetherness. My role – to bring the fun and whimsy! 
What I'm listening to: I'm perfecting the All-City Manager's Retreat playlist that features jump blues, soul, and R&B 
---
Sometimes it can be hard to see what we all have in common. Escalating rates of gun violence and political polarization, eroding mental health, and deep disagreements about economic and social policies at all levels of government can feel as if we as a community and as a country are more polarized than ever. And these days, we are both busy while living increasingly more private lives, we often live in neighborhoods or spend time with others who look like us and have similar beliefs, and the ever-expanding use of technology results in fewer interactions with our fellow humans. This lack of connection perpetuates continued isolation and considerably affects our ability to think positively – the very thing we need to connect, relate and drive out polarization and divisiveness. 
The antidote? Strong and pervasive connections with other humans. 
This is because our need for people is hardwired, according to a number of studies. As it turns out, we crave human interaction in the same region of the brain where we crave food (so friendship and camaraderie = tacos) and social exclusion affects the region of the brain where we experience physical pain.
As local government employees, we have a moral imperative to facilitate, create, and support opportunities for positive social interaction. Our organizations are often the owners of vast amounts of rights-of-way, parks, and other public open spaces that serve to determine the relationship between people and their communities. These spaces can create a strong sense of community, belonging, and cultural vibrancy, and as such can promote happiness and well-being, increased feelings of safety and security, participation in community affairs, and civic responsibility. Interacting among others in these spaces is an important part of how a person and a community can create, nurture, and sustain impactful relationships.
The earliest memory I have of this kind of space is from my hometown of Hanford, which is nestled in the heart of agriculture in California's Central Valley. For decades, they have closed their downtown streets around their civic square for a weekly Thursday Farmer's Market. This was a weekly not-to-be-missed activity where you could get the best produce around, you could ride your favoritely-painted wooden horse on the historic carousel, you listened to live music and danced, and you would see people you knew from across the community.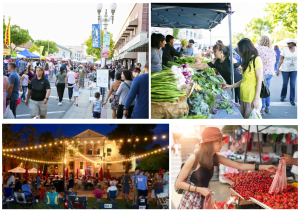 (Check out Main Street Hanford who has kept this event going all these years)
I loved going to this community event because you felt like you were a part of something special.
I've always been drawn to communities and cities that partner to hold these kinds of community gatherings. And I'm lucky to live in Long Beach, Calif., which has a number of them. One event in particular comes to mind as a come one, come all community gathering where anyone can participate, and this is what we call Beach Streets.
Long Beach Beach Streets is an open streets event, fashioned after "Ciclovia," first held by Bogota, Columbia over 45 years ago, that temporarily closes streets to automobiles to provide safe space for walking, bicycling, roller-skating, scooters, and social activities. Open street events are popular throughout North America, as they promote the pursuit of innovative strategies to achieve environmental, social, economic, and public health goals. By repurposing streets for cyclists, pedestrians and other non-motorized users, cities are encouraged to consider other ways streets can be used.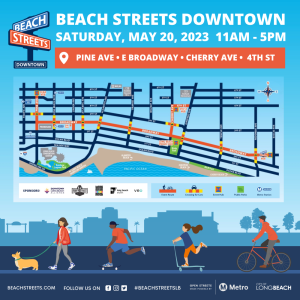 The first Long Beach Beach Streets was held in 2015 – in partnership with Los Angeles Metro, business districts and other partner organizations – and draws tens of thousands of people to use our streets for activities other than driving. Previous years of Beach Streets events have featured other areas of Long Beach, such as Downtown, Cambodia Town, the Grand Prix race track, and east Long Beach.
The 2023 Long Beach Beach Streets was held on Saturday, May 20 and, aside from being able to enjoy a large closed-off section of the city to take a ride or stroll, Beach Streets offered eight activity hubs across the different neighborhoods with skateboarding lessons, live music or DJ performances, carnival games and magic shows, restaurant and food truck offerings, water stations and bike valet, outdoor seating, and merchant retail opportunities.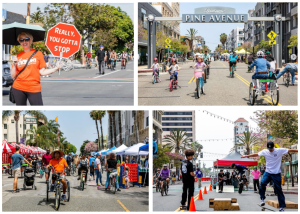 As I hopped on my bright blue BikeShare bike and pedaled safely into the crowd of riders going my way, I was eager to stay along the course as long as possible, and excited to take in all the sights! On this sunny, breezy but warm day in May, Beach Streets was packed with people of all ages, coming from many different locations inside and outside our city, and using many modes of mobility. Youth in training wheels joined their parents, four-legged friends (including one goat and one lizard!) sat in bike carts pedaled by their human companions, groups of rollerskaters wore rad costumes and traveled in groups, a grandma with a colorful parasol pushed her skateboard along the route. What you saw was people enjoying the specialness and exhibiting joy, happiness and gratitude – for the opportunity, for the nice weather, and for the chance to gather and be together.  
In this space, there appeared no divisiveness or polarization. 
In all, I biked seven miles from downtown Long Beach to the eastern end of the route and back. I checked out all the activity hubs and saw a few friends. I got to see inside our 1903 historic masonic temple, which is being taken over by a not-yet-open new brewery and try their crisp, refreshing beer. I ate at a local pizza joint I never go to. And I got to congratulate the many city employees working the event for a job well done.


Maybe one day we'll be like Bogota, Columbia, which hosts an open streets event every Sunday. This girl with her bright blue BikeShare can dream. Until next year Beach Streets…