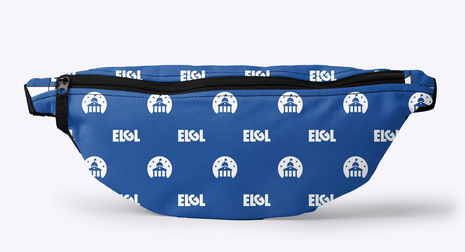 It's Christian Williams Appreciation Week and we've added some special swag to the ELGL store to commemorate his service on the ELGL Board of Directors.
You can be the proud owner of a Christian Williams Fanny Pack! Your $25.99 purchase includes a custom ELGL fanny pack, made of lightweight, 100% spun polyester with a fully lined interior. Features an adjustable strap, durable back panel, back pocket zipper, inside pocket zipper, and three card holders inside.
Why? No one rocks a fanny pack better than Christian, but we also wanted to recognize his contributions to ELGL over the past two years of his term: he represented ELGL at events across the country, pushed us to formalize and streamline our internal administrative processes, championed the adoption of our first strategic plan, encouraged the voices of our BIPOC members in all ELGL content, and pushed us to be a sustainable organization.
Buy a Christian Williams Fanny Pack today; all proceeds benefit ELGL's continued operations and you will receive a stylish fanny pack in celebration of Christian!