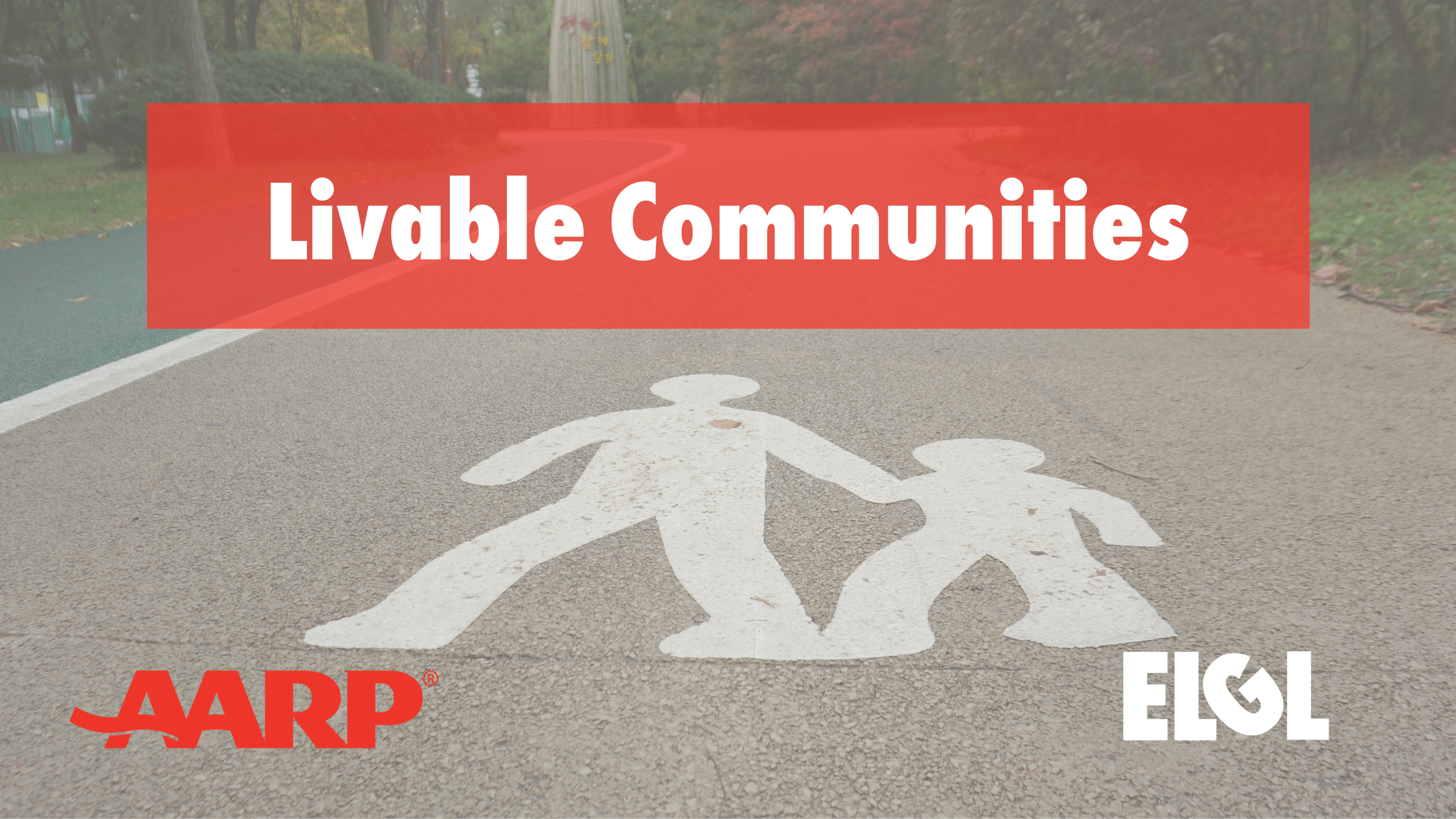 ELGL is partnering with AARP to launch a new Livable Communities series. This series is focused on how local gov practitioners can make communities safer and more walkable with age-friendly housing and transportation options, access to needed services, and opportunities for residents of all ages to participate in community life. We want you to tell your stories, the stories of your friends and colleagues, and to share perspectives on anything that can help us and our communities, neighborhoods, towns, cities, and rural areas be great places to live for people of all ages. Read more about AARP's Livable Communities.
Writing Prompts
Below are some suggestions to get you thinking, but please feel free to be creative with your submission!
What does a livable or age-friendly community mean to you?
What's one key challenge or opportunity facing your community as it prepares for the aging of its population?  How is local government responding?
Do you live in a community enrolled in the AARP Network of Age-Friendly States and Communities?  Tell us about what that means for your community and one (or more) tangible impacts.
Have you been part of the process, adoption, or implementation of policies and/or programs that:

make neighborhoods walkable,
feature a variety of transportation options,
increase access to parks,
and/or support housing that's affordable and accessible?

Write a story about your experience.
Do you live in a rural community?  How have you made your community a better place for people of all ages?
[For cohort participants only]  What's one thing that you've learned through your cohort experience that you intend to carry forward over the next year?  This could be something that you plan to operationalize or a new idea that has changed your thinking.
Article Submission Guidelines
Aim for 400-1,250 words
Articles are due to Allie by the date you sign-up and will be posted on Wednesdays
Please include 1-2 sentence bio with your social media handles and email address
Please include a header photo for the article. Other photos within the article are also welcome! Please be sure that these are not copyrighted images.

ELGL strives to champion diversity, equity, and inclusion. In service of this goal, we ask that you be thoughtful of the language you use when writing about sensitive topics. Here are a few quick guides to use as a reference if you're unsure:

Sign up for as many slots as you would like!
Check out our Writer's Style Guide for more info!
Questions? Contact ELGL Digital Coordinator, Allie Breyer.
We look forward to hearing from you!