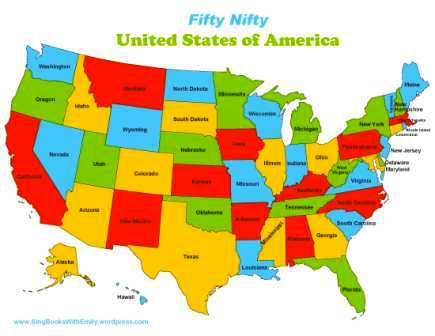 [youtube http://www.youtube.com/watch?v=ZpP1dnOWjoU&w=420&h=315]
ELGL is launching a new initiative, "The Fifty Nifty Project" for the new fiscal year. We are committed to touching all 50 states next year by profiling at least one person from the government arena in each state. Each person profiled with be asked the same questions, and at the end of the year, we'll package the responses together in a report.
So How Can I Help?
Email three recommendations, each from a different state, to Ben Kittelson, ELGL project assistant,

[email protected]

.
Include name, job title, organization, and email address for each recommendation.
Your recommendation may be a student, retired professional, or active professional in the government arena.
Or you can leave your recommendations in the comment section below.
We'll need a few choices from each state so don't worry if there is a contact already listed.
Member Recommendations (as of July 30)
Alabama
Brian Muenger, City Manager, City of Talladega
Alaska
Sara Peterson, City of Sitka, Deputy Clerk
Patrick Jordan, City of Unalaska, Assistant City Manager
Arizona
Ken Strobeck, League of Arizona Cities and Towns, Executive Director
Brenda Fischer, City of Maricopa, City Manager
Doug Ayres, City of Sedona, Former City Manager
Dana Hlavac, Mojave County, Deputy County Administrator
Rich Dlugas, City of Chandler, City Manager
Arkansas
David Watkins, City of Hot Springs, City Manager
Jeff Dingman, City of Fort Smith, Deputy City Manager
California
Greg Larson, City of Los Gatos, Town Manager
Mike Arnold, Los Angeles Homeless Services Authority, Executive Director
Brian Angus, Fresno County EOC, Executive Director
Ted Gaebler, City of Rancho Cordova, City Manager
Enrique Martinez, City of Redlands, City Manager
John Shirey, City of Sacramento, City Manager
Colorado
Robb Kolstad, City of Thornton, CO, Management and Budget Director
Frank Biggerstaff, El Paso County Transportation Division, Colorado
Sam Mamet, Executive Director, Colorado Municipal League
Tim Gagen, Town Manager, Town of Breckenridge
Vik Runkle, City of Greeley, Assistant City Manager
Bill Efting, City of Frisco, City Manager
Skip Noe, City of Aurora, City Manager
Heather Brooks, City of Alamosa, Assistant City Manager
Connecticut
Robert Lee, Town of Plainville, Town Manager
Roger Kemp, City of Merdien, Former City Manager
Delaware
Florida
Jorge Lara, Lieutenant at Isles of Capri Fire/Rescue
Oel Wingo, City of Holly Hill, Former City Manager
Isaac Turner, City of Venice, City Manager
Randall Reid, Sarasota County, County Manager
Bernadette Hughes, City of Tamarac, Management Analyst
Kurt Bressner, City of Boynton Beach, Former City Manager
Mike Levinson, City of Coral Springs, Former City Manager
Doug Smith, City of Del Ray Beach, Assistant City Manager
Louie Chapman, City of Del Ray Beach, City Manager
Daniel Rosemond, City of Hallandale Beach, Deputy City Manager/CRA Director
Jim Landon, City of Palm Coast, City Manager
Norton Bonaparte, City of Sanford, City Manager
Georgia
Alan Ours, County Manager, Glynn County
Quentin Mcphatter, City of Kingsland, Assistant City Manager
Sam Grove, City of Cartersville, City Manager
Dan Porta, City of Cartersville, Assistant City Manager
Hawaii
Idaho
Illinois
Amy McEwan, Lake County, Assistant County Administrator
Phil Kiraly, Village of Northbrook, IL, Assistant Village City Manager
Chris Koos, Mayor, Town of Normal, IL
Tom Durkin, Village of Crete, Village Administrator
Jason Berry, City of Blue Island, Zoning Administrator
David Mekarski, Village of Olympia Fields, Village Administrator/Village Planner
Steven Carter, retired manager from the city of Champaign, IL
John Perry, retired manager from the village of Woodridge, IL
David Strohl, City of Morton, Chief Administrative Officer
Ben Benson, City of Joliet, Assistant City Manager
Katy Rush, Village Manager of Woodridge, IL
Indiana
Stephanie Belch, City of Indianapolis/Marion County, Principal Planner
Iowa
Geoff Fruin, Iowa City, IA, Assistant to the City Manager
Kristy Stewart, Recruiting Program Manager, City of Cedar Rapids
Art Pizzano, City of Fairfield, City Manager
Larry Burks, City of Onawa, City Manager
Craig Malin, City of Davenport, City Administrator
Kansas
Michael Wilkes, City of Olathe, City Manager
Eric Wade, City of Lenexa, City Manager
Leslee Rivarola, City of Lenexa, Assistant City Manager
Kentucky
Laura Ross, Kentucky League of Cities, Legal Counsel
Louisiana
Dale Sibley, City of Shreveport, Chief Administrative Officer
Jimmie Bryant, City of Monroe, City Manager
Maine
Maryland
Michelle Bailey-Hedgepeth, Town of Capitol Heights, Town Administrator
Laura Allen, City of Berlin, City Manager
Massachusetts
Anne-Marie McLaughlin MSBC, MA, MEP Emergency Manager, University of Massachusetts Boston
Michigan
Darnell Earley,City of Saginaw, City Manager
Natasha Henderson, City of Muskegon Heights, City Manager
Tim Wolff, City of Lake Isabella, City Manager
Meg Mullendore, City of Cassopolis, Village Manager
Minnesota
Samantha Orduno, City of Dayton, City Manager
Mississippi
Chris Wilson, City of Southaven, City Administrator
Missouri
Mike McDowell, City of Wentzville, City Administrator
Paula Hertwig Hopkins, City of Warrensburg, City Manager
Greg Burris, City of Springfield, City Manager
Stephen Arbo, City of Lee's Summit, City Manager
Mark Rohr, City of Joplin, City Manager
Craig Owens, City of Clayton, City Manager
Bola Akande, City of Brentwood, City Manager
Christal Weber, City of Lee's Summit, City Manager
Montana
Nebraska
Joseph Mangiamelli, City of Columbus, City Administrator
Nevada
Betsy Fretwell, City of Las Vegas, City Manager
New Hampshire
Brett Baker, City of Seward, City Administrator
New Jersey
New Mexico
Greg Martin, City of Los Lunas, City Manager
Laura Fitzpatrick, City of Rio Rancho, Assistant City Manager
New York
Art Sciorra, City of Ogdensburg, City Manager
North Carolina
Eric Peterson, Town of Hillsborough, Hillsborough
Tom Bonfield, City of Durham, City Manager
Kim Nelson, Professor of Public Administration at University of North Carolina Chapel Hill
Dewey Harris, Catawba County, Assistant County Manager
Stephen Steese, City of Roxboro, City Manager
North Dakota
Ohio
Tanisha Briley, Cleveland Heights, OH, City Manager
Michelle Crandall, City of Dublin, City Manager
David Rowlands, City of Clayton, City Manager
Oklahoma
Jim Twombly, City of Tulsa, City Manager
John Noblitt, City of Lindsey, Community Services Director
Bryan Long, City of Lawton, City Manager
Larry Stevens, City of Edmond, City Manager
Pamela Polk, City of Collinsville, City Manager
Thom Moton, City of Broken Arrow, City Manager
Oregon
Naveen Chandra, Region Project Delivery Manager ODOT
Daniel Vazquez, City of Beaverton, Cultural Inclusion Coordinator
Pennsylvania
Rhode Island
South Carolina
Holly Eskridge, City of Rock Hill, Assistant to the City Manager
Katherine Brackett, City of Pickens, City Administrator
South Dakota
Tennessee
Kirk Bednar, City of Brentwood, City Manager
Mark Watson, City of Oakridge, City Manager
Bill Hammon, City of Alcoa, Assistant City Manager
Angie Carrier, City of Johnson City, Planning Director
Mike Walker, retired 22-year city manager of Brentwood, TN
Texas
Jim Nichols,  Assistant City Manager of Midland, TX
Courtney Sharp, City Manager of Midland, TX
Tommy Hudson, Deputy City Manager of Midland, TX
Stephen Seidel, City of Trophy Club, Assistant City Manager
Lynda Humble, City of Rowlett, City Manager
Opal Robertson, City of Lancaster, City Manager
Tommy Dalton, City of Flower Mound, Assistant to the City Manager
Bert Lumbreras, City of Austin, Assistant City Manager
Shelli Siemer, City of Allen, Assistant City Manager
Ray De Los Santos, City of Alice, City Manager
Mario Canizares, City of Coppell, Deputy City Manager
Kent Cagle, City of Lender, City Manager
Amy Buckert, City of Balcones Heights, City Administrator
Ray Baray, City of Austin, Acting Chief of Staff
Utah
Rick Davis, City of West Jordan, UT, City Manager
Vermont
Virginia
Bonnie Svrcek, City of Lynchburg, Deputy City Manager
Jim Spore, City of Virginia Beach, City Manager
Travis Hill, Virginia, Deputy Secretary of Agriculture and Forestry
Tony Griffin, former Fairfax County manager
Washington
Alexandra (Miller) Sheeks, Assistant to the City Manager, Woodinville, WA
Bob Harrison, City of Issaquah, City Administrator
Charlie Bush, City of Issaquah, Assistant City Administrator
Dema Harris, Director, Northwest Clerks Institute at Washington State University Spokane
Doug Schulze, City of Bainbridge Island, City Manager
Elizabeth Smoot, City Recorder/Clerk, Redmond Washington
Jon Amundson, City of Richland, Assistant City Manager
West Virginia
Wisconsin
Melissa, Weiss, Assistant Administrator/Director of Public Works, Sussex, WI
Vanessa Koster, City of Milwaukee, Planning Manager
Kevin Lahner, City of Burlington, City Manager
Wyoming