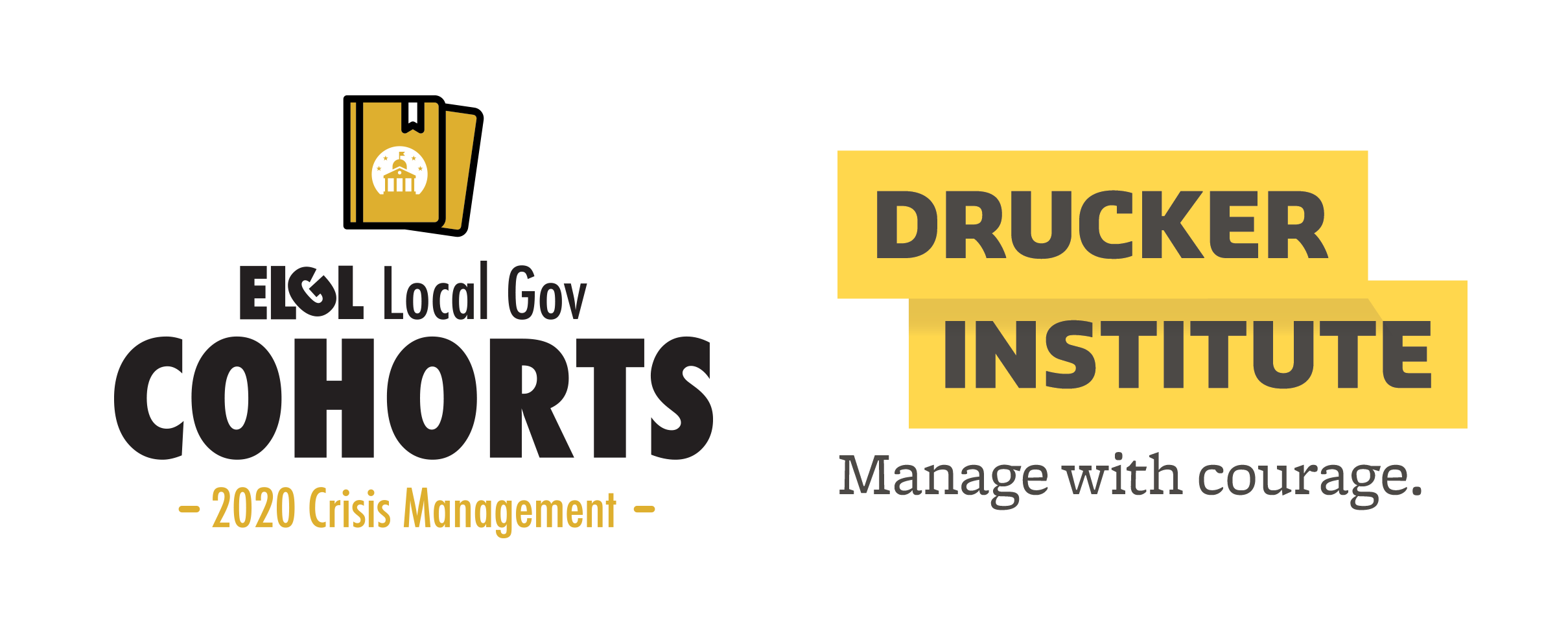 The COVID-19 crisis and the national protests for racial equity have a significant impact on local governments – one that is now felt in budgeting for the next fiscal year and in evaluating long-term spending projections.
In many cases, reduced tax revenues, tourism revenues, and federal and state reductions in funding will necessitate cuts to services and programs across departments at the local level – as will purposeful budget reductions to realign local government spending with more equitable programs and services.
When managing decisions like these in times of crisis, it is important to reexamine the foundational values used to make decisions about what is best for the community – and to find ways to make these cuts in a way that's efficient, effective, and most importantly, equitable. 
That's why ELGL & the Drucker Institute are launching a six-week, boot-camp style cohort focused on these issues.
We'll tackle analyzing competing values, creating decision-making frameworks, building planned abandonment strategies, and addressing equity issues in cutting programs and services – all online, through a platform that allows you to build your network of local government professionals around the country.
Apply Today for the 2020 Crisis Management Cohort! 
We're thrilled to bring you this knowledge and information from one of the foremost management theorists in the world – you may have heard about Peter Drucker's work from Tim Ferriss' Books of Titans, or from the local-gov-famous quote "What gets measured gets managed" (yep, that's him too), or from seeing the annual Wall Street Journal ranking of the 250 Best-Run Companies. Drucker founded the Institute at Claremont Graduate University, and the Drucker Playbook for the Public Sector forms the foundation of the knowledge and resources used in this course.
Over six weeks, you'll:
Examine the competing values that are weighed in public sector decision making.
Explore the principles of planned abandonment and program evaluation.
Discuss models from around the country to learn how other local governments are managing and responding to the fiscal and programmatic challenges of this crisis.
Attend one training webinar with experts from around the globe to learn more and have virtual video discussions with your peers.
Complete a Game Plan outline and blog post about your organization's challenges and what you've learned that may be useful.
The cohort will run from July 15-August 26, 2020. A short application form is required, and you can learn more and sign up here.
---
Who is this for?
We encourage local government employees at all levels to participate – and nonprofits, universities, and other local government partners may also find this content useful.
How much does it cost?
This is available for free to ELGL members, and at a cost of $75 for non-members. Not a member? You can join today as an individual for just $40 per year.
How does a boot-camp cohort work? 
Cohort participants will receive weekly email guides to resources focused on that week's theme, with a collaboration platform and discussion board available for sharing information and knowledge with their peers. You'll attend one online webinar training and have the option to attend remote coworking on a weekly basis with your cohort peers. You'll also complete a Game Plan outline for how to equitably and efficiently restructure or remove programs and a short blog post about your learning, which will be shared with the ELGL membership. Optional connection opportunities, including live remote coworking and introductory and graduation video chats, are also provided.
What am I committing to? 
If you are accepted, cohort resources will require no more than 10 flexible hours of your time over six weeks (around 1 hour per week plus an additional 3-4 hours to write your article and finalize your game plan). However, we are looking for people to commit to completing the full program in the allotted time.
To get started, all you need to do is complete the short application form by July 8.
What's the timeline? 
Applications Accepted: June 15 – July 8, 2020
Selections Announced: July 9, 2020
Program Dates: July 15, 2020-August 26, 2020
Online Workshop: August 13, 2020
What's the course structure like? 
Weeks 1-6 – Boot camp: A structured email micro-series drawing on wide-ranging content, which reflects the topics of most interest to the cohort.
Week 5: Online workshop: One online event where you will hear from an expert or panel of experts, globally and/or within the US, and have an opportunity to discuss issues with your cohort peers.
Weeks 5-6: Finalizing your game plan and blog post with a peer reviewer: You'll write a short blog post about what you've learned and draft a game plan for how to carry this knowledge into the upcoming fiscal year at your organization – and work with a peer to review and share feedback on blog posts before publication on ELGL.org.
More about the Drucker Institute and the Drucker Playbook for the Public Sector: The Drucker Institute was founded by Peter Drucker to carry forward his ideas and ideals. Since 2007, we have worked with thousands of leaders from major corporations, nonprofits and government agencies to help make them more effective—that is, as Drucker defined it, "doing the right things well." The Drucker Playbook for the Public Sector provides government workers with tools for increased individual, team and organizational effectiveness.