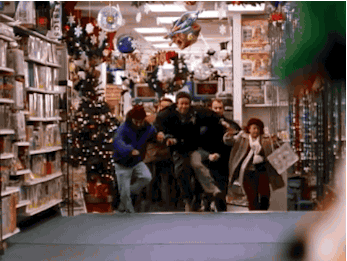 Today's Morning Buzz is brought to you by Maggie Jones – connect on LinkedIn and Twitter!
What I'm Reading: Just finished Meet Me Under the Mistletoe by Jenny Bayliss (3 out of 5 stars)
What I'm Listening To: We Can Do Hard Things with Glennon Doyle and Cadence13 (so many delicious hard, necessary convos)
What I'm Watching: Only Murders in the Building (yes, acknowledging I am late to this party)
***
Happy Cyber Monday, dear readers! You've made it through the gobble gobble and now you're on to the wobble wobble for the last four weeks of the year. Hunch is, you may also be on the hunt for a gift or two. Good news is we've got you covered.
For the facilitator. Sticky notes, sticky pads, sticky puddy. What gives? Or maybe you need this handy box of fidgets. After all, this Start-Stop-Continue exercise isn't going to facilitate itself. Still stumped? Maybe you can 1-2-4-All and generate ideas for everyone on your list.
For the reader. Randy Plemel's Journey With Purpose is a new fave read. In this beautiful pamphlet, writers talk about design, zoning, climate, redlining, and other important issues through articles, stories, and poetry that explore how we move about the city. Support local journalism with a subscription today (and help Randy get them out of his house for $9).
For the coffee drinker. Shop Small Saturday isn't just for Saturday – it is for everyday! Pop in to your local coffee shop and grab a GC that will leave your recipients properly caffeinated. Vaquero, Avoca, and Buon Giorno have become "unofficial" City Halls in the Fort Worth, TX area.
For the athlete. Skip the chain and check local. Your local JCC or YMCA have stellar fitness centers, programs, sports, camps, AND they give back to the community. Depending on where you are, you can also snag a bike share membership for a reasonable annual rate.
For the pen pal. Postcards, stamps, collectables – oh my! I don't know when the last time you walked into a Post Office was, but it wasn't recent enough. For those who prefer it delivered to your door, USPS ships quickly at a reasonable price. In addition to adorable winter otter stamps (swoon), you can even get a tote made from a mailbag and a 1971 USPS Jeep. No pen pal rec would be complete without a trip to Anvil Cards.
For the dehydrated. Feeling tired? Overwhelmed? Maybe you work in #localgov, or maybe you're just dehydrated. Whether you're Team HydroFlask (25% off), Nalgene (20% off), or Yeti (or all 3!), REI has you covered.
For the outdoorsy. Go OUTSIDE. And for $80, you can go wherever you want across 2,000 rec spots in the ol' U. S. of A. with the U.S. Park Pass for a whole year. They also have a unique shop including beanies, water bottles, stickers, ornaments, and more – all while supporting the great outdoors.
For the white elephant. You made it to the end and you still have no clue. Never fear, Uncommon Goods is here! In addition to rad gifts, the org donates regularly to causes they care about and is a Certified B Corp.
***
Still need an idea? Check out ELGL's Swag Store for mugs, stickers, sweatshirts, and more.