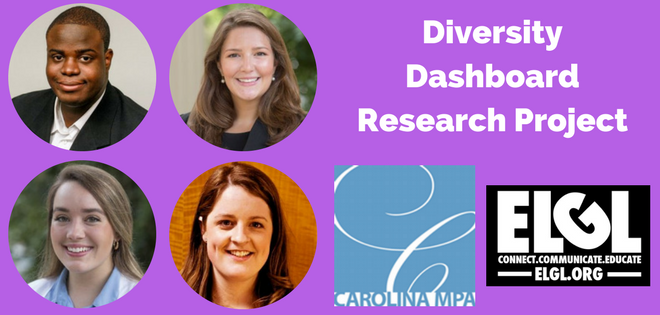 This is the second intro post from the UNC MPA Project Team that is collecting data for the ELGL Diversity Dashboard project. Last week, we met Toney Thompson. We've asked our team members to do weekly blog posts on their project, research process, and the overall goal of collecting better and more informative data about the race and gender of people serving in CAO and Assistant CAO positions in local government.
---
Sarah Ross Dickson

UNC MPA Student – Email | LinkedIn | Twitter
My name is Sarah Dickson, I am a first year graduate student in the MPA program at the University of North Carolina Chapel Hill. I am a North Carolina native, Tar Heel born and bred! I grew up in Charlotte and went to Appalachian State University for undergrad.
I chose to work on this project because I follow ELGL on Twitter (as should everyone) and they seemed pretty neat. I was familiar with the organization's mission and projects. It's target audience of young professionals seeking careers in public service appealed to me.
I also wanted to work with my awesome team members because I knew that together we would have lots of crazy fun work very hard on this project. At this point in the blog, I feel it is appropriate to reiterate all of Toney's great points he mentioned in last week's post in regards to why I chose to work on this project. However, I do have a few reasons of my own.
As the singular native North Carolinian in the group, I feel that I bring a special perspective to this project. Not only can I name most of North Carolina's 100 counties and provide fun historical regional facts (my team members love this) I also know firsthand how impactful this research can be for my state. I have grown up watching North Carolina's population increase exponentially and become more diverse.
However, the leaders I see in my state do not always reflect the people I know and love. I am interested in exploring the data behind these gaps in representation and contributing to a potential solution. I hope that this project can start a necessary conversation among North Carolina state leaders and provide a template of research for other states to use when addressing similar concerns.
Our team is still determining the basic structure of what and how we plan to research. As of now, we are looking at leadership on the county and city/town levels. We will research data from the 2010 census regarding demographics in these jurisdictions. We will then identify the two top government leaders within these communities and gather their contact information. The next step is to create a survey to send to these leaders. Our hope is that they will answer the survey using self-identifying markers that we can then compare to the 2010 census data to determine if the leadership is truly reflective of demographics.
We have a long road of research ahead of us. Luckily, North Carolina counties can be evenly divided, so our work is equally distributed. Woohoo! Additionally, we have access to research that was previously conducted and generously provided to us by faculty at the UNC School of Government.
It is nice to be working on a project that I feel passionately about and that will contribute to the #13percent dialogue that ELGL has begun.
---
We'll share posts from the UNC MPA project team each Friday! Stay tuned to learn from each member of the project team, and also for more information about the project model the team is creating for ELGL.