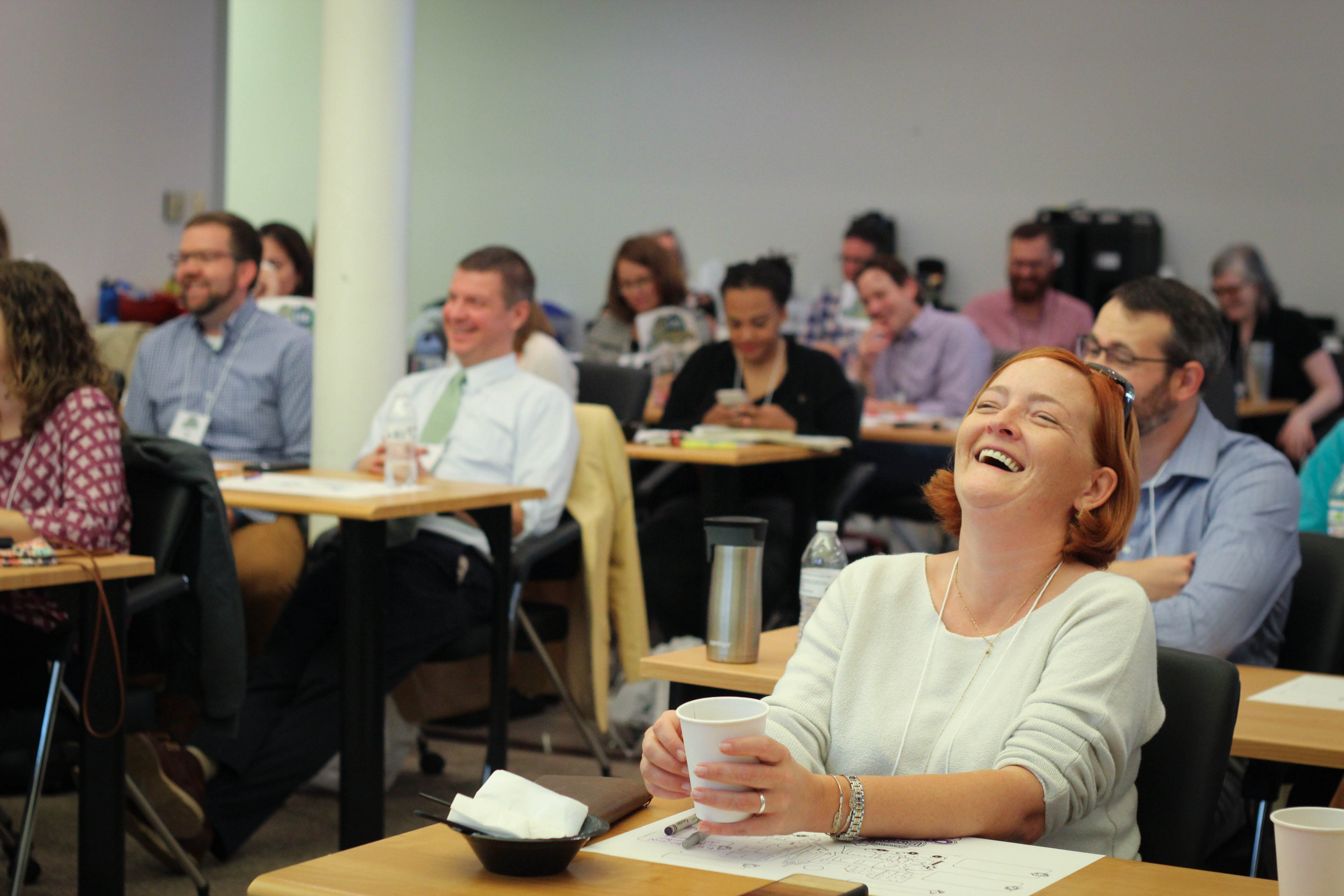 ELGL continues to build a partnership with the League of Oregon Cities (LOC). Executive Director Mike Cully is committed to strengthening local government in Oregon and partnering with ELGL. He remarked about ELGL,
Another example of collaboration is really a grassroots alignment with an organization founded on the principal of recognizing, promoting and helping the next generation of government leaders—a group called Engaging Local Government Leaders. If you are not familiar with this national group founded right here in Oregon, you will be. This is the next generation of government leaders, and we are so excited to be working with such a dynamic group working to shape the future of Oregon. Watch for co-branded events and more as this relationship develops and matures. 
Local Focus is LOC's monthly magazine covering current city issues and trends. It is distributed to 3,500 city officials each month, primarily mayors, city councilors and city managers. The origins of ELGL are highlighted in the June 2018 edition.
---
ELGL: Oregon Born & Bred
By Kirsten Wyatt, ELGL Executive Director
ELGL is the Engaging Local Government Leaders network. ELGL's mission is to engage the brightest minds in local government. We do this by:
Providing timely, relevant, real content

Fostering authentic, meaningful connections

Expecting equity and inclusion

Encouraging joy in public service

Welcoming new ideas and technology
My husband Kent works for the City of Tigard, Oregon. We started dating while we conducted a graduate school project on improving the policy for extending utility services in rural Catawba County, North Carolina. Because everyone knows that true love blooms while analyzing sewer capacity, right? We got married and moved to Oregon in 2007 when I got a job with the City of West Linn.
Kent and I were new to Oregon, and we didn't know very many people outside of our two organizations. And, we didn't quite fit into any of the existing professional associations that were siloed by job title.  We had each other to share ideas and stories about local government work, and this was helpful so we didn't have to recreate the wheel every time we were assigned a new project. But, we also realized that not everyone is lucky enough to be married to a fellow local government bureaucrat.
Kent and I wanted more contact, content, and learning opportunities than the handful of local government conferences in Oregon. Fundamentally, we wanted a wider network that would support us in our local government careers on anything from work information requests, to professional development, and everything in between.
LUNCH BUNCH
In September of 2010, we invited 16 local government professionals from the Portland area for an informal lunch in Lake Oswego. It was a chance to put faces with names to create stronger information and idea sharing. Government is the original open source network, and so restricting learning and information sharing to your agency, your department, or your job title, limits the potential for innovation, growth, and effectiveness. At the lunch, the group quickly realized that we shared many of the same personal and professional interests. We also realized that we could help each other do our jobs better.
EARLY YEARS

From that lunch meeting, we began meeting at a different city hall each month.  Speakers like Erik Kvarsten (City of Gresham City Manager), Phil Keisling (Director of the Portland State University Center for Public Service), and  Scott Lazenby (then the Sandy City Manager) presented at these early meetings about the issues facing their organizations.
Word spread about the group, and our contact database (an Excel spreadsheet) grew each month. Soon, we had people wanting to attend and learn from outside the area, so we bought a web domain, launched Facebook and Twitter accounts, and started pushing our learning outside of the Metro area.
We also formed an advisory group and began working with Megan and Jennie Messmer, tapping their knowledge and understanding of Oregon, local government, and professional associations. In 2013 we formally incorporated as a 501c6, and continued our growth in the Pacific Northwest, adding new members, sharing content online, and connecting on social media. Also in 2013, we hosted our first conference, developed a strategic plan, and instituted annual dues to cover our administrative costs.
THEN TO NOW


Over the past five years, we've grown ELGL from that 16 member lunch bunch into a 4,000 person professional network with members in every state, Canada, England, Israel, and Australia. I began working as the paid executive director in July of 2017, and we restructured our board to include five people from across the country.
We post new local government content every day on ELGL.org, host the GovLove podcast each week, email a weekly newsletter to 40,000 people, and manage a variety of events and activities designed to engage the brightest minds in local government. The following events and programming support our mission.
Annual Conference
Each May we host an annual conference at different locations around the country. Detroit, Michigan and Golden, Colorado served as the host city for #ELGL17 and #ELGL18, respectively. Our annual conference engage participants in discussions about the latest trends and issues in local government (i.e: bike share, infrastructure, and employee engagement). Attendees also tour the host city, learn about regional topics, and connect with other members from across the country.
#ELGLPopUps
Each fall, we host multiple conferences on the same day across the country. Charlotte, Dallas, Kansas City, and Portland served as sites for the 2017 Pop Up events, and we'll be in Oregon, California, Wisconsin, and Florida on October 12, 2018. While it is a logistical challenge to host four conferences on the same day, the experience provides a sense of connection across the locations.
Supper Clubs
Supper Clubs pay homage to the original group of 16 who started ELGL – these opportunities bring together people working in local government for a meal and conversation. ELGL members have hosted more than 30 Supper Clubs from Florida to California since 2015.
#ELGLInspire
With the support of the City of Salem, LOC, and OCCMA, ELGL launched this new program in the winter of 2018 on the Willamette University campus. The format is designed to introduce undergraduate students to local government careers. Guest speakers from all departments of local government share their career stories so students learn about the energy and engagement of local services. During the 2018-19 school year, we will expand this program to five campuses across the United States.
#CityHallSelfie Day

August 15 is International #CityHallSelfie Day – where you snap a picture in front of your government building. It's deceptively simple, but has prompted pride in service and of place that has been phenomenal to watch. Over 250 cities participated in 2017. Each year we increase the number of volunteers managing the social reach of this event because there are literally hundreds of selfies submitted each hour.
Chris Traeger and Leslie Knope Awards
Our two main recognition events are named after cast members of the hit TV show Parks and Recreation. The Chris Traeger Award highlights the top 100 influencers in local government. The Leslie Knope Award changes each year to highlight a different facility or function of local government. In 2017, the City of Peoria, Illinois won the Knope Award for the best city hall in the country. Pueblo, Colorado took home the 2018 Knope Award for the best public library.
ELGL Connects
This is one of our newest initiatives and it is aimed at helping local government make better decisions when selecting a vendor. The directory includes listings from 250 companies operating in the local government arena. Our members are encouraged to leave feedback about their experience working with a particular vendor.
Diversity Dashboard
In October 2017, we crowdsourced research funding for the first-ever data collection on the gender, race, age, and veteran status of all local government chief administrative officers (CAOs) and assistant CAOs, regardless of form of government. We anticipate releasing the data in mid-June. Our goal in conducting this research is to improve the diversity of local government leadership. The saying "what gets measured gets improved" drives this research as we advocate for more women and people of color in local government leadership roles.
GET INVOLVED
Membership is $30 per person per year, or $300 for an organization to join (which includes unlimited free job postings, and memberships for up to 10 staff members). Everyone is welcome to join – we do not differentiate membership based on age, position, or agency. You can sign up at ELGL.org/membership and learn more about our content, event, and networking options at ELGL.org. You can also reach me at [email protected] or book a time on my calendar to talk more about ELGL and how you can get involved at calendly.com/kowyatt.
ELGL is proudly Oregon born and bred. For many years, ELGL grew without any contact or support from LOC. Now, with a rejuvenated LOC staff that mirrors ELGL's enthusiasm for local government and innovation, ELGL looks forward to connecting even more bright minds in Oregon local government.
---
Supplemental Reading
GovTech News: Building the Govie Community Through Social Media with ELGL and GSMCON
StateTech: StateTech names ELGL a must-read state and local IT blog.
GovLoop: ELGL Is a Top Government Professional Association
The Oregonian: ELGL works for gender equality, collaboration in local government
Tigard Times: ELGL spreads across country