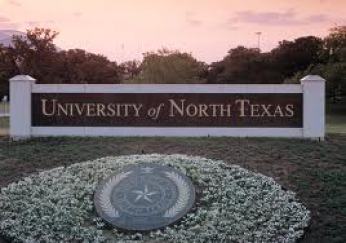 This is a follow up article to ELGL Sets up Shop at the UNT MPA Conference. HUGE thanks to the University of North Texas for welcoming ELGL. We look forward to future partnerships.

ELGL SW leaders and University of North Texas MPA graduates Harrison Wicks, North Central Texas Council of Governments, Matt Yager, City of Plano, and Shahrzad Rizvi, Dallas County attended the MPA Student-Alumni Conference in Denton, Texas. The team reconnected with former classmates, inspired current graduate students, and reminisced about old projects and classes with faculty.
Thanks to generous support from Strategic Government Resources, the team were given a platform to spread the good ol' word of ELGL.
The Banquet Hall – Quite a Crowd, Huh
If you didn't attend the UNT MPA program, this ELGL profile "On Campus with University of North Texas MPA Program" will get you up-to-speed. A few highlights:
Established in 1961
More than 1,300 alumni working in all forms of public service.
Ranked #8 in the nation for City Government/Urban Management by U.S. News and World Report.
The most well-known figure of the program is former MPA Program Chair and resident bad-ass, Dr. Robert Bland. He joined the faculty at UNT in 1982 after receiving both his MBA/MPA from the University of Tennessee and Ph.D. from the University of Pittsburgh. In 1992, he helped to establish the Department of Public Administration when before it was a part of the Political Science Department. Since then he has authored many books on local government management and financing and received numerous awards and accolades such as the Stephen B. Sweeney Academic Award by ICMA and was elected as a fellow to the National Academy of Public Administration. He served as the department's first chair until 2013.
Now that you're up to speed on UNT, let's get this recap started. What was the theme of the UNT MPA conference, you ask? The theme of the conference was 'Developing Tomorrow' meaning Economic Development. One of the morning panels discussed the recent community-altering developments around the North Texas region. Guest speakers included leaders from Flower Mound, Little Elm, and Dallas.
From left to right: Mark Wood (Alumni), Economic Development Director, Flower Mound; Matt Mueller, City Manager, Little Elm; Mario Canizares (Alumni), Deputy City Manager, Coppell (He was our MC); Alora Wachholz (Alumni), Economic Development Specialist, Flower Mound (Without Alora this conference would have failed miserably. She was the planning and organizing mastermind. Seriously we owe her big!)
During the panel, Mark Wood of Flower Mound described a very unique project that his city was undertaking known as The River Walk at Central Park. This will be a 158-acre mixed-use development that integrates commercial, office, retail, dining, medical, civic, and residential uses in a variety of building types. Amenities include a man-made river walk simulating the famous river walk in San Antonio as well as an amphitheater for those Shakespeare in the Park events one day! Below is some of the planning art.
Following the economic development session, Mario Canizares, Coppell Deputy City Manager, made brief remarks which included a number of ELGL references. Shout out to Mario for the kind words! UNT President Neal Smatresk @UNTPrez and Dallas County Judge Clay Jenkins @JudgeClayJ followed with their remarks.
From left to right: (First Row) Deputy City Manager Mario Canizares, City of Coppell; Dallas County Judge Clay Jenkins; (Second Row) UNT President Neal Smatresk
The Green Mafia was in full effect at lunch! The green mafia describes the strong UNT MPA alumni in North Texas. If you live or work in the DFW Metroplex, chances are you'll find a UNT MPA in your local government organization.
One of the conference highlights was former city manager of Lewisville Claude King receiving the UNT MPA Outstanding Alumni Award. Congratulations Claude!!
There you have it. ELGL went to the UNT MPA Conference and expanded our economic development knowledge. For more information on the conference check out the tweets @SWELGL from March 27.