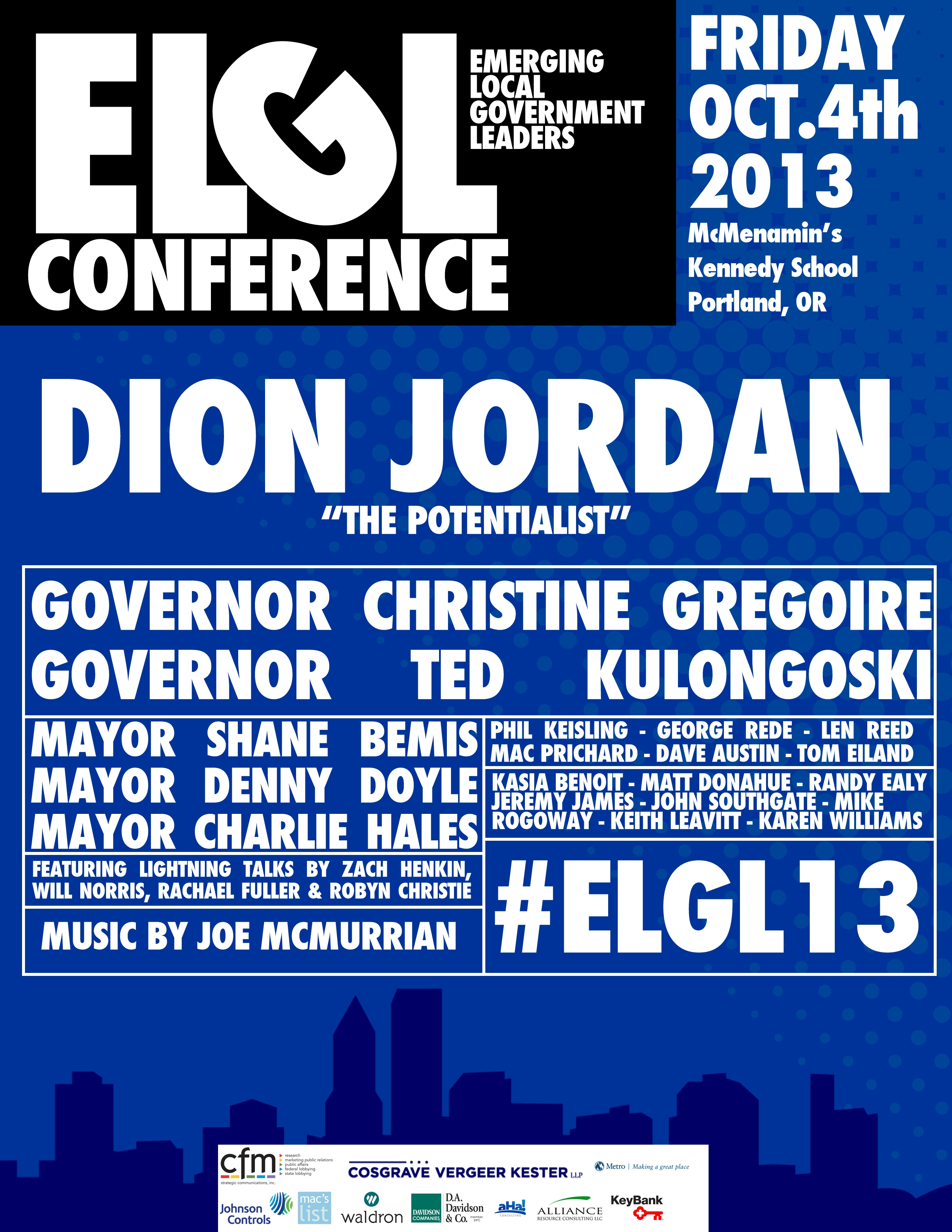 7:30 – Conference Check-In at the Kennedy School Gymnasium
7:45 – ELGL Breakfast – Trending Topics in Local Government Law
Presented by Cosgrave Vermeer Kester
Jeremy James, Associate, Cosgrave Vergeer Kester
Please join ELGL for a breakfast session about the trending topics in local government law that you should be aware of as an emerging leader.  Led by Jeremy James, this session will focus on a variety of issues that are trending in 2013.
9:00 – 10:00
Strategic Look at Municipal Budgets: Sharing of Burdens and Benefits Across the Metro Region
Moderator: Len Reed, The Oregonian
Mayor Shane Bemis, City of Gresham
Mayor Denny Doyle, City of Beaverton
Mayor Charlie Hales, City of Portland
The mayors of the region's largest cities will provide their unique perspectives on the Metro region.  The discussion will focus on municipal budgeting in Oregon, with an emphasis on the ways that communities share burdens and benefits in the region. 
10:20 – Lightning Round: Zach Henkin, DriveOregon
10:30 – 11:30
Communications Best Practices for Local Government Success
Moderator: George Rede, Editorial Page Editor; Hillsboro Argus & Forest Grove Leader
Mac Prichard, Prichard Communications & Mac's List
Tom Eiland, CFM Communications
Doug Zenn, Zenn & Associates; IAP2 President
What are the best ways to connect with the diverse demography in your community?  How should you leverage social media for your organization?  What are some of the emerging communications trends in Oregon communities?  These questions – and many others – will be the topic of this discussion featuring consultants, practitioners, and researchers in the communications field.
11:50 – Lightning Round: Rachael Fuller, City of Gresham
12:00 – 1:30 – LUNCH
Hindsight is 20/20: Perspectives on Leadership
Moderator: Phil Keisling, Director, Center for Public Service
Oregon Governor Ted Kulongoski
Washington Governor Chris Gregoire
Learn from former Oregon Governor Ted Kulongoski (2003-2011) and from former Washington Governor Christine Gregoire (2005-2013) about the lessons in leadership they learned while serving in elected positions, and the perspectives they offer now that they are outside the Executive Office.
1:40 – Lightning Round: Ben Kittelson, PSU MPA Student & ELGL Project Manager
1:45– 2:45
In the Trenches: Learning from Practical Experiences in Oregon Economic Development
Moderator: Randy Ealy, COO, City of Beaverton
Keith Leavitt, General Manager of Business Development, Port of Portland
John Southgate, consultant; former Economic Development Director, City of Hillsboro
Mike Rogoway, Oregonian Business Reporter
Karen Williams, former PDC General Counsel; Partner with Carroll Community Investments
Learn from real-world, real-time practical stories and experiences about economic development in Oregon.  We'll stay away from buzzwords and catch phrases, and instead focus on the tangible (and intangible) skills that are required to significantly impact economic development and changes in Oregon communities.  This panel is comprised of experts in the public and private sector who will share their stories about what economic development really means.
3:00 – 3:30
Local Government Finance Options: Realistic Solutions for Your Community
Moderator: Kasia Benoit, Fixed Income Capital Markets, D.A. Davidson & Co.
Matt Donahue, Vice President, Public Finance, D.A. Davidson & Co.
This interactive session will provide valuable summarization of the broader scope of public financing vehicles, including general obligation bonds, full faith and credit obligations, revenue bonds, and more.  Geared toward public sector leaders, this session will build your understanding of which vehicles are best for your community, in a conversational tone that is practical, relatable (and dare we say it – fun)!
3:50 – Lightning Round: Will Norris, City of Long Beach
4:00 – 4:45 – KEYNOTE
Dion Jordan, "The Potentialist"
A native of Palm Springs, California, Dion is regarded as one of the top most powerful and engaging professional speakers on the speaking circuit today. Branded as "The Potentialist", Dion is a recognized authority on peak potential and personal development. He has appeared in USA Today, local and national broadcasting around the nation, including the Oprah Winfrey Show. He has been called on by Olympic gold medalists, teachers, and professional and collegiate sport teams, corporate executives, ministers, and political Leaders for his expertise in personal development and leadership. In addition, Dion founded the Speakers Society, an organization that helps youth and adults build confidence through public speaking.  Most recently, he was appointed to the Portland Parks Board, and profiled in the June 13, 2013 edition of the Oregonian.
5:00 – ELGL Social Hour – Celebrating Our Community
Music Entertainment by Joe McMurrian – http://www.joemcmurrian.com
Presented by Johnson Controls