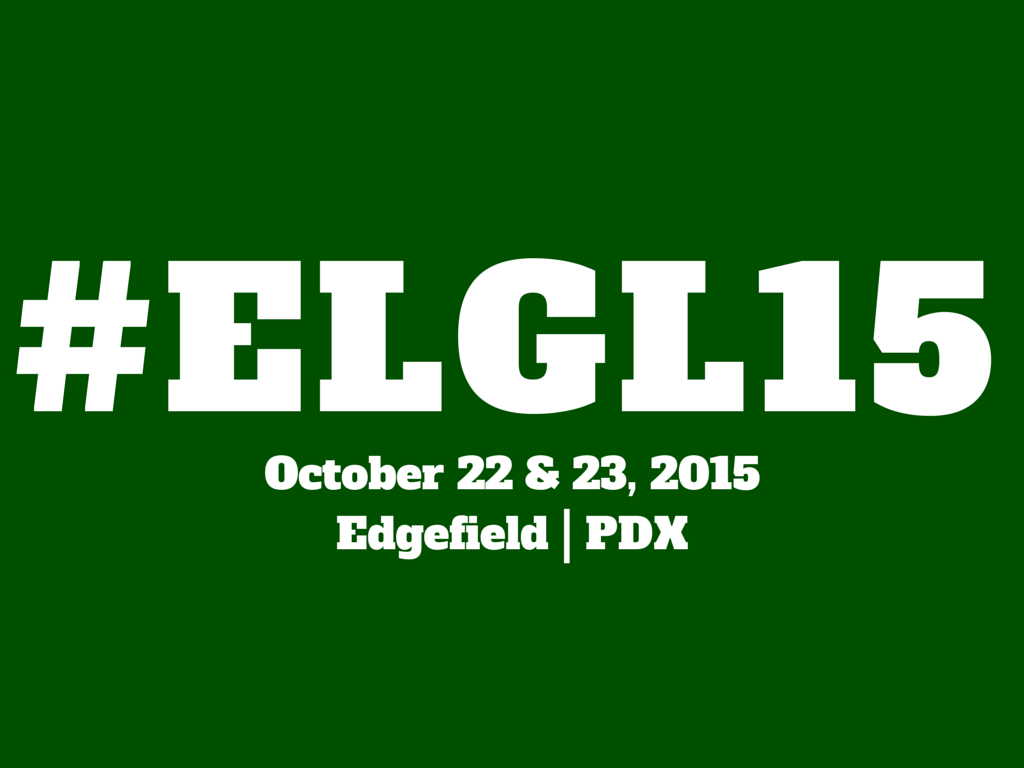 [vc_row][vc_column][vc_column_text]
So you heard that registration for the #ELGL15 Conference is open and you have either already registered and are super excited about the best local government conference anywhere in the world. Or you just don't have enough information. Well we've got you covered, below is everything you need to know about #ELGL15.
Getting Started
Register for the Conference.
Follow the ELGL Twitter List.
Need help with your travel plans? Go here to get help with your itinerary.
The Night Before
Local Gov Trivia Night
Join other local government nerds and some very special guest teams for the first annual ELGL local government trivia night. Social hour will be from 6:00 pm to 7:00 pm, with the trivia competition beginning promptly at 7:00. You'll participate on teams through five rounds of general trivia with plenty of local government knowledge sprinkled throughout.
RSVP: Trivia Night Registration
The Conference

Working With Local Government & Growing Local Businesses
Local governments everywhere are figuring out the best way to work with and grow local businesses. The CEO of Dutch Bros. Coffee will start the day with a conversation on the company's story and how they grew into the company they are today. The speakers are:
Creative Solutions to Health Care Cost Containment
Health Care costs have been rising for quite some time and it has become a burden on cities throughout the country. Two Human Resources Directors will speak to what they have done at their cities to battle health care costs while still providing the best quality of care for employees. The speakers are:
The Ceiling Can't Hold Us: Next Gen City Councilors
We've heard a lot about the next generation of local government workers, but what about the next wave of elected officials? We have 5 young, energetic and passionate elected officials from all over the county who will be sharing their story and perspective on local government. The speakers are:
Wiki-PR: Maintaining Your Local Government Image
Image and brand are two often repeated words in communications, and local government is no exception. But what does that mean? Especially when your organization has to represent so many different factions and interests. Our speaker will explain how to find and tell your story in this panel. 
Grab Bag of Trending HR Issues: Outsourcing & Personnel Reviews
Two of the most feared topics in human resources will be discussed by our panel, who all come from the same local government. The City of Lake Oswego crew will discuss trending HR issues like contracting out services and those pesky personnel reviews. The speakers will be:
Really Big Ideas to Elevate the Conversation About #13Percent
ELGL has created a ton of buzz with our #13percent campaign, thanks to the efforts of our members we've spread the word far and wide about how the number of women in city manager roles hasn't increased in 30 years. Now we need your help. Help us craft a game plan for 2016 for continuing to spread the word and educate people on #13percent. Bring your ideas and fill up your coffee cups, we'll need your full attention for this one.

Responding to Officer-Involved Shootings: Las Vegas Police Department Implicit Bias Training
Ever since the protests in Ferguson, MO after the shooting of Michael Brown the issues of officer-involved shootings and racial profiling have been at the forefront of discussions across the country. One Police Department has found a possible path forward. The Las Vegas Metro Police Department has implemented many changes and they were even featured on This American Life. The speakers are:
Technology Face Off: Madison, WI vs. Portland, OR
Technology is playing a bigger role in our jobs and in how citizens like to interact with government. Who's doing it better? Two local government administrators from Wisconsin and Oregon will face off and explain what they are doing as well as what your organization can do better. The speakers are:
#13Percent: Leadership Lessons From Governor Barbara Roberts & Governor Christine Gregoire
The keynote address of the conference will be with two glass-ceiling shattering women. These public servants both rose to be Governor of their respective states and continued a life of public service out of office. We'll hear from them about their lessons on leadership and the challenges they see for women in public service. The speakers are:
ELGL Moth: Real Local Gov Stories Told Live
We'll end the day with a happy hour and an "ELGL Moth" session, modeled off of "The Moth Radio Hour" participants will share about their path to public service and topics they are passionate about. So grab a drink, chat with your new friends and enjoy the stories of other local gov administrators before you end your evening.

[/vc_column_text][/vc_column][/vc_row]