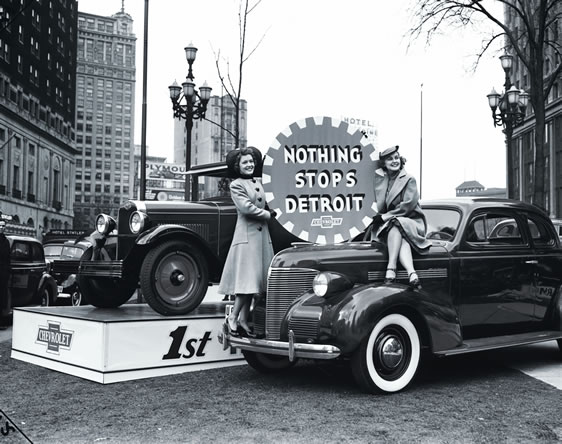 Today marks 30 days to the #ELGL17 conference in Detroit, can you believe it? We're gearing up and getting excited to welcome ELGLers from around the country to the Mitten State. For the next 30 days, we'll be sharing a fun fact about Detroit, along with other interesting information related to the conference. Following along at elgl.org and on Twitter at @ELGL50 and @bridgetdkoz.
TIL (Today I learned) about Detroit… Woodward Avenue was the nation's first concrete highway
There's more than one reason Detroit is known as the Motor City, but a big contributor was its innovation in roadways and highway systems. In 1909, the nation's first mile of concrete highway, known today as Woodward Avenue, was built by the Wayne County Road Commission between 6 Mile and 7 Mile roads in Detroit.
Woodward Avenue, also known as M-1, is Detroit and the surrounding metro area's main drag. The roadway stretches from the heart of Detroit at the Detroit River 21.48 miles to the City of Pontiac. In 1999 it was designated a Historic Heritage Route by MDOT and in 2002, Woodward Avenue became one of America's 99 National Scenic Byways, and "the only urban route so designated" according to the State of Michigan. Woodward is affectionately known as "Detroit's Main Street."
Woodward Avenue is built on history. Originally a transportation path by Native Americans and known as the Saginaw Trail, it developed from a wood planked route to a gravel, mud and cedar block roadway with tollbooths in 1820. And as mentioned, in 1909, the first concrete stretch was paved. Woodward Avenue was named after Judge Augustus B. Woodward, the first Chief Justice of the Michigan Territory.
Woodward Avenue is unarguably the roadway at the heart and soul of the auto industry in America. But, we'll share much more to share about Detroit and Woodward in the coming 30 days. Stay tuned… and see you at #ELGL17! If you haven't registered yet, do so by clicking here. Registration is open to both active and new (or rejoining) ELGL members, so don't hesitate to join us! Any questions, email [email protected].