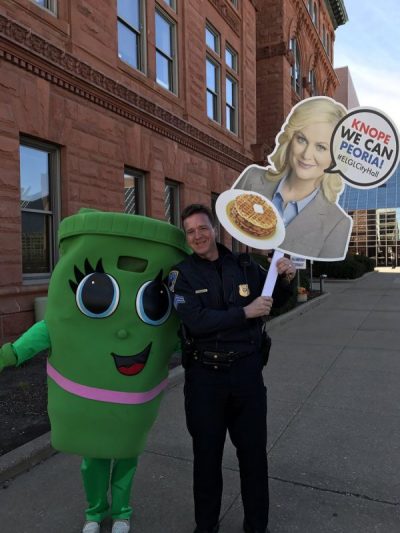 68,000 votes, 2,100 comments, 400 selfies…..And the winner is….
---
City of Peoria, Illinois (59% of the total vote)
---
The Leslie Knope Trophy is headed to Peoria. Congrats to Stacy Peterson and her team of staff, elected officials and volunteers. What an effort!
Hats off to Sophie Banner and the City of Vancouver, Washington for their effort, a text book example of how local government can be fun and engage the community.
In an upcoming episode of GovLove, ELGL co-founder Kent Wyatt debriefs the competition with Stacy and Sophie.
---
#ELGLCityHall Photos
ELGL Photo Album – Facebook
City of Peoria, IL Photo Album – Facebook and Twitter
City of Vancouver Photo Album – Facebook, Google Photos, Twitter
---
Press Clippings
Peoria Journal Star: City Hall put its best face forward in competition
Peoria Journal Star: Peoria beats out hundreds of competitors for title of 'Best City Hall'
The Columbian: Vancouver places second in city hall beauty contest
Peoria Public Radio: 'Selfie' Takers Swarm Outside City Hall, as Competition Comes to a Close

KATU News: Vancouver handles city hall contest loss with grace
Oregon Public Broadcasting: Vancouver Vying For Top City Hall Title
KGW News: Mayor Leavitt campaigns for Vancouver
The Columbian: City aims for the 'Leslie Knope Greatest City Hall Trophy'
CI Proud: Finals: Peoria City Hall faces off against Vancouver, Washington
Peoria Public Radio: Peoria Leads Opponent in 'Best City Hall' Finals Matchup
Post-Crescent: Little Chute falls to Vancouver in semifinals
WWCT: PEORIA'S BEAUTIFUL & HISTORIC CITY HALL IS IN THE FINALS!
Central Illinois Proud: Peoria City Hall in National Championship
NBC 25: Peoria City Hall makes final two
1470 WMBD: Peoria City Hall Finalist In Competition
Peoria Journal Star: Peoria City Hall reaches contest finals
---
Media Information
Engaging Local Government Leaders (ELGL) is a big-tent organization with more than 1,900 members from across the country. ELGL is committed to increasing diversity and inclusion in local government through the #13Percent initiative, embracing new technologies, and communicating in a "human voice" to attract and retain the talented professionals.
In 2016, ELGL hosted the first International City Hall Selfie Day which attracted more than 1,500 entries and highlighted the pride of local government professionals.
GovLove, an ELGL podcast production, has produced more than 100 episodes with guests ranging from Gabe Klein, author of The Start-Up City, Ocean Quigley, former Creative Director at EA in charge of SimCity, George Hawkins, DC Water CEO, Leah Treat, Portland Bureau of Transportation Director, and Pat Martel, City Manager of Daly City, CA and former ICMA President.
GovLoop has named ELGL a top government professional association and StateTech named ELGL a must-read state and local IT blog.
---
ELGL Contacts
Kent Wyatt – [email protected]
Ben McCready – [email protected]