It's time to vote in the #ELGLKnope Elite Eight! Read about this matchup, and then submit your vote! One vote per email address, please. We'll tally the votes and will post the next round of matchups on Tuesday!
---

Elsinore Arch, Greater Cincinnati Water Works
Cincinnati, Ohio 45232
Three words to describe Elsinore Arch, Greater Cincinnati Water Works: Historic, Unique, Hamlet
Why are you nominating Elsinore Arch, Greater Cincinnati Water Works: Greater Cincinnati Water Works (GCWW) proudly nominates Elsinore Arch. Elsinore Arch (also known as Elsinore Tower) is a registered historic structure in Cincinnati, Ohio, listed in the National Register on March 3, 1980.In 1883, Cincinnati Water Works decided to extend its water supply main tunnel (which had remained incomplete for several years) 185 feet to the line at Gilbert Avenue. This main started at the reservoir in Eden Park. However, to control the flow of water at the base of the steep hill, a valve house was needed. Cincinnati Water Works wanted to enhance the landscape of the park and also wanted a structure that would also serve as a new entrance to the park – so they felt that the valve house needed to have a unique design.That spring, Cincinnati was host to the Shakespearean Dramatic Festival at Music Hall. The highlight of the festival was the performance of "Hamlet" (featuring Shakespearean actor James Edward Murdoch in the role of Hamlet; popular because Cincinnati was his hometown). The audience was highly impressed with the stage sets, especially the opening scene. This particular stage set was a 65-by-65 foot painting (painted by a local artist named Merry) of Elsinore Castle (aka Kronberg Castle), where the moody Denmark prince walked at night and spoke with the ghost of his father. In the audience that night was Water Works Superintendent A.G. Moore. He was so impressed with the painting of Elsinore Castle, that the next Monday morning, he took a newspaper illustration of the Elsinore stage set to the offices of Samuel Hannaford and Sons (a famous local architectural firm that also designed Cincinnati's Music Hall and City Hall). Charles B. Hannaford, the son of Samuel, was commissioned to design the valve house in the form of Elsinore Castle. The Elsinore Tower was built later that year.
Anything else to share? The building at Gilbert Avenue and Elsinore Place was constructed in 1883 for Cincinnati Water Works and was inspired by the Elsinore Castle, featured in "Hamlet." The adjacent building was built with stonework similar to that used in the arch's construction and was once the home of Cincinnati's Natural History Museum. Today it is the home to WCPO-TV.
---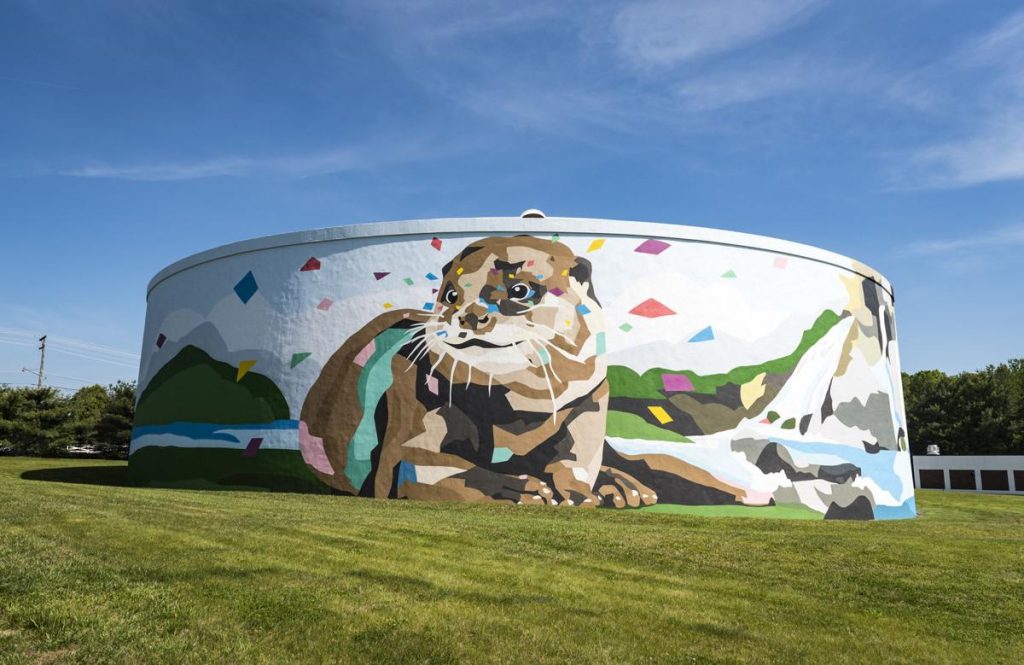 Sides Road Water Tank
Winston Salem, North Carolina 27106
Three words to describe Sides Road Water Tank: Artistic
Collaborative
Educational
Why are you nominating Sides Road Water Tank: The Sides Road Water Tank hosts a mural is named "A Morning on the Yadkin River." The mural, painted/designed by Florida based artist known as Daas, depicts an American River Otter. Otters are native to the Yadkin River which serves as the main source of water for the region. The mural was created through a public/private partnership with the Lidl grocery chain, the Winston-Salem/Forsyth County Utilities, and the Winston-Salem Public Art Commission. It is visible to approximately 25,000 drivers every day, bringing attention to our water resources and what they mean to our city. Finally, the water tank is being nominated because it's absolutely adorable – not a fact, but a very, very strong opinion.
Anything else to share? This links to a really fun time-lapse video of the otter being painted