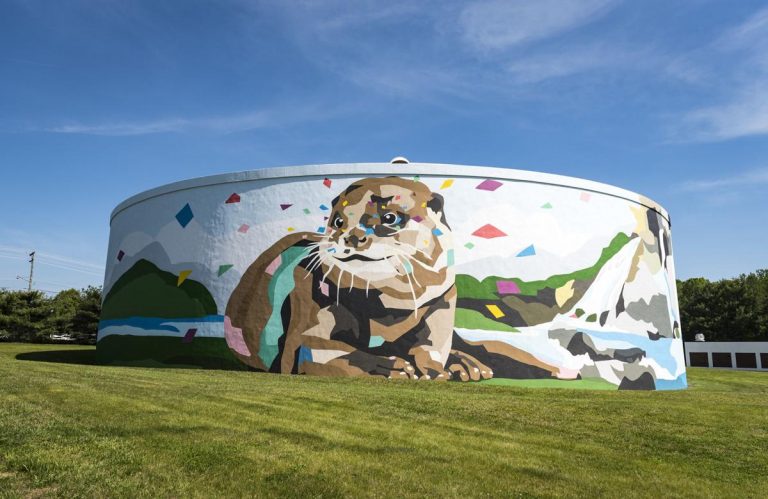 The following is a news release from the Winston-Salem/Forsyth County Utilities Department:
---
City of Winston-Salem • PO Box 2511 • Winston-Salem, NC 27102 • cityofws.org/utilities
NEWS RELEASE 
Winston-Salem/Forsyth County Utilities Department
April 5, 2021
Contact: Gale Ketteler, 336-747-7414, 

[email protected]
River Otter Mural Wins National Championship
A river otter mural on a water tank in Winston-Salem has won the Knope National Championship, a March Madness-style competition for municipal water facilities hosted online by Engaging Local Government Leaders.
The Winston-Salem/Forsyth County Utilities Sides Road Water Tank was one of 85 nominees. Buoyed by the Arts Council of Winston-Salem & Forsyth County, global otter protection groups and local media encouraging the public to vote, the tank won every weekly bracket over the past month. In the final round, the colorful critter beat a wastewater reclamation facility in Athens, Georgia with 3,036 votes to 2,615.
Kirsten Wyatt, the executive director of ELGL said the winner of this fun contest receives, "a trophy, world acclaim, a free All-In membership to ELGL for the year and of course ELGL's forever admiration."
Local ELGL members proud to have those bragging rights are city and utilities staffers Heather Curry and Ricky Ruvio. They entered "Daybreak Along the River" featuring an indigenous American River Otter that was designed and painted by Daas in 2018. They describe it as "absolutely adorable – not a fact, but a very, very strong opinion."
"The large participation in voting from the community really shows how much public art can make a positive, meaningful impact and serve as an example to encourage creative use for these types of municipal water facilities around the country," Daas said.
The mural is visible to thousands of southbound drivers every day on Peters Creek Parkway just south of Clemmonsville Road. It helps bring attention to our water resources, our native flora and fauna, and how important they are for our community.
Otters are native to the Yadkin River which serves as the main source of water for the region. The mural was created through a public/private partnership with the Lidl grocery chain, Winston-Salem/Forsyth County Utilities and the Winston-Salem Public Art Commission.
See an interview with Daas at youtu.be/2gmPQvZDtNk, a time-lapse video of the otter mural painting process at youtu.be/P8yNR4gogGE and more of the artist's work at artist-daas.com.
Each year, ELGL hosts the Knope Award to shine a light on essential local government services. "This year, by focusing on water, wastewater and stormwater facilities, we wanted to showcase how critical these services are to thriving and livable communities," Wyatt said. "It's an added bonus that this year's National Champion is also simply adorable and reminds local government of the powerful connection between public services and public art."
Visit cityofws.org/1287/Water-Treatment for information on the WSFC Utilities Water Treatment Division. To learn more about this annual competition, visit elgl.org/2021-elglknope/.
About WSFC Utilities:
Winston-Salem/Forsyth County Utilities provides high-quality water, wastewater and solid waste services through responsible use of resources, reliable delivery and stewardship of the environment. Administrative offices are located in Winston-Salem with management by the Winston-Salem/Forsyth County Utility Commission, formed by a joint consolidation agreement in 1976.
– end –