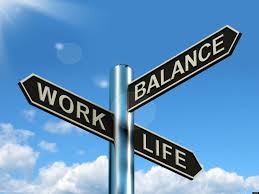 [vc_row full_width="" parallax="" parallax_image=""][vc_column width="1/1″][vc_column_text]
Join in the #ELGLWorkLife series, survey and webinar focusing on work life balance.  This series aims to address that age-old challenge of balancing professional work with a personal life.
Sarah Hazel (LinkedIn & Twitter), is an active member of Southeast ELGL and ICMA Fellow at the City of Charlotte, NC. Sarah works in the City Manager's Office on a variety of projects including records management and a grant funded civic engagement initiative. Sarah is admittedly a "local government enthusiast." She is passionate about connecting people (residents and employees) with opportunities to shape their daily lives and brings her outreach and storytelling background to her work in local government. Sarah is a graduate of the UNC MPA program.
Living Deliberately — Designing a Work–Life Improvement Project
"Imagine you're standing in front of a heaping buffet, featuring all of your favorite foods. What's your plan of attack? Do you squeeze one tiny bite of everything onto your plate? Eat so much you make yourself sick? Become overwhelmed by the options and come away dissatisfied, no matter what you choose? Opportunities – both at work and in the rest of life – are like that overloaded sideboard. Everything looks delicious, but we can't eat it all (though we might try). We have to be more intentional and deliberate."
This was the prompt in the Harvard Business Review  article that became the
catalyst for a several month quest with a goal of being purposeful with life's buffet of choices, because frankly sometimes, my plate was overflowing! The article encourages people to use tools to determine what will fit into work and life, and suggests tracking steps towards progress – kind of like Fitbit for holistic well-being – to measure achievement. So I teamed up with a colleague, Sarah (yes we are both named Sarah) to live purposefully, in all things, life and local government and to execute what we called, our Living Deliberately Action Plan.
A Lil' about the Living Deliberately Partners…
Besides having the same name, we both work for the City of Charlotte, and are fierce lionesses (we are also both Leos). We are also in very different places in our life. Sarah has a beautiful grown family and is in the twilight of her amazing dynamic career in the City of Charlotte.  Me, I am a couple years into making a career shift (a relative newbie to local government), I am about to get married, and I am just starting to find a niche in my new job.
Yet, we had some of the same reasons for wanting to focus on being purposeful. We both dive deeply into work, relationships, community, among other important components of our life, but sometimes our time spent doesn't always match up with our stated values and priorities at the time. Sometimes we overcommit. Sometimes it makes us and our loved ones crazy!  Sometimes we make to-do lists that never end.

If I am to be really honest about myself. I want to advance in my career. I want to work hard, late, and I want to learn everything I can and create value wherever I go. I also want to be a great wife, daughter, and friend. I want to experience life! I want to explore new things, my community, and ideas. The problem is, I want to do them all simultaneously.  (At this point you're either really relating to this or slowly backing away from your laptop making a mental note, to avoid Hurricane Hazel.)
So with this context, the Sarahs set out to see if two life-loving, local government, career-focused women could in fact approach our weeks with directed purpose. Here is what we did…
The Plan
Map it out. First we identified the most important components of our lives and well-being (e.g. work, community, family, wellness, social, personal growth) essentially; we outlined everything important in our buffet of life.
Then, we stated which components we wanted to prioritize with our time every week based on what we value and also what just needed to happen. For example, during a tricky budget season, work was always near the top of Sarah's list. She had to be prepared for long nights and weekends.  Equally as important, we said what we would not be spending time on. I would not commit to writing this blog even when it crossed my mind until this week.
Talk it through and look ahead. We met to talk about our values, talk about how we did following our plan, and what we wanted to focus on the next week.
Results
For me, on the weeks we met – and we missed some weeks – I saw a great difference in my overall feeling of holistic success, including my job. For example, I did a much better job forgiving myself for a last minute opportunity I just couldn't take because it didn't match up with what I needed to focus on.

This was a work opportunity to present a project I am very proud of to City Council. Can you say public TV appearance! CLT Gov Channel?! Yes please.  Of course, I should do that, right? Not right.  That was a week that I committed to being out of town with my family in the wake of the passing of a loved one. Instead of rushing home early to present to Council (which I could have done) I focused on my stated priority and spent that extra day with my family. Then, the next week, when I knew I could, I leaned right back in again to work and spent some late nights working deliberately to get another opportunity like that in the future. I didn't regret it.
My Learning
Overall, through this process I have learned several things:
Accountability to living deliberately is easier when you have a partner. It was much easier to stay true to my priorities when I was meeting with Sarah weekly.  We encouraged each other and I looked forward to our time together.
Wise women rule. Having a woman to talk to (who happens to not be my boss), but who is very much a great teacher, is incredibly special. Her willingness to listen and then provide insight about work and life challenges is great. It was inspiring to hear about her work (she navigated a complicated budget this year with grace and tenacity), and her family (she gives so much love to the people in her life). It was also comforting to hear about the real tensions she faces when it comes to spending her time. It's nice to know, I am not alone, and that this SUPER woman I admire, is not in fact superwoman, because newsflash no one is!
Pause and celebrate. Before moving onto the next thing, stop and celebrate. One week after debriefing when I was relaying what I did not accomplish, Sarah said, "Just take a moment and look at all you have accomplished this week!" Yeah…. I guess that's right.
Your Turn

There has been some interest among our colleagues who want to try this approach so our quest may become a larger journey with more teammates and support. If anyone out there wants to start their own plan with a partner, see an example here  to help you get started, and please share your own experiences.  From two women navigating career, family, life and seeking personal fulfillment, to the ELGL community, we say, go forth and Live Deliberately!
You can continue the conversation by leaving comments, or discussing on Twitter using #ELGLWorkLife. If you're interested in joining the conversation as a guest writer please contact Benjamin McCready at [email protected] or Freida Edgette.[/vc_column_text][/vc_column][/vc_row]