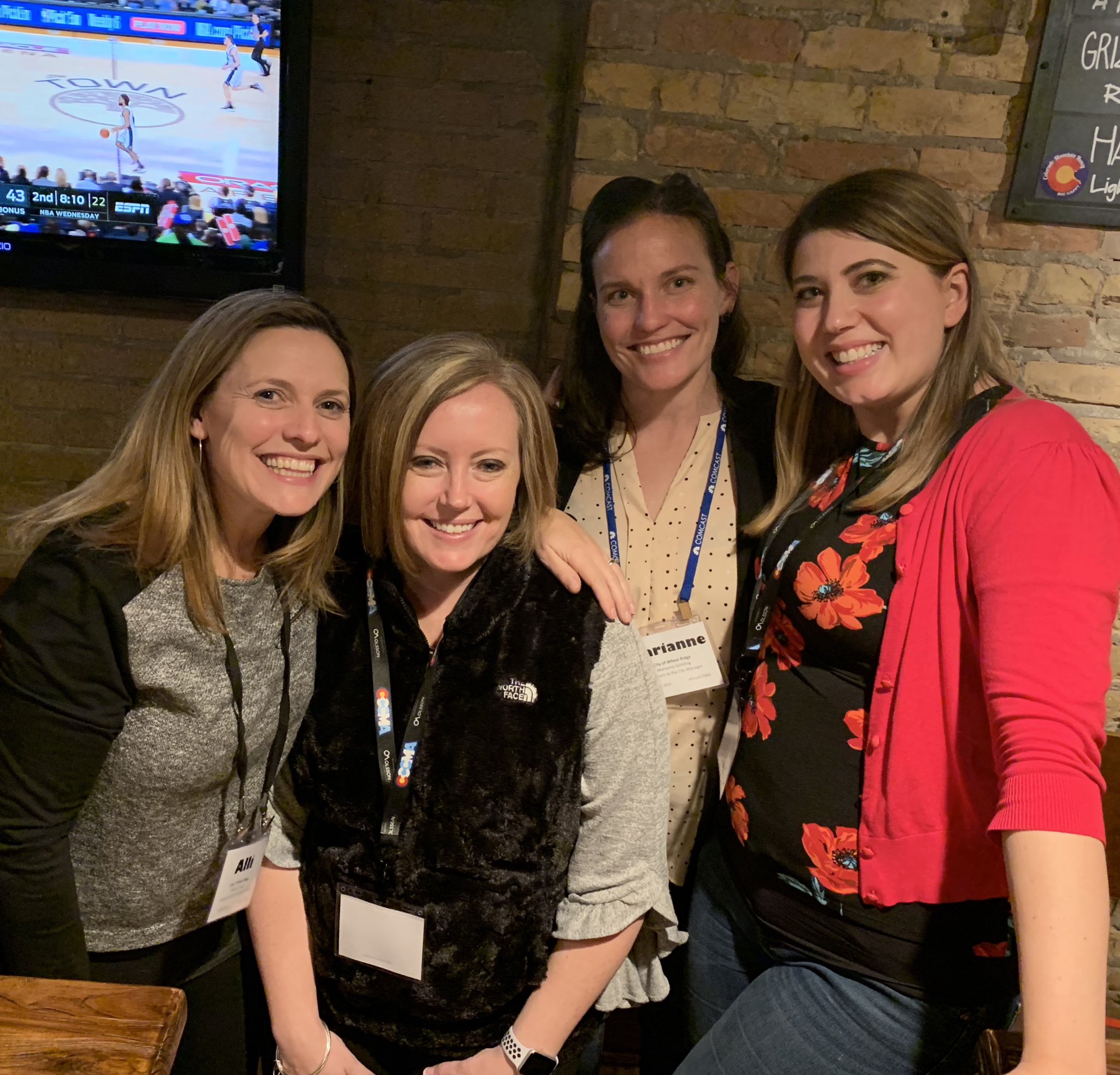 Today's Morning Buzz is by Kirsten Wyatt.
---
Last week I missed the new ELGL tradition of #NDOSC (National Day of Supper Clubbing) because I was stuck in an airport, but I watched the events unfold across the nation thanks to social media sharing.
And out of all of the pictures of smiling ELGL faces at the different #NDOSC events, one picture stuck with me and I wanted to write about it in today's Morning Buzz:
R-L: former and current Assistant To The City Manager and former and current Admin Svs Director. Grateful we have each other and appreciative for the guidance and support. @ColoCCMA #LocalGov #365daysofthankfulness pic.twitter.com/GX5q8IFnMC

— Allison Scheck (@awhscheck) February 7, 2019
Left to right, that's Allison Scheck, Heather Geyer, Marianne Schilling and Carly Lorentz.
Here's the landscape:
This picture shows the local government job overlap that you may have experienced before – the oversimplification is that, "Ally is the new Heather, and Marianne is the new Carly."
I asked them about their relationships and in their responses, I heard three key themes to benefit all of us working in local government:
Empowered Women, Empower Women
Heather Geyer:
"I believe it's our responsibility in public service service (and really as human beings) to lift others up. Being a part of helping others realize their dream is a humbling and beautiful way to experience life!"
Allison Scheck:
"To know I have the support of my predecessor, to know that she wants me to be so successful…that brings immense comfort and calm as I begin my new role. Imagine a world where we can all pick up the phone and call the person who sat in our chair before us, knowing they are cheering for us to succeed."
Carly Lorentz:
"The fact that we are all women is also important, because I am invested in helping remove barriers for women to achieve leadership positions. I care very much about being a voice of encouragement and support for my colleagues. Building relationships means looking for opportunities to connect- whether through a common experience, a common career path, interacting on twitter, or in some cases even reaching out while competing for a job "against" each other."
Marianne Schilling:
"Both Heather and Carly both left Wheat Ridge after several years to take on roles to advance their careers but I know that they want us to do a great job in Wheat Ridge!  It's uplifting and reassuring to know that we have them as resources because they care deeply about Wheat Ridge's success, and any work we are able to achieve now is a direct result of their years of dedication."
Build Your Network
Heather:
"We experience the good, the bad and the ugly in local government.  Those that stand beside you through all of it are the ones you want in your network."
Allison:
"Depending on your role, work can be a lonely place. The more senior our role, the less likely we are to have peers and mentors to bounce ideas around with in our own organizations. Having the ability to kick things around with supportive, honest and candid members of our network not only results in better work product, but feels less lonely and more meaningful. Rarely are we experiencing something so unique that no one would understand."
Carly:
"The network within Colorado and of course my ELGL family matters a lot to me! Allison and I got the chance to connect over a tour of Outdoor Lab ( a science camp for all Jefferson County middle schoolers) together about two years ago and we talked local government and bonded over passion for public service. We have been meeting up for lunch periodically ever since.
I met Marianne during the hiring process for my past position and have met her for lunch to talk about past projects, share ideas, hopes, and more local gov-nerding out. Heather was my supervisor for many years and I value her input and guidance tremendously. Together, the four of us have many shared goals of continuously improving local government and to grow within our networks and careers. We are on the same team!"
Kindness Matters
Carly:
"Building relationships means looking for opportunities to connect- whether through a common experience, a common career path, interacting on twitter, or in some cases even reaching out while competing for a job "against" each other. I feel lucky to be in a profession with so many people with shared values of public service and continual growth. I feel lucky to part of ELGL, a community that encourages joy, connection, and striving for the best and I feel lucky to be friends with these smart and influential women."
Allison:
"We've all heard, and perhaps experienced, how hard women can be on one another. Tearing each other apart, no matter how innocuous it seems,  is so counterproductive to our desire to advance women's empowerment in the workplace. Don't do it! Build each other up, be kind, point out the good. Surround yourself with men and women you admire and the chances are, they admire you too."
Marianne:
"One of my favorite things about local government is how there is no pride in ownership, and how your peers will share their knowledge and experience in order to help the collective group succeed. I know I can reach out to Carly and ask her to learn more about the context of project, and she will share what she knows to help me develop a successful product using the tools she created."
---
What can you do to replicate the relationships they've formed in Colorado? Here are three ideas that I gleaned from Ally, Marianne, Heather, and Carly:
When you leave a position, reach out to the person who follows you and offer your assistance and perspective (if they want it). Set them up for their own future success.
Remember that the local gov world is very small so the person you're interviewing against will probably be your coworker or colleague at some point – and they'll remember how you treated them. Kindness matters.
Other people's success isn't a detriment to yours – when someone needs help, offer it freely and without conditions. There's room for all of us to shine.
Other ideas that you've experienced? How have you forged strong local government relationships? Share your ideas in the comments or on Twitter!