---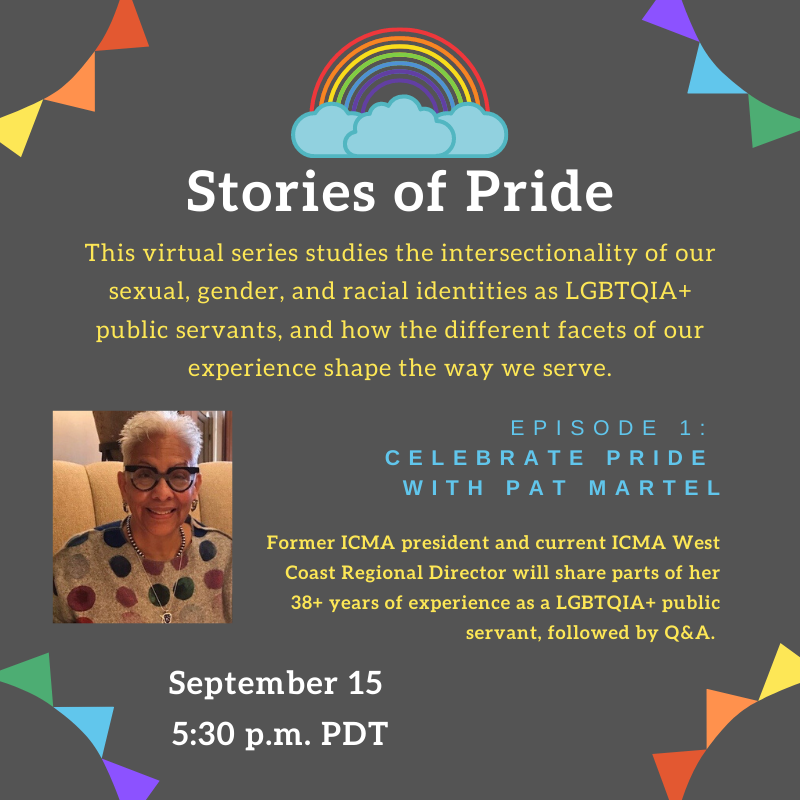 CivicPRIDE has been thinking about additional ways to showcase our experience as LGBTQIA+ public servants, to help build resources for those interested in local government leadership, and to show the change that we are able to effect in our communities. In light of this, we are creating a platform to discuss our experiences, the intersectionality of our sexual, gender, and racial identities as LGBTQIA+ public servants, and how the different facets of our experience shape the way we serve.
In partnership with ELGL, CivicPRIDE is launching "Stories of Pride." Stories of Pride is a virtual story telling platform via web-conferencing, where we ask a speaker to discuss their experiences as an LGBTQIA+ public servant. These stories may be uplifting and demonstrate community acceptance of the speaker's identity, showcase difficulties that a speaker has faced and where they have found strength to press on, or how they've met challenges in their careers and communities. Please join us for an hour of stories with time for questions and answers with former ICMA president and current ICMA West Coast Regional Director Pat Martel. We've included Ms. Martel's bio below in full.
---
Pat Martel's Bio:
Appointed ICMA West Coast Regional Director in July 2019, following thirty-eight years of distinguished service in California local government, Pat Martel held executive leadership positions with the cities of Inglewood, South San Francisco, Daly City, San Francisco and Hayward. Serving as an Assistant City Manager, General Manager of Public Utilities and City Manager, Ms. Martel was responsible for managing public services in communities ranging in size from 67,000 to 850,000 residents.
Most recently, Pat served as City Manager of Daly City from 2005 until retiring in June, 2018. She previously served as Assistant City Manager of Daly City from 1995 to 2001 before moving to the City and County of San Francisco to serve as the General Manager of the Public Utilities Commission. Throughout her career, Ms. Martel was committed to delivering high quality public services efficiently and cost effectively, enhancing community engagement and civic leadership, supporting organizational development and excellence, working collaboratively with elected officials to enhance governance and leadership, providing staff leadership development, advancing women and diversity in local government through inclusive recruitment, selection and professional development practices.
As West Coast Regional Director for the International City/County Management Association, Pat is responsible for coordinating ICMA's presence in the West Coast Region which includes the states of Alaska, California, Hawaii, Nevada, Oregon and Washington. Providing support to well over 1500 ICMA members in the region, Pat serves as ICMA's liaison to each of the state associations in making available the resources required by local government management professionals to successfully fulfill their public service responsibilities. The Regional Director also supports the ICMA Executive Board Vice Presidents representing the west coast.
Throughout her tenure in public service, Pat was actively engaged in professional development as a member of the International City and County Management Association (ICMA). She served on the Governmental Affairs and Policy Committee, Task Force on Women in the Profession, Task Force on Financing ICMA, Task Force on Leadership, and the Task Force on Strengthening Inclusiveness in the Profession. Currently, she is the ICMA co-chair, in partnership with the Center for Public Safety Excellence, of a white paper research project on 21st Century Fire Services.
Ms. Martel was elected a member of the ICMA Executive Board as West Coast Regional Vice President, 2010-2013. She was selected by the Executive Board to serve as the 102nd President of ICMA in 2015. Pat has also served the profession as a member of the California City Management Foundation Board, the City Managers Department of the League of California Cities, Women Leading Government Board, the Local Government Hispanic Network Board, and was most recently selected to serve on the Board of the Institute for Local Government. Ms. Martel was inducted as a Fellow of the National Academy of Public Administration in 2015 where she has served on the Fellows Nominating Committee.
Martel is the recipient of numerous awards and recognition for her contributions to local government, public service and the city management profession including: California City Management Foundation "City Manager of the Year" (2017), Elected a Fellow of the National Academy of Public Administration for sustained exemplary contributions to the improvement of Public Administration (2015), Women Leading Government Career Excellence Award (2013), San Francisco State University Award for Significant and Outstanding Public Service (2013), Daly City/Colma Chamber of Commerce Cypress Business Award for Leadership (2013), KQED Public Broadcasting Corporation and Kaiser Permanente Hispanic Heritage Month Local Hero for outstanding contributions and commitment to community service (2004), San Francisco Business Times Top 100 Women Business Leaders (2003) and 100 Most Influential Business Leaders in the Bay Area (2002).
A graduate of the University of Southern California, Martel holds a B.S. degree in Public Affairs and Journalism, as well as a Master's degree in Public Administration