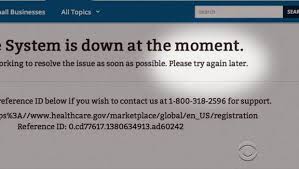 This is another installment of an ELGL original content series titled "Taking Triple Aim on Health Care" by Josh Schultz.  Josh is a Client Services Associate at Medicare Rights Center, New York
An Exchange Established by the State
October 16, 2013
[youtube http://www.youtube.com/watch?v=pdxuezbBwVA]
An advertisement for HealthCare.gov, the federal Health Insurance Marketplace
Something went wrong for people in 36 states.
Two weeks ago I wrote that the Affordable Care Act (ACA) would launch relatively smoothly, and that consumers would see only a few glitches when it came to determining their eligibility for the ACA's insurance affordability tax credits. I may have spoken too soon. We are in week three of the ACA initial open enrollment period. To date, few people have been able to enroll in coverage through HealthCare.gov, the federal government's Health Insurance Marketplace (exchange).
People living in the 36 states that didn't build their own exchanges must purchase insurance through HealthCare.gov, and most haven't been able to do so. Since day one of open enrollment, people attempting to enroll have been told that the website was down, that the site was overwhelmed by web traffic from people wanting to buy insurance, and later, that the site was down for maintenance. Before you can shop for coverage or even browse different health plans on HealthCare.gov, you must create a HealthCare.gov user account. I created my account a few months back when the site first allowed people to create one and receive additional information tailored the account holder's state of residence.
As with some other accounts created before October 1, my HealthCare.gov account "disappeared" on October 1 and I was prompted to create a new one, before I could browse for health insurance options. While some responsibility for the federal Marketplace's widely panned failure to launch does rest with Health and Human Services and the federal contractors entrusted get the job done, other factors must be considered.
States that built their own exchanges are in better shape (except Hawaii).
Oregon is one of 14 states (plus the District of Columbia) that chose to run its own exchange. When a state runs its own exchange, the site's design and operation can be tailored to the unique demographics and characteristics of the people a state wants to enroll in health insurance.
Cover Oregon anticipated problems with its initial launch. Before open enrollment began, Oregon's exchange made a strategic decision to route all applications for health insurance through Cover Oregon-trained community partners and certified insurance agents, who were given access to Cover Oregon's online portal where they could enroll people in health insurance. Individual consumers and small businesses wanting to enroll have been working with these agents, community partners, or with customer service representatives by calling
1-855-CoverOR to apply for coverage. Oregon's situation is far from ideal – applications for insurance affordability tax credits must be processed manually, for example – but people are able to apply for tax credits and enroll in coverage.  Almost all state-based exchanges are humming along more smoothly than the federal exchange.  The exception is Hawaii, whose exchange was built by the same contractor the federal government commissioned to build HealthCare.gov.
Residents of 36 states are out of luck, should call 1-800-318-2596, or wait until November.
In the 36 states where HHS is running all or part of the Exchange, people must go to HealthCare.gov or call 1-800-318-2596 to try to enroll in coverage. A family member reached out to me last week and asked me to help a friend explore health insurance options and enroll in coverage beginning January 1. I was happy to help, so I called this person, explained the ACA's market reforms and asked a few questions to determine whether the person would qualify for an affordability tax credit. Because this person lives in a state that opted not to build its own Exchange, I decided to wait a few weeks before going online to enroll the person in coverage via HealthCare.gov. Enrollments need to be submitted by December 15 in order for coverage to begin January 1.  In addition, Americans must submit enrollments by February 15, 2014 to avoid paying an individual mandate tax penalty for not having health insurance.
Legislative history shows an aim for state-based Exchanges.
When the 111th U.S. Congress debated options for national health reform, the exchanges (re-dubbed "Marketplaces" this past January) were central to both the House-passed and Senate-passed health bills. The House of Representatives prescribed a federal exchange for all 50 states (H.R. 3962). The Senate rejected the House's proposal and came up with state-oriented legislation where state exchanges took center stage. The Senate's version became the framework for the ACA as ultimately passed by both chambers, with a system of state-based exchanges being a focus of the final bill. By allowing for the creation of exchanges in each state, with a federal exchange existing only as a fallback measure, the Senate didn't account for several contingencies.  Among them:
that Obamacare would face unified Republican opposition in state capitals across the U.S.;
that more than half of states – including two with Democrat governors – would pass on the monumental task of building a state-based Exchange;
that future Congresses (in 2011, 2012, and 2013) would deny the Obama Administration additional appropriations necessary to fund the implementation of a duly enacted federal law;
and, that the Supreme Court would prevent the HHS Secretary from flexing her power under the Obamacare statute to compel all states to expand Medicaid. Enrolling people in Medicaid was envisioned by Congress as a key function of the exchanges.
Washington Post: "Health-care law's fate could hinge on political climate in individual states"
The legislative history of the Affordable Care Act shows that Congress intended for most states to build their own exchanges.  The tax credits in those exchanges that make insurance coverage affordable, will be subject to litigation starting in 2016, as large employers who decide not to offer affordable health insurance to their employees get penalized for that decision. Employers will then have legal standing to sue the federal government, challenging its interpretation that the ACA authorizes affordability tax credits for people who purchase coverage through the federal exchange. The Supreme Court's ruling in NFIB v. Sebelius that upheld the ACA also confirms that affordability tax credits in the federal exchange cannot be challenged in court until an employer is penalized after an employee accesses those tax credits. In theory, Republicans might see this as a last chance to take down the ACA.
Health Affairs: Tim Jost gives a vigorous defense for offering affordability tax credits in the federal Health Insurance Exchange (2012)
New York Times: After losing in the Supreme Court, Republicans turned tax credits and the federal exchange (2012)
Hot link: The Kaiser Family Foundation's Obamacare Subsidy Calculator
The Medicare Part D roll-out wasn't pretty, either.
A group of health policy experts affiliated with Georgetown University compared the last roll-out of a government health program, Medicare's Part D prescription drug benefit, with the task of launching the ACA Exchanges. When Part D was launched in 2006, President George W. Bush's administration faced numerous obstacles to that law's success. The federal government's online tool to help Medicare beneficiaries select a Part D prescription plan did not debut on schedule, and it had many glitches once HHS did get the web program up and running. There was widespread confusion and lack of information about Part D among potential enrollees. Eight years later, most people enrolled in Part D are pleased with their coverage, and the program costs less than initially predicted by the Congressional Budget Office and Medicare's actuaries. It's become difficult for many people to imagine Medicare without a prescription benefit.
There are notable differences between launching the ACA's Exchanges and rolling out Medicare Part D. The Exchanges are much more complex than Part D from an information technology standpoint, and require the transfer and sharing of information between many different government and private entities' computer systems. Part D presented some data sharing challenges among a handful of government agencies and with the private plans Part D beneficiaries would choose to deliver their coverage, but the magnitude of HealthCare.gov and state-based Exchanges doesn't begin to compare. Moreover, the differences between the two programs are more pronounced in human terms: the political atmosphere related to Part D must be contrasted with today's Republican opposition to the ACA.
Democrats responded differently to Part D than Republicans responded to Obamacare.
On November 23, 2003, Democrat politicians savored the Part D legislation's near-defeat during the longest roll call in the history of the House of Representatives. Speaker Dennis Hastert almost had to call off the vote, and HHS Secretary Tommy Thompson broke decorum and took to the House floor (only members and floor staff typically are allowed there) to jawbone reluctant Congressmen into voting yes. The Part D bill eventually passed the House by 220 – 215 votes, a narrow spread. The Senate used the budget reconciliation process to bypass a Democrat filibuster and approved Part D by a margin of 54 – 44 votes. A few Democrats voted in favor of Part D in both chambers.
Fast forward to health care reform. The Senate passed the major part of the ACA on December 24, 2009 by a margin of 60 – 49 votes, the minimum number of yes votes possible. The House passed the major part of the ACA on March 21, 2010 by 219-212 votes. No Republicans voted for the bill in either chamber. While Democrats were sharp in their criticism of Medicare Part D with their concerns that the largest purchaser of health care in the United States should be able to bargain for drug prices like the Veteran's Administration does for its prescription program, that criticism and opposition became subdued. Democrat members of Congress and blue state governors worked with the Bush Administration to help their constituents enroll in subsidized drug coverage offered under the Part D benefit. Even though they disliked the program's design, Democrats wanted seniors and the disabled to receive coverage for their prescriptions. By contrast, Republican politicians have refused to expand Medicaid, refused to build state-based Exchanges, and they required that ACA health insurance counselors pass rigorous licensing tests and subjected them to Congressional inquiries. They even shut down the federal government in a failed attempt to keep a duly enacted law from going into effect.
Note: all views expressed here are my own.  Please tweet at me with ideas for future posts: @JoshSchultzDC