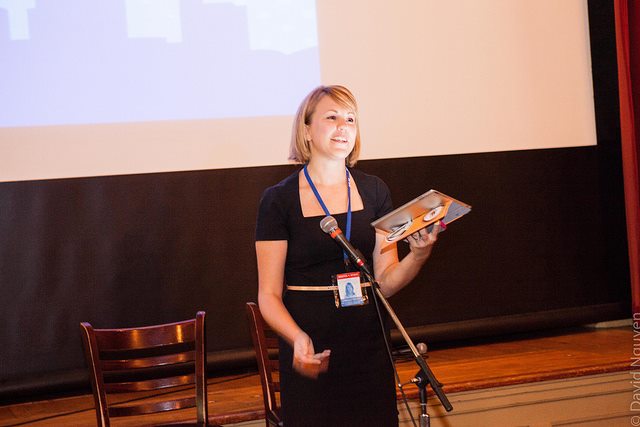 What was your local government moment? What keeps you in local government? Who have been the influences in your career? We take a deep dive into these questions by asking you (the practitioner) to tell your local government story. You can sign up to participate in the bi-monthly feature at Finding Local Government. Thanks to Matt Wojnowski, City of Altus, OK, for developing and coordinating the feature.
Kirsten Wyatt (LinkedIn) is the Assistant City Manager for West Linn, Oregon, and the co-founder of ELGL.
Finding Local Government with Kirsten Wyatt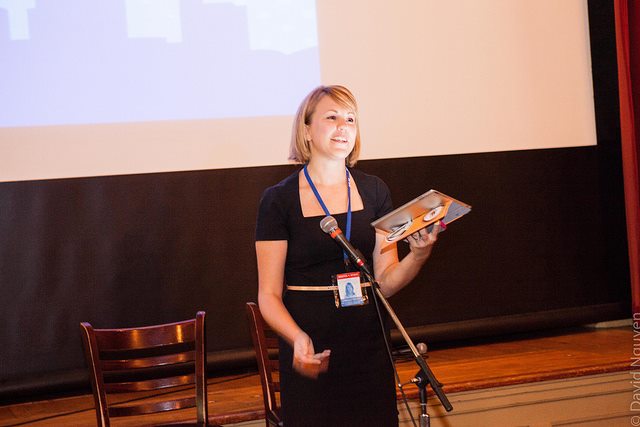 How did you get into the local government profession?
While an undergrad politics major, I am embarrassed to admit that I didn't know where city hall was (it was two blocks from campus) or what form of government the city had (council manager) or what a city manager did.
As with most political science undergraduate curriculums, my program focused almost exclusively on federal and international politics. And given my institution's proximity to the state capitol, there was a tremendous focus on legislative and state government.  I graduated unaware of the true value and impact of local government.
Immediately after graduation, I accepted a job with a private sector public affairs consulting firm, where I had interned during the summers in college.  The firm had a wide variety of clients ranging from public agencies to Fortune 500 companies.  The firm's work was focused on helping these clients navigate public sector challenges. You can think of it as PR, but we were working to influence the minds and hearts of governments, not the general public.
One of the first client teams I was assigned to was for a major international beer company. I think the public affairs company president (who will remain as my OG mentor and can best be described as a communication genius) thought that given my young age, working on beer account issues would be fun and relevant.
The company was facing some trouble from local activists who sought to curb public drunkenness in a busy and populated part of town with a high homeless population. The proposal submitted to the city council from a variety of faith based and social services non profits was to ban the purchase of malt liquor from convenience stores within a specified zone in this part of town.
My job was to monitor all of these meetings and report back to my client about the progress on the proposal to ban one of their products. To this end, I attended task force meetings, city council meetings and industry meetings.  
I learned from the task force that high octane alcohol was the drink of choice for a population of people with severe alcohol addiction and low or no incomes.  I learned from the industry that limiting the public's purchasing options was unfairly promoting a social agenda, and that hardworking, blue collar workers, as a demographic, enjoyed malt liquor after a hard day's work.
My own experience in this part of town showed that public drunkenness was a problem.  The area was full of clubs and bars, near the sports arenas, and also homeless shelters, feeding and warming stations, and faith outreach services.
As I continued to work on this issue, I started to pay closer attention to the people who were joining me at the table on the task force, and who were in attendance at meetings.  They ranged from community service and mental health departments, public safety, political offices, and general administration.  These were people who were passionate about community health and safety.  These were people who were making a profession out of building strong communities.
It soon became clear that I was on the wrong side of the table.
And so began my research and learning about local government service.  I jumped in headfirst to reading more about infrastructure installment and investment, long range and urban planning, and the different forms of government.  
My client work introduced me to city managers in small towns who became the firm's conduits for accurate information about the communities where various clients were doing business.  I became smitten with the idea of the council manager form of government, and that the form closely mimicked a corporate structure where the council guides on a policy basis and the manager is a professional administrator.
I decided to look for graduate schools with strong programs in local government. My research led me to UNC-Chapel Hill, where I felt an immediate connection to the school's long history of serving local governments in North Carolina.  When I began my graduate school term, I felt like I had found my place and my purpose for my career: as a local government manager.
Supplemental Reading