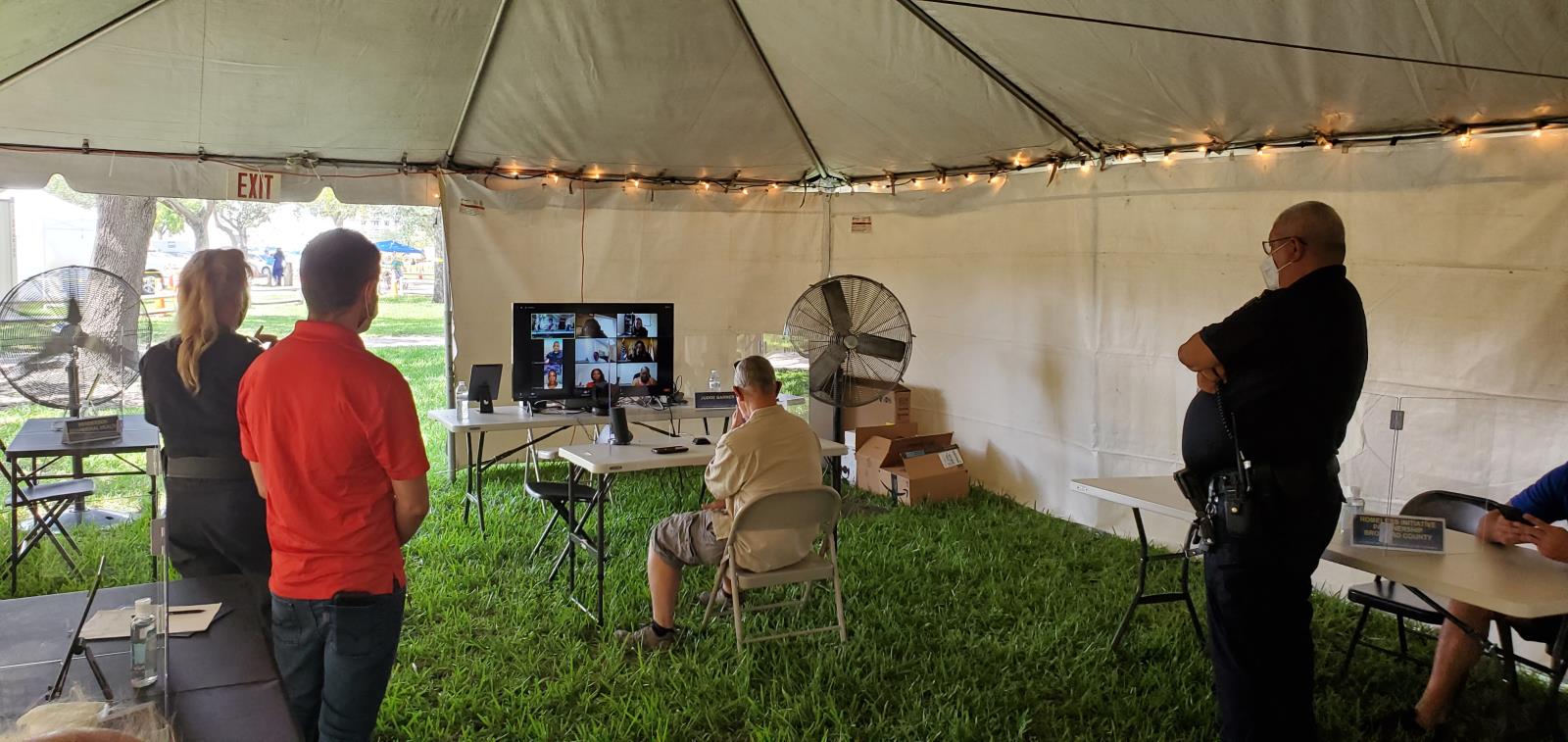 This article was shared with us by Chris Leonard, Community Court Coordinator for the 17th Judicial Circuit Community Court in Fort Lauderdale. This program is an innovative approach to providing services to neighbors experiencing homelessness. With COVID-19 concerns, they have transitioned from in-person meet ups to an open-air facility where participants can interact with providers, attorneys, and overall the court virtually.
---
Fort Lauderdale reopened Community Court services Wednesday – but with a twist. Hearings are now being held virtually in an open-air venue at Holiday Park.
With new coronavirus safety procedures in place, the city hopes to continue its commitment of providing services and resources to its homeless population. Participants in the 17th Judicial Circuit Community Court program have access to therapeutic, community services, drug treatment and social services.
"Reopening Community Court will again allow us to divert homeless people arrested for minor offenses away from jail time and into social services to address underlying issues they have – whether that's drug abuse, medical problems or lack of job skills," Fort Lauderdale Mayor Dean J. Trantalis said in a statement. "This program was an integral part of our earlier success and will be again."
The program was funded through a federal grant managed by the city, with Judge Florence T. Barner, County Court Judge, 17th Judicial Circuit, presiding.
"One of Judge Barner's favorite phrases is 'the community court is a village and it takes a village to raise a child,'" said Reniese McNeal, a case manager with the social service provider SunServe. "That's how we work with one another." McNeal says everyone who works with the system, from the volunteers to the city employees and attorneys, have the best interest of the people they're helping in mind.
Even though court has been closed since March, the City of Fort Lauderdale's Community Court coordinator, Christopher Leonard, says individuals who were already in the program were still receiving regular status checks by service providers. And, during Wednesday's hearings, two people graduated from the program.
"The first virtual hearing went well, and the judge had the two individuals tell their stories and talk about how the resources helped them," Leonard said. "It was nice to be back, and the graduates were excited to tell whoever they hadn't seen about all the progress they've made."
Leonard added that getting the court reopened required teamwork from various departments within the city.
"It was a collaborative effort because there were many moving parts," he said.
Onsite operations are by appointment only, focusing on those with notices to appear for court. Due to coronavirus safety protocols, walk-ins are not being seen at this time. In addition, temperature checks are being taken, social distancing measures have been implemented and COVID-19 testing is offered to participants who may want it.
About Community Court
Community Court was launched in Fort Lauderdale in early 2019 in collaboration with the 17th Judicial Circuit Court of Florida, Broward County, Broward County Clerk of Courts, the Office of the Public Defender, the State Attorney's Office, and service and treatment providers.