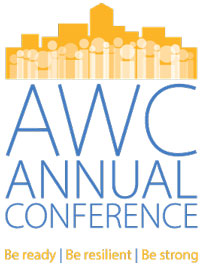 I'm very proud that ELGL and AWC are working together once again on the AWC annual conference! This year, we're cohosting four separate conference sessions:
Wednesday @ 2:00 – Hands on social media
Interested in dipping your toes in the social media waters? This session provides step-by-step basics on how elected officials can most effectively use social media to tell a local government story. Whether you want to learn how to best use social media for your own engagement efforts or dial-up your city's social media sharing, this session provides valuable insights.
Wednesday @ 3:15 – Citizen, youth academies, and councils
Learn how your city can develop activities to engage citizens of all ages in your community – from academies to councils, we'll talk about interesting ways that cities are harnessing the energy and excitement of citizens (including middle and high school students) to benefit the community.
Thursday @ 9:15 – Black, white, and read all over
Witness a frank conversation between newspaper editors and reporters as they address local government news coverage in an evolving industry. Get insider knowledge on key concepts when working with today's newspapers, and understand how blogs as media sources have influenced the landscape.
Thursday @ 10:45 – Getting your city digital
Residents expect government to support and operate the technologies they use in their day-to-day lives. In response, cities must rethink their approach to everything digital. Join the discussion on how cities can better serve residents by leveraging flexible, cloud-based technologies to scale and economize their digital government services.
I'm also really excited because the AWC has graciously allowed ELGL the chance to have some new and fresh faces presenting on the panels, including Josh Mahar, Michelle Tagmyer, Chris Maddox, and Luke Fretwell. There's no better experience than presenting at professional conferences to build the next generation of local government leaders.