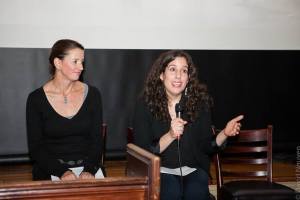 Props to the Portland City Club for posting video from their Friday Forum: Atop the Glass Ceiling – Women in Leadership. Around the 20 minute mark, Marissa Madrigal drops an "ELGL #13Percent" reference.
Meet three Portland women who have made it to the top and are in charge, against the odds. Hear their journeys as they navigated their industries respective glass ceilings, what it took to get into leadership positions, the challenges they face still and why it matters. Are these women the exception or the new normal?
Join Erin Janssens, Portland Fire Chief; DJ Wilson, KGW President and General Manager; and Marissa Madrigal, Multnomah County Chief Operating Officer and former Multnomah County Chair. Moderated by Jillian Schoene, Executive Director of Emerge Oregon.