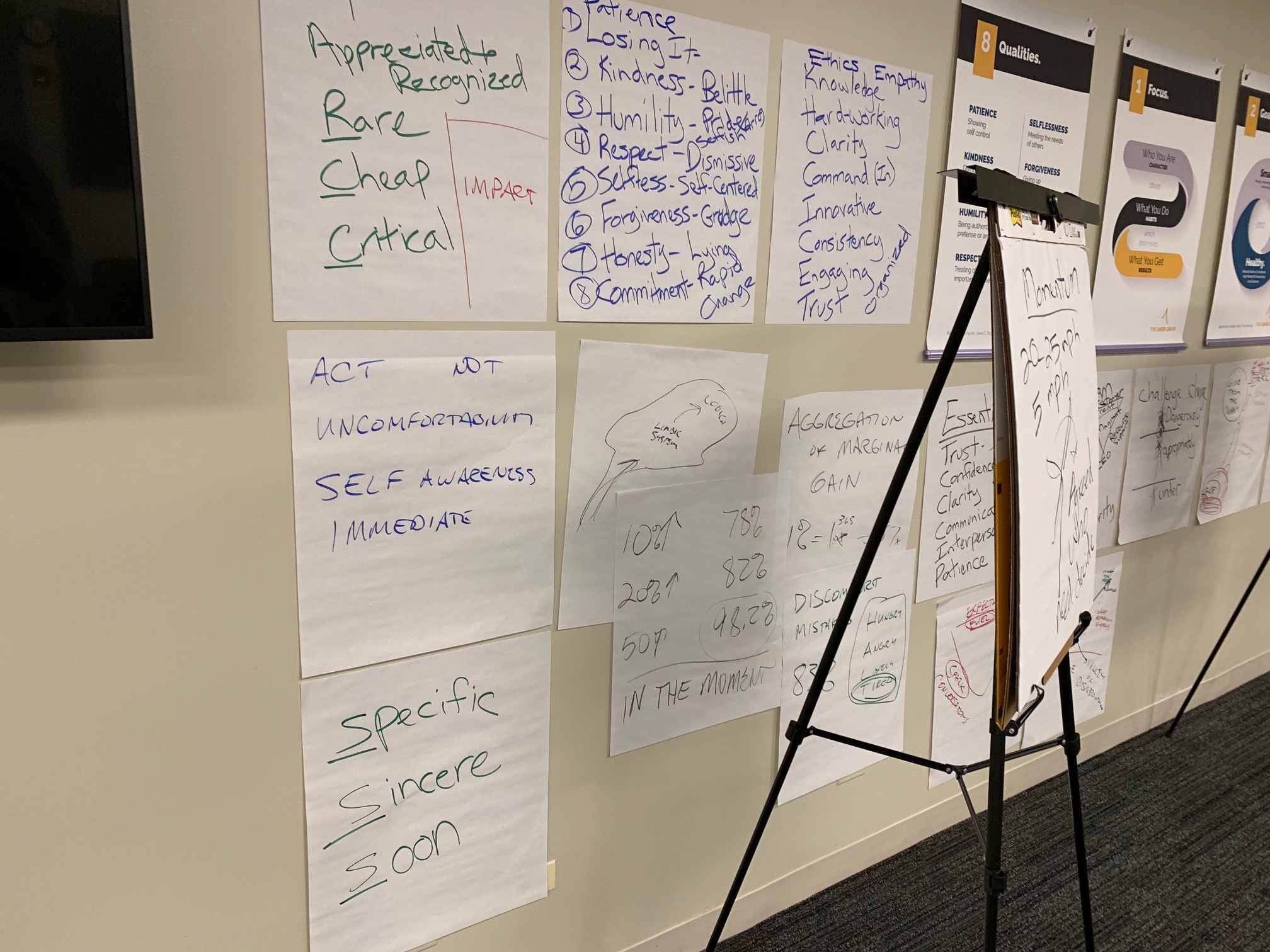 What I'm Watching:  Pocoyo (a delight of a kid's show)
What I'm Reading:  Killing Commendatore – Haruki Murakami
What I'm Listening To:  Still Untitled, the Adam Savage Project
---
Why does your department exist?
It's not an existential crisis.  It's Friday and nobody has time for an existential crisis at work.
Mission, vision, and values are a very traditional model for setting a focus for your organization.  But when mission, vision, and values don't perfectly fit your department needs, what other models are available?  I'd like to share a revised version, focused on Why We Exist and How We Behave.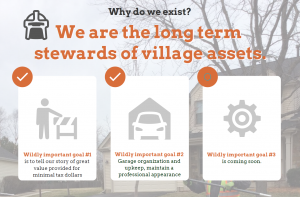 At Buffalo Grove Public Works, we are an APWA Accredited Agency.  That means that our policies and procedures are measured against industry standards and our peers every four years.  With our reaccreditation cycle hitting in 2020, we were in the midst of reviewing and updating our documentation toward the middle of last year.
An early chapter speaks to having a mission statement.  We had one.  It was long.  It covered everything and the kitchen sink.  Yes, we do a huge variety of jobs and provide a huge variety of services for our residents.
But if everything is important, nothing is.  -Patrick Lencioni
We knew that we had to trim down the statement.  We had to create clarity by being more concise.
We started down the traditional path of writing a new Mission Vision and Values statement.  It was like pulling teeth.  A core group was half engaged, knowing that while they could write new statements, if management wasn't comfortable with those statements, or the language therein, then they would be dead documents hanging on a wall, just to check off an accreditation need.  No, we needed something that could be spoken so many times that clarity was inevitable.  We needed statements that could be used as a measuring stick against the daily problems and challenges that arise in Public Works.  And we needed everyone to remain on board.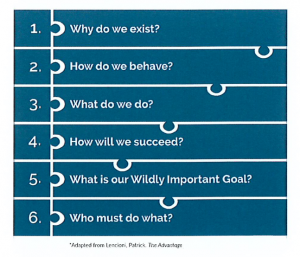 About this time I learned about the work that Rockford Water Department was doing under Director Kyle Saunders.  Kyle was a long time employee that worked up the ranks, understanding that things could "just be a little better" if they invested in some leadership and vision work.  Concentrating on what was in their control, and how they behaved as a team.
The root of their work was based in principles of Patrick Lencioni, with able coaching provided by Glen Williamson of The Anser Group.  We were able to bring in Glen as an advisor and coach, diving into Why We Exist as a public works department.
Why We Exist.  Again, it's not an existential crisis.  It's a simple question, that gets to the heart of why we work and what value we provide.
Buffalo Grove Public Works is the long term stewards of village assets.
There's a lot in that statement.  As it emerged from our brainstorming work with the Anser Group, one manager likened it to a knight carrying the holy grail through time.  Afterall, we're charged with the care and maintenance of utilities that will be in the ground for 75-100 years between replacements, with each piece of infrastructure outliving any one individual career.  These pipes aren't ours, it's just our time to care for them.  That relatively simple, obvious statement of being stewards, brings a clear vision to what we do.  And is something to rally behind.

With that clarity, the next step was then to discuss How We Behave.  What makes BGPW who we are?  What is special and different about what we do?  What are we proud of?  That led to this poster of the 5 Ways We Behave in public works.
Act Professionally
Remain Organized
Maintain a Sense of Humor
Practice Empathy
Be Friendly
The next two steps in Lencioni's model are then What Will We Do and How Will We Succeed.
The easiest way to address these is with Wildly Important Goals.  Set a focused effort for your workgroup, remember that not everything can be important at the same time, and understand that your focus on the WIG's will bring success.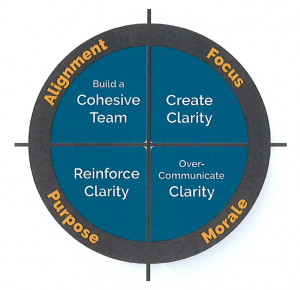 Or first WIG is the Tell the story of benefits provided for minimal tax dollars.  Our second WIG is Garage reorganization.  One external.  One internal.  One external to acknowledge that Police and Fire have traditionally mopped the floor with PW on the public outreach and value of services front.  One internal to recognize that if professionalism and organization are important to the ways we behave, that a cluttered garage does not match our agreed upon behaviors.  So it's time to do a little Marie Kondo up in here.
As managers, now having this clarity, it is easier to keep everyone rowing in the same direction.  Without clarity, and a constant drum beat of that clarity, directions can shift over time and efficiencies won't be realized.
If your organization has tuned out on Mission/Vision/Values, perhaps reframing under the context of Why We Exist would be a beneficial shift in focus.  It's the same overall concept, but helps break free from long held perceptions.  At least it did for us.
Thank you to the Anser Group for the graphics, and their help setting our team on the right path.  You can find them at The Anser Group
Have any questions about our process, or lessons learned along the way?  Hit me up on Twitter @mskibbe.
---
Today's post is by Mike Skibbe, Deputy Director of Public Works with the Village of Buffalo Grove, IL.  You can read more of his musings at ELGL.