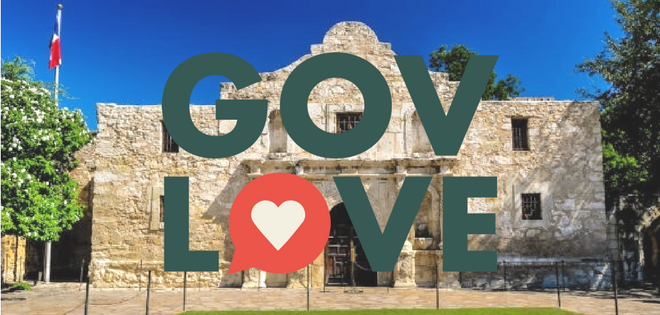 Not to pat ourselves on the back, but the San Antonio Sessions of the GovLove podcast was some of our best work. In case you've been living under a rock or haven't subscribed to GovLove, we hit the road last month and set up a mobile studio at the ICMA Conference in San Antonio. The GovLove team – Alyssa Dinberg, Ben Kittelson, Javon Davis, Kent Wyatt, and Kirsten Wyatt – recorded nine episodes and gave its producer quite a bit of homework.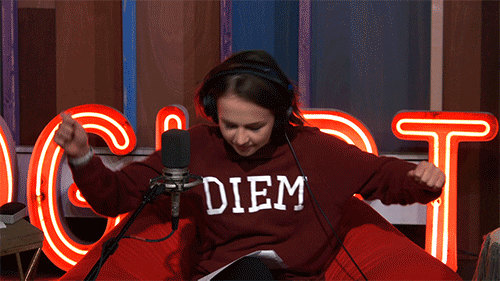 We recorded wide ranging interviews from diversity in local government to Lean Six Sigma to whether a banana is a vegetable and the supremacy of the color blue. Our guests included the Executive Director of ICMA, the City Clerk of Little Rock, AR and managers from Georgia, Tennessee and Arizona. Now that all the interviews are out in the world we wanted to put them in one place for you to enjoy.
Below are summaries and favorite quotes from each episode. Leave a 5-star review on iTunes and we'll send you some swag. If you have an idea for GovLove hit us up on Twitter (@GovLovePodcast) or email Ben. And subscribe! Share GovLove with a coworker and tell them to subscribe, here are all the links:
---
Power to the People with Marc Ott, ICMA Executive Director
The 2017 ICMA Conference marked the end of Marc Ott's first year leading the organization and between appearing at every gathering and addressing attendees he took the time to sit down with us in the GovLove studio. The interview was a wide-ranging conversation on his career path, time as Austin's City Manager and his thoughts on diversity in local government.
"Today as a manager I can operate a street paver, I weigh a buck-fifty but I've operated a street paver. That's a way to learn, you can only learn so much sitting behind a desk, reading papers. They really appreciate you being out there. You're honoring what they do, letting them know it's important."
---
Lean Six Sigma & Roundabouts with Jennifer Teal, City Administrator of Gahanna, OH
One of ELGL's favorite Twitter follows, Jennifer Teal, joined GovLove to teach Kent the proper pronunciation of Gahanna, Ohio (it's like banana) and how they taught residents to use roundabouts. She explained how she's working to change culture and improve processes with lean six sigma principles.
"We've seen a change in culture. We used to be a place where you do things the way your predecessor taught you, the way their predecessor taught them. Now the mantra that I post all over the building and we try really hard to get people to internalize is, 'We challenge the way things have always been done every day.' No matter what we're looking at, no matter what we're doing it is fair to say, 'Why?' It's fair to ask, 'Is there a better way to do it?' And it's fair to experiment and try pilots and just try to do better."
---
Managing Crisis with Cindy Cameron Ogle, City Manager of Gatlinburg, TN

With the fires in Northern California and other parts of the Western US in the news we reached out to Cindy Cameron Ogle, the City Manager of Gatlinburg, Tennessee to share that city's story of dealing with and recovering from a brutal wildfire. She told us about dealing with loss and carrying on with her job, how the community serves as a gateway to the Smokey Mountains and lessons from Pat Summit.
Cindy on her and the Mayor of Gatlinburg losing their homes in the wildfire:"We kind of looked at each other and we made a pact. We said we're going to set aside our personal loss for now, we're going to lean on the strong spouses we have and we're going to focus on the community. That was the agreement that we made, and that's what we did."
---
Leadership & ICMA with Peggy Merriss, City Manager of Decatur, GA
Instead of letting the Kansas City, Missouri Fellows enjoy their ICMA Conference undisturbed, we forced them to come to the GovLove studio and record two interviews. Their first was with Peggy Merriss, the long-time City Manager of Decatur, Georgia and the first female President of ICMA. She shared her career path, favorite management books and how Decatur has changed over the years.
"Local government is that hands on place, we're the closest ones to people's everyday lives. When you turn the water on you expect to have clean water, when you put your garbage out you expect the garbage to get picked up. That's what we do. When the pothole needs to be fixed it's not like a Senator is going to come and fix your pothole. If anything is going to keep this country together I think it's going to be the fact that local governments can keep us safe and secure, and give us great quality of life."
---
Serving with Your Whole Heart in Little Rock, AR
Not one, but two City of Little Rock, Arkansas employees came to the GovLove studio to share their stories. Melissa Bridges, Performance & Innovation Coordinator, and Susan Langley, City Clerk, discussed their career paths, What Works Cities and performance. Both also told Kent about their encounters with President Bill Clinton and how their kids impact their work.
"I hope my kids understand that their mom and their other mother both have jobs that are important. Not because of the title we hold, not because of the office that we work in, but because we both honestly, truly care. You have two people that care about the community in which they live and so we put our whole hearts into our jobs. I hope when they're grown they can say they were proud of me for doing that."
---
Startups and Government with Barry Greenfield, Co-Founder of GovLaunch
Requests for proposal and the procurement process are things that you could only nerd out about with the GovLove crew. Kirsten talked with Barry Greenfield, the Co-Founder of GovLaunch, about how local government could work better with startups, running for local office and his path from journalism to government.
"I think no matter what state you're talking to people in, they will all tell you that the state procurement system is either antiquated or just doesn't get the job done… I think ultimately most procurement folks want to get through the process as quickly and as painlessly as possible. I think technology companies could help that process."
---
Behavioral Insights & Benchmarking with Brent Stockwell, Assistant City Manager of Scottsdale, AZ
The most prepared GovLove guest in our podcast's history Brent Stockwell, the Assistant City Manager of Scottsdale, AZ, came to discuss all things benchmarking and the color blue. Brent was ready to answer every lightning round question we've ever asked and helped Ben remember questions he was supposed to ask him. He shared his work using behavioral economics principles to improve government and how tourism impacts Scottsdale.
"I would not be the person I am, I would not have the opportunities I've had if there were not women in local government that were paving the way. So I want to do what I can to help [improve diversity] and be supportive…  We have to have white guys pushing for this too, and I'm a white guy that's pushing for it."
---
Trends in Human Resources with Heidi Voorhees, President of GovHR USA
Creating connections is one of our favorite things about conferences here at ELGL and we got the chance to connect the Kansas City Fellows, Javon and Alyssa, to an alumnus of the program, Heidi Voorhees. Heidi is now the President of the recruiting firm GovHR USA, and she talked about trends in human resources and the importance of her fellowship experience. She also took the bold stance that bananas are vegetables.
"People are who we are in local government, people are our greatest resource. Unfortunately during the Great Recession there were a lot of layoffs, and I understand it, but I think we have to recognize the importance of the folks that actually do the work. From the public works people who are boots on the ground to our department heads, treat them with respect and create a culture of dignity in the workplace. That's always been really important to me. If we're going to attract the best people to local government, and we deserve that, we have to be the employer of choice."
---
Player-Coach Management with Jestin Johnson, Assistant Manager of Athens-Clarke County, GA
"I emphatically believe no one should have to pay for parking and valet parking should be illegal." A GovLove episode has never started out with such a hot take before Jestin Johnson, the Assistant Manager of the Athens-Clarke County unified government, came to the studio. Jestin discussed his management style and career path. He also talked town-gown relations and the skills it takes to manage large and small communities.
"Working in a small rural community forces you to be entrepreneurial to get things done and you get an in depth understanding of the work. Working in a larger community sometimes you can get caught up in being unapproachable. So I find myself spending time in the departments trying to understand the work and I try to do this on a quarterly basis because it keeps you humble."