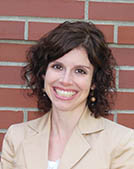 This is the latest post in a new series about growing up with a parent who is also a City Manager. 
---
Jeanna Troha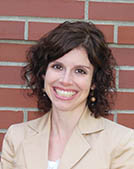 Assistant City Manager at City of Wilsonville, Oregon
Experience: Neighborhood Coordinator, City of Rockville and Assistant City Manager, City of New Brighton
Education: Bachelor of Arts, Political Science, Washington State University and Master's of Public Administration, University of Kansas
---
Background Check
Jeanna Troha is the Wilsonville (OR) assistant city manager. Prior to Wilsonville, Jeanna worked in local government positions in Minnesota and Maryland. She received an MPA from University of Kansas and and undergraduate degree from Washington State University.
Dick Cushing (Jeanna's dad) has nearly 35 years of executive local government experience including serving the last 17 years as the Olympia (WA) city manager. Prior to his tenure in Olympia, Dick served as Kent (WA) city administrator,  Bellevue (WA) assistant city manager and interim city manager, and Ocean Shores (WA) interim city manager. Dick has served as President of the Washington City County Management Association, Vice President of the International City County Management Association, and was the first President of the Washington Cities Insurance Authority.
Dick holds a Bachelor's degree in Political Science from the University of Washington and a Master s degree in Public Administration from the Daniel J Evans School of Public Affairs at the University of Washington. He is active in his community and teaches at The Evergreen State College in Olympia
---
Q & A with Jenna
Describe what was it like growing up with a parent who was a city manager? Advantages? Disadvantages?

Growing up as the daughter of a city manager was a very positive experience for me but I know that may not be the case for everyone.  It was certainly different than the way most of friends grew up.  As the city manager, my Dad was often in the daily newspaper, sometimes about controversial community issues.  He was well known in the community and since our last name was unique, people automatically knew I was his daughter.  For the most part, this did not bother me but it also meant I could not get caught speeding in town.
Maybe I am a government geek, but I loved learning about new roads, parks, water and sewer plant, and controversial community issues.  I enjoyed talking with my Dad after a council meeting and listening to him explain local politics.  I got to attend many events such as ribbon cuttings, grand openings, and the annual ICMA conference.  He served as ICMA Vice President and he brought the family along to the board meetings which were held in some pretty amazing parts of the country.
City management is a transient profession. How many times did you move as a child? 
I was very fortunate not to move around much.  My Dad spent his entire career in Washington State.
He worked for the City of Bellevue, which is where I was born, then Kent and finally Olympia.
We moved to Kent when I was in 1st grade and to Olympia when I was in 7th grade.
The move to Olympia was the toughest because I was 13 years old.  The teen years are tough anyway but it was especially difficult because I had to make all new friends.  I left behind friends in Kent that I had since I was 5 years old.
How did having a parent who is a city manager influence your career choice? Was there pressure to follow in their footsteps? 
There was never any pressure to follow in my Dad's footsteps.  In fact, I think he was shocked when I told him I wanted to work in local government because we never talked about a career in city management.  I went to Washington State University to major in broadcast journalism and minor in political science.  During my junior year I realized that my heart was not in journalism.  I was not good at sensationalizing a story.  I really enjoyed my political science classes and started thinking about a career in government.  I could not decide if I wanted to work at the federal, state, or local level.  In college I had some leadership positions that afforded me the opportunity to lead several campus organizations.  After conversations with my Dad, city management seemed like the perfect combination of public service, management, and leadership.
Did you learn any lessons from their career or experience? If so, what are they?
He taught me that public service is truly an honorable profession.  While it can be challenging to navigate the political arena, the rewards are worth it.  I learned the importance of balancing work and family.  While this is a struggle for any city manager, my Dad worked hard to make sure the family wasn't overly impacted by his job.  My Dad made a conscience decision in his career to limit the amount of times the family moved.  The stability of the family was very important to him.  I learned the importance of making time for your kids even if it meant going to a softball game for a few minutes before heading off to a council meeting.  He taught me the importance of hiring the right people for the job and building a strong organizational culture focused on teamwork and collaboration.  I learned how to be politically astute and balance it with managing an organization.
Talk about your career path. Has it been similar to your dad's?
The biggest difference in my career is that I worked in many different states; Kansas, Maryland, Minnesota, and now Oregon.  My dad's entire career was spent in Washington.  For the most part, our paths have been similar.  My mom and my husband also chose the same profession.  My mom was an elementary teacher and my husband is a high school teacher.
Do you have a professional relationship with your parent? Do you exchange work related advice?
My Dad and I have always had a close relationship.  When I was a kid, he was someone I would go to for advice or just talk to when I needed cheering up.  He continues to serve that role today, both on the personal and professional side.  We do talk about work.  I value those discussions because he often brings a different perspective.  I consider him one of my biggest role models and I admire all that he accomplished during his local government career.  He was an amazing city manager and I am very proud of him.  He instilled in me the value of public service and that small things can make a big difference.
What does your parent think of you following in their footsteps?
My Dad is proud that I followed in his footsteps.  He has always been my biggest cheerleader in anything I do.
How did you describe your parent's job to friends? 'City manager' has to be one of the most confusing jobs to explain to non-government folks.
This is a tough question.  As a kid, I told friends that my Dad helped manage city services.  When I was really young, my friends thought my Dad was the mayor.
What advice can you give to kids whose parent is a city manager?
Embrace it.  It is a great opportunity to learn about city services that many residents don't know exist.  Realize how tough and stressful their job can be and that one election can change everything.  Appreciate their dedication to making the city such a wonderful place to live.  You can learn communication skills, such as speaking with dignitaries, and effective ways to manage an organization.  Ask them questions about their job and lessons they learned.  Be on your best behavior around the city council and it is best not to argue with your sibling at a public event.
Supplemental Reading