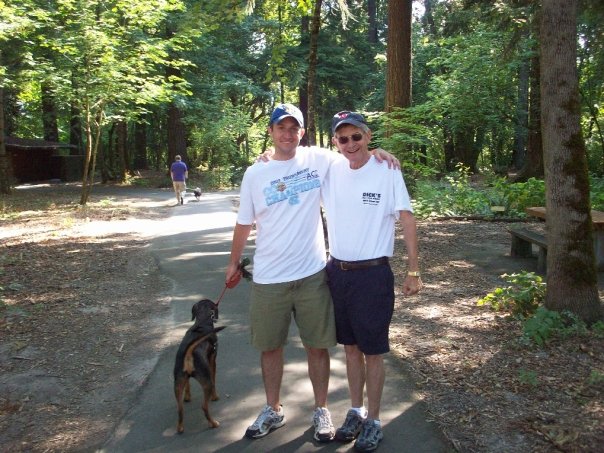 This is the first post in a new series about growing up with a parent who is also a City Manager. 
---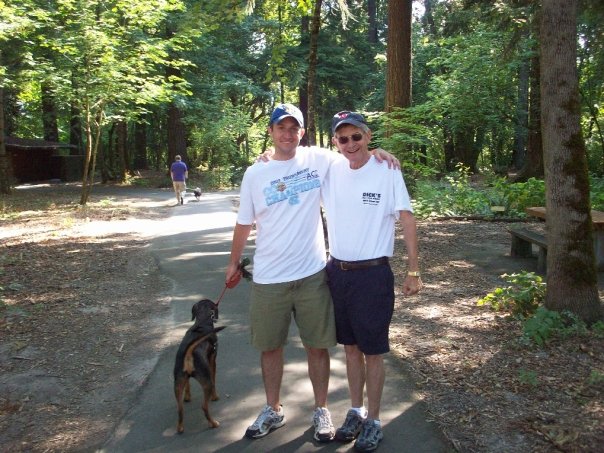 Kent is a senior management analyst for the City of Tigard, OR and co-founder of ELGL. His duties for Tigard include risk management, franchise management, state and federal affairs, and special projects. He moved to West Linn with his wife, Kristen four years ago. Prior to moving to Oregon, Kent lived in Richmond, Virginia and worked as a senior legislative analyst for the Join Legislative Audit and Review Commission. Kent graduated from Elon University with a Bachelor of Science in Business Administration and graduated from the University of North Carolina at Chapel Hill with a Masters of Public Administration.
---
Q & A with Kent
Describe what was it like growing up with a parent who was a city manager? Advantages? Disadvantages?
Kent: It was kind of cool growing up with a dad who was a city manager. Not many people grow up with a parent who is a television star. That's if being on public access TV for council meetings makes someone a TV star. I wish Nielsen did ratings for public access TV shows because it seemed that everyone was watching council meetings. That can't be true, could it?
I have always been proud of my dad's job. He has dyslexia which forced him to work harder than everyone else. That work ethic was obvious even when I was a lot younger. His other obstacle was being left handed which at the time was viewed a curse. Luckily the only long-term effect that he experienced was horrible handwriting. Plus the lefties have shown everyone that "left is right" with the last two Presidents being lefties.
I am lucky that I never heard a negative comment about my dad when I was growing up. I've known some children of city managers who have to deal with negativity from other kids who have been influenced by their parent's interaction with the city manager.
City management is a transient profession. How many times did you move as a child? What was that like?
Kent: Here's my transaction wire from childhood:
Morganton, NC – my birthplace but we didn't stay too long.
Greenville, NC – stayed a few years until around preschool.
Fairfax, VA – spent most of my childhood there
Wilson, NC – lived there from my 8th grade year until I went off to college at Elon University.
I think some change is always good. The toughest move was from Fairfax to Wilson because it was before my 8th grade year. That's a difficult time to change schools, adjust to new surroundings, and make new friends. In the long run, it was a positive because it helped me become more comfortable in unfamiliar situations.
How did having a parent who is a city manager influence your career choice?  
Kent: Having a father in local government exposed me to the profession and the good that can be accomplished. I grew up going to ICMA conferences. I vividly remember an ICMA conference in Philadelphia. My family was exploring Philadelphia when we ended up in a rough part of town. It was such a bad part of town that cabs didn't even go there. Somehow we found our way without any negative repercussions. I do remember the night day we went to a Philadelphia Eagles game at Veterans' Stadium. I would have never done that if my dad wasn't a city manager.
The biggest influence from my childhood was simply observing my dad's interactions with elected officials, citizens, and others. I felt that others looked up to him and believed in what he was doing. There is something very comforting about that. I hope when my children read this article in 30 years that they can say the same thing about me (and that I am funny and never wear jeans.)
Was there pressure to follow in their footsteps?
Kent: My father handled it perfectly. He never pressured me or steered me toward local government, in fact, he steered me away from it at times. I think that stemmed from him seeing the challenges in being a city manager and raising a family.
He worked really hard which equates into long hours. He also navigated the profession without outwardly showing a lot of frustrations. But, like any profession, there were challenges and events that upon reflection you don't want your child to experience.
If there was any pressure, it was my dad pushing me to become a switch hitter in baseball. He thought the combination of switching hitting and being a left handed pitcher would produce a career in professional baseball. I am afraid that I peaked in T-ball.
When did you become interested in pursuing this career path? Did your siblings also follow in your parent's footsteps?
Kent: When I started college, I wanted to be a banker. This quickly changed after spending a summer working for one of the big banks in Charlotte, NC. With my banking dreams dashed along with my NBA dreams never materializing, I was back to figuring out a career path. At this point, I talked to my dad about local government and that I might be interested in pursuing a career in it.
He recommended that I do an internship to find out if local government was right for me. I took his advice and intern with the Town of Elon for Mike Dula. Mike was an incredible mentor (who loved the Rolling Stones) and offered opportunities to explore all functions of local government. Mike also showed that you can maintain a healthy work-life balance as a city manager. Unfortunately, Mike passed away this year but the values he instilled in me will not be forgotten.
Along with Mike and my dad, Eric Peterson, Hillsborough (NC) town manager, sold me on local government. I interned with Eric during graduate school at UNC. He allowed me to do everything from take minutes at a Council meeting to develop an emergency operations plan. I also learned a number of life lessons by having an office next to an undercover police officer.
Eric may be on the other side of the country but I feel like I could contact him at any time for advice. His early belief in ELGL was flattering.
Give us three takeaways from growing up around city management. 
Kent:
You're a Public Servant All the Time: We always lived in the city that my dad managed so there was no escaping the angry citizen at the grocery store complaining about a water bill or the upset citizen talking city business after a church service.
Your Kids Are Watching: The older I get the more I realize how much I learned from observing my dad. Being a father of two young daughters and knowing that my kids are watching serves as motivation for me to make a positive impression on others. I often frame it as "when my kids are teenagers, what will my co-workers and professional network say to them?" You can tell when someone is genuinely being complimentary. I want to have a career that leads to my kids hearing "genuine compliments."
Stay One Step Ahead of the Mob: My father was never fired from a job. He must have had the awareness to know when it was time to move on, and he was a little bit lucky. I've come to understand how difficult it is to stay in one location and successfully handle the changing personalities.
Talk about your career path. Has it been similar to your parent's? 
Kent: My career path has been very traditional – undergraduate degree, MPA, and then experience in local and state government. My father's was similar although he spent a few more years in college than I did. (Sorry Pops.) He got an advanced degree and then started working his way up in local government. My mom was a nurse which reinforced the message of giving back to your community. I couldn't ask for better influences as child.
Do you have a professional relationship with your parent? Do you exchange work related advice?
Kent: You might think that we would break down CIPs or water rates during family vacations but that's not the case. We'll have an occasional conversation about the profession but I think my dad doesn't want me to feel that he's imposing his ideas on me.  And now that he has two very girly grandchildren there is limited time to talk shop. Although my daughters (his grandchildren) know that local government workers "help people." That phrase used to be "drink coffee, eat cake, and help people." Luckily it has been shortened.
What does your parent think of you following in their footsteps? 
Kent: I think and hope that he is secretly happy. We haven't talked about it a great deal but I think he is proud to have someone following in his footsteps. What I hope he realizes is the reason that I am in local government is because of the impact that I saw him have on others. I am driven to match that impact.
Most normal people think a city manager is either a planner or mayor. Describe what your friends thought city management was when you were growing up.
Kent: Local government is very ineffective at explaining to people what we do. Part of the reason is citizens are leery of government hiring communications staff when other functions are perceived to be more important.  But the largest share of blame falls on us for not clearly communicating what local government does. There have been various initiatives to change that but there remains a lot of work to do.
Alex McIntyre, Menlo Park city manager, told an ELGL forum several years ago that we (local government practitioners) need to promote the profession. I fully subscribe to this notion that we need to be out in the community explaining what we do. I spoke to a third grade class a few years ago. It was October so I framed the conversation around when you go trick-or-treating tonight think about the local government services being used. The police are keeping you safe, public works is maintaining the streets and sidewalks, the library has your favorite book where you got your costume idea, etc.
The "siloing" in government hurts our message because each group – city managers, finance officer, planners, etc. – tends to promote its particular function while ignoring the interaction between the functions. This is one reason I believe ELGL has been so successful. ELGL does not force you into a certain box, it encourages interaction between planners and finance officer, the public and private sector, and interns and managers.
Give three tips for kids growing up with mom or dad as a city manager. 
Kent:
Don't Get Arrested: This never happened to me but I was frequently warned that doing so would not play well in the community.
Nothing Is Free: Our family went to the beach one year and we pressured my mom and dad to sit through one of those time share seminars because the reward was a free television. Well, after sitting through the spiel, my dad decided it wouldn't be ethical to take the free television.
Understand the Sacrifices: No matter how hard you work to maintain a health work-life balance, sacrifices have to be made occasionally at home. It is important to understand your parent isn't missing your Little League game because they are off playing X-Box in a dark basement with three other guys. Your parent is at work serving your community. Your parent is helping elected officials make the difficult decisions. Your parent is working so you have a better community. But, most importantly, your parent is working because they are motivated by modeling a healthy work ethic and dedication to public service.
Would you encourage your children to pursue a career in local government?
Kent: I think it's too early to answer that question. The longer that I am in local government, the more I understand the professional is not for everyone. I will encourage my children toward public service. There is enough variety in public service that everyone can find the position that matches their interests.
Supplemental Reading