This guest blog is by ELGL member Ali Rhodes, the Deputy Director of Parks and Recreation for the City of Boulder, Colorado.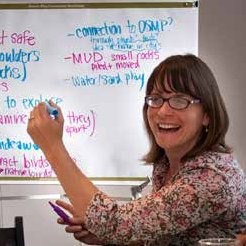 What I'm Reading: Behold the Dreamers by Imbolu Mbue
What I'm Listening To: Everything is Not Awesome and Catchy Song from Lego Movie 2. My kids are obsessed. I might lose my mind.
---
Boulder, Colorado sits right where the Rocky Mountains meet the Great Plains. Home to thriving tech and natural foods industries, as well as the University of Colorado's flagship university and many federal labs, Boulder is an incredible place to live and work.
Like all communities, we have our challenges. Housing prices are sky-rocketing. Workforce housing and affordability are major issues to solve, among others. That's another story.
Since parks are 2019's #ELGLKnope, today's story is about what a municipal Parks and Recreation department does to serve a community that cares deeply about their own health and that of Mama Earth. Here are some Boulder Parks and Rec highlights:
Building Community:  

In 2018, our volunteer team led over 2,400 individuals in completing one-day projects and ongoing activities, adding up to over 28,000 hours of service across the Parks and Recreation system.

Tapping volunteers to plant tulips on the Pearl Street Mall, mulch landscaping beds in one of our ~100 parks or prep the Boulder Reservoir for our peak summer season allows us to maintain service levels AND build social capital-the backbone of a strong and truly engaged community.

The Pearl Street Mall's spring tulips. Photo courtesy of Downtown Boulder Partnership

Sustainable Operations

:

No Pesticides. That's right. We maintain nearly 1,800 acres of urban parkland primarily without the use of pesticides because environmental stewardship is one of our guiding principles. Research has convinced us that the negative impacts on ecosystems far outweigh any benefits of using chemicals to manage weeds.

We remind our community members that dandelions in our parks are a sign of a

healthy place for kids to play

. And we win

national awards

because our team's cultural and mechanical practices create strong turf without pesticides.

Health Equity

: Boulder community members followed the City of Berkeley's lead and referred an item to the ballot taxing the distribution of Sugary Sweetened Beverages in 2016. The successful measure created the

Health Equity Fund

and grants fund programs by Boulder Parks and Recreation and other community organizations targeted at health equity.

One example is

Recquity,

which provides

100

% subsidized recreation center/pool passes for anyone living in low-income housing provided by the city's housing authority, Boulder Housing Partners. Another is

Healthier Together (H2G)

, a partnership with I Have a Dream Boulder County and Boulder Housing Partners. Together. As part of a larger collective impact effort to address Boulder's achievement gap (where low-income students are graduating at lower levels than their more affluent peers), in H2G we provide site-based after-school academic support and health and fitness activities for youth living in low-income housing to support a health mind and body.

Taking Care of What We Have

: This year we say hello to a much-awaited asset management software to help us maintain and manage our portfolio that is nearing $300M in value. We look forward to saying good-bye to many, many spreadsheets that don't talk to each other, and more ably ensuring we're on top of everything from bench painting to facility replacement.

Speaking of facility replacement, this year we say also good-bye to the way past its life-cycle 60+ year-old

Scott Carpenter Pool

to build a bigger, better version. This project is funded in part by a .25 cent dedicated sales tax and a capital improvement bond. Boulder voters approved both revenue sources with ~80% approval, showing their support for their Parks and Recreation system and the work we've done to be stewards of the system.

Organizational Readiness

: We know we can only deliver the modern parks and recreation system our community wants if we are investing in our team. In 2018, our third iteration of a Learning and Growth matrix team:

Delivered a competency survey to learn what professional skills our team valued as important for their roles and how capable they felt to perform those skills, the results inform our training program;

Developed training guidelines to promote equitable access to learning opportunities; and

Implemented the requirement that

all

of our teammates have a Professional Development goal as part of annual work planning.
I could keep bragging but capping the highlights by sharing our team's awesome work feels appropriate- I know ELGLers get the value of dedicated teammates.
I'm so glad that through the 2019 #ELGLKnope you will get to keep learning about trends and awesomeness in parks. We all have a favorite park (vote for our Civic Area or Chautauqua Park in the bracket!).
We know parks build community, promote economic vitality and safety, and more-all while just being super fun places to hang out.
I'll really end with April's incredible impression of Leslie:
Women should do everything.
Check out my four-color pen.
Hey, everybody.
Listen up while I talk about some really important stuff.
Parks, parks, parks, parks, parks, parks, Michelle Obama, parks.
Gay penguins, parks, sugar, parks.