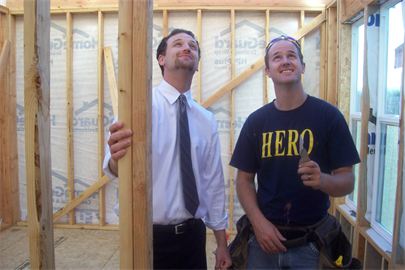 [youtube http://www.youtube.com/watch?v=GbG9CNCettk&w=560&h=315]
Creswell city councilor A.J O'Connell is one week into his two-week attempt to live on a food stamp budget. His attempt was brought to our attention by this LaneToday article: City Councilor To Live On Food Stamp Budget For Two Weeks. We thought we better check up on him before the hunger pains and lack of nutrition kicks in. In our interview with A.J, you'll learn about the biggest challenges living on food stamps, misconceptions about food stamps, and whether a major feast is planned at the end of the two weeks. You can continue to follow his journey at his Twitter feed – @MPRR489.
Vitals
Name: A.J O'Connell
Position: City of Creswell, City Councilor
Email: [email protected]
Connect: Blog, Facebook, LinkedIn, Twitter, and Website
My life and experiences here in Creswell have allowed me to grow and foster a deep desire for civic involvement. The surroundings that Creswell provided for me really made me a successful person and I am excited about what the future holds.
From 2005 to 2009, I attended the University of Oregon earning an Undergraduate degree in Planning, Public Policy and Management. While at Oregon, I was a competitor on the Track and Field team doing the high jump. I lettered in 2009 and was a part of the 2009 squad that won the Pac-10 Championship. That year saw me become a member of the distinguished "Order of the O" letterman society and a proud Duck alumni.
One of the most enlightening experiences I have had was the wonderful opportunity to intern for Lane County Commissioner Pete Sorenson. I gained first-hand knowledge of how local, regional, and state governments functions, why we have the electoral process, and the value of the spoken and written word in gaining the trust of voters and constituents. I was in charge of authoring and coordinating Commissioner Sorenson's ballot argument campaign. Authoring arguments for the State Voter's Pamphlet, speaking with voters on their concerns, interacting with unions, private entities, and elected officials was truly a once-in-a-lifetime experience.
In 2010, I was elected to serve on the Creswell City Council. Since I have taken office, I have consistently stood up for the causes of the poor, pushed for financial responsibility and transparency, put forward proposals to protect our children, advocated for safe and efficient transportation infrastructure, worked to create sustainable and good-paying jobs, and vouched for investment into the arts and our culture. It has been a challenging, yet, at the same time, extremely rewarding experience. From the moment I was sworn in, I have learned the tools necessary to lead our great city into the future.
Q & A
Give us a status update on your attempt to live on a food stamp budget and buy local for two weeks.
I'm hanging in there. It has certainly been a struggle to keep my tummy full these past few days. The eggs and bananas have ran out, so it may get a little tougher here in the next few days.
Walk us through your food intake yesterday.
I had a cup of coffee and some oatmeal for breakfast, two pb&j sandwiches for lunch, and two grilled cheese sandwiches and a small salad for dinner
Three biggest challenges in living on a food stamp budget.
Portion control. I tend to be a big eater, so divvying up my food in a way that conserves yet gives me a full meal has been a challenge.
Cooking. I work two jobs, and coming home after a long day and having to cook has been a challenge. It is a lot easier for me just to go and get something to eat from a restaurant, so I have had to adapt.
Food costs. Fresh, organic and healthy food sometimes isn't the cheapest. I could have bought a lot of frozen pizzas or Big Macs for $39.
What are the biggest misconceptions about being on food stamps?
That you make enough off food stamps to live comfortably. I live alone without a spouse or children, and this experience has been very difficult and, by no means, comfortable. Food Stamps may be classified as a "government handout", but it is a paltry one, at best. Let me put it this way, if our government were to invest as much into food stamps as it does into oil subsidies and bailouts for financial institutions, needy families could live very comfortably.
Talk about feedback from the community and your fellow councilors, have most people been supportive? Skeptical?
The Creswell community has been very supportive and is now actively talking about what we can do to help the hungry and needy. My fellow councilors have been supportive, as well. In fact, our local supermarket just donated three freezers to our local food pantry.
Has any part of this that has been fun?
Fun? I never knew how much I loved pb&j…
[youtube http://www.youtube.com/watch?v=s8MDNFaGfT4&w=420&h=315]
While your attempt is raising awareness, what do you feel are the solutions to the hunger and poverty in Lane County?
Hunger and poverty are such deep-seeded issues that the City of Creswell or Lane County government can't solve it alone. However, I think that refocusing our attention to how our decisions affect those most vulnerable is a good start. The poor and the hungry can't afford a lobbyist, so we need to step up, as elected leaders, and lobby on their behalf. When more than a third of Lane County residents are going hungry and when 1 in 5 Creswell residents is living below the poverty line, we have to be making decisions with an eye to how they affect those groups as well.
Give our readers a few suggestions on how they can help the hunger and poverty issue.
Compassion is everything. There are some individuals who abuse the system, and that is very unfortunate. However, so many people depend on these meager funds to help feed their family. They are good and honest people that have just fallen on a rough patch. It's easy to ignore the poor or the hungry, but if we can show compassion to our most needy, than our government can function better.
Are you planning a huge feast for your first meal after these two weeks?
Haha…of course!
So, what's next for you after these two weeks? What are top priorities for Creswell?
For me, I am going to continue to advocate for the causes of the needy from my seat at the Council table. For Creswell, we need to pass a budget that isn't so top-heavy with useless capital projects and that invests in social programs that help the poor and hungry, domestic violence victims, early childhood education, etc.
Lightning Round
Proudest accomplishment from your tenure as a councilor.
Changing the political conversation in our city from one of "rubber stamping" to honest and thoughtful debate.
First concert you attended
I saw Steppenwolf play at the Oregon State Fair a few years back.
[youtube http://www.youtube.com/watch?v=UtkP5gTX6Hc&w=420&h=315]
(Complete the sentence) Before I die I want to…….
Go to Ireland.
If you could FaceTime or Skype with three people either dead or alive, who would they be?
Jackie Robinson
Abraham Lincoln
John Lennon
Favorite Creswell restaurant.
Well, they're all good! You should come down and check them out!
Describe the inside of your car.
Uncontrolled chaos.
What question(s) should I have asked you?
I think you covered it pretty well!
Supplemental Reading
[youtube http://www.youtube.com/watch?v=w_FixVGt4v0&w=420&h=315]