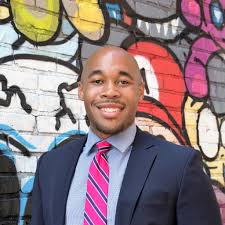 In this series, guest columnists respond to one of three topics selected by ELGL co-founder Kent Wyatt. This week, Javon Davis is Assistant Deputy Commissioner of Philadelphia Fire Department. Javon worked the City of Kansas City, Missouri from 2016 to 2018. 
---
I learned so much during my time with the City of Kansas City, Missouri that it is hard to dwindle them down, but I'm excited to share the three things that stood out to me the most and what I'll keep with me forever.
Fight for Equity and Inclusion
Don't run away from what's uncomfortable, run to it. While some in local government will tell you to stay out of politics, you must do what it takes to fulfill your goals of creating positive changes in your community. Sometimes that, of course, will depend on you talking to local, state, and even federal elected officials about the problems you are seeing. While it can be unsettling, they control the funding and power to create systematic changes to counteract negative outcomes that prevail. Issues caused by politics of the past greatly impact the lives of many to this day. Like many cities across the United States, racism and segregation played a major role in Kansas City's history, so much so, that it is taking years of life away from many in the black and brown communities that reside there now. Not 1 year or 3, but over a decade. The largest difference in life expectancy between the highest and lowest zip code in the city is around 14 years. While it can be uncomfortable to talk about race, class, and power, you can't kill your demons until you are willing to accept they exist. I will always be proud of Kansas City for its willingness to address these issues and even lead community conversations around them.
Focusing on diversity and inclusion isn't something city administrators should only talk about for the community they serve, it must be a priority internally, as well. Before I began searching for local government jobs in 2015-16, I had heard ample times that there was a diversity issue in cities/towns across the country and I saw that up close while attending a Virginia Local Government Management Association(VLGMA) meeting in the final year of my MPA program – where I was one of a handful of minorities in a room of almost 100 mostly white men. I wasn't surprised, but it is what I expected when I landed in KC for my interview for the Cookingham-Noll Management Fellowship. The 8-person panel that sat before me, was diverse in race and gender and I immediately felt welcomed there. Interviews are the first impression that a potential employee has when evaluating an employer. Presenting a candidate with a homogenous panel, in any way, sends a signal that diversity is not a priority to that organization, and that's not attractive to anyone worth hiring in any government capacity.  Obviously, it goes deeper than the interview and fortunately, Kansas City has a diverse and talented group leading departments and ensuring representation throughout city departments.
Don't Underestimate Yourself
It doesn't matter if you're the largest city or the 32nd, you can still lead as Kansas City has in many aspects of management. You won't find a better performance team than DataKC, you won't find a health department that is more aggressive about elevating tough issues like racism and its impact on health, and you won't find a city with more free public WiFi hotspots (in the U.S.). As a VCU alum, I will always appreciate an underdog. With the same vigor and determination that VCU enters the NCAA tournament each year, Kansas City inserts itself into conversations thought only for the biggest of cities. This, I believe, came from the fail-forward culture that KC has. The difficulties that our communities have are big and scary but doing the same thing or nothing, won't change them, so it is important to be bold and try new things, even if they seem too intimidating. Please never allow someone to tell you that a process can't change, or *shudder* "we've always done it that way." The beautiful thing about government, especially at the local level, is that we are supposed to change and adapt to our changing jurisdiction. It's critical that we do that and push back against those who are afraid of change.
Collaboration Leads to Innovation
The problems we face in local government are too big and too complex to be handled by one department. It was extremely frustrating for me to learn of the deep silos that existed when I got to Kansas City – and how common this was throughout the field of local government. If one is interested in helping those who need it most, we all know that can't be done without having conversations with other members of our organization. To do it right, it's going to take elected officials, city planning, health officials, economic development, the local school system, housing reps, etc. Tough issues are multifaceted, so certainly, it will take several individuals, with varying expertise and experience, to adequately create policies to address them. I was so refreshed by our yearly LifeX summit where the city manager, all the department directors, and key staff came together to talk about one thing. This summit happened to revolve around life expectancy disparities but it could be about anything – the innovation is in getting everyone together to talk about something To me, it seemed rather elementary, but our field is so siloed that it was revolutionary, the city was highlighted by national organizations and the Kansas City Health Department won Local Health Department of the year for it. To me, this highlighted a dysfunction in our system but also shows how easy it is to make small changes that will benefit your organization and residents. Because of this summit, a group of directors meet monthly to discuss economic mobility and how their department can help Kansas Citians progress through life. Again, easy, but game-changing.  
My three lessons from Kansas City seem like something any amateur motivational speaker would preach at you at a seminar but sometimes it's the simple things that make a big difference. I will forever be thankful for my time in Kansas City and for the visionaries that helped me to be a better, more well-rounded public servant.