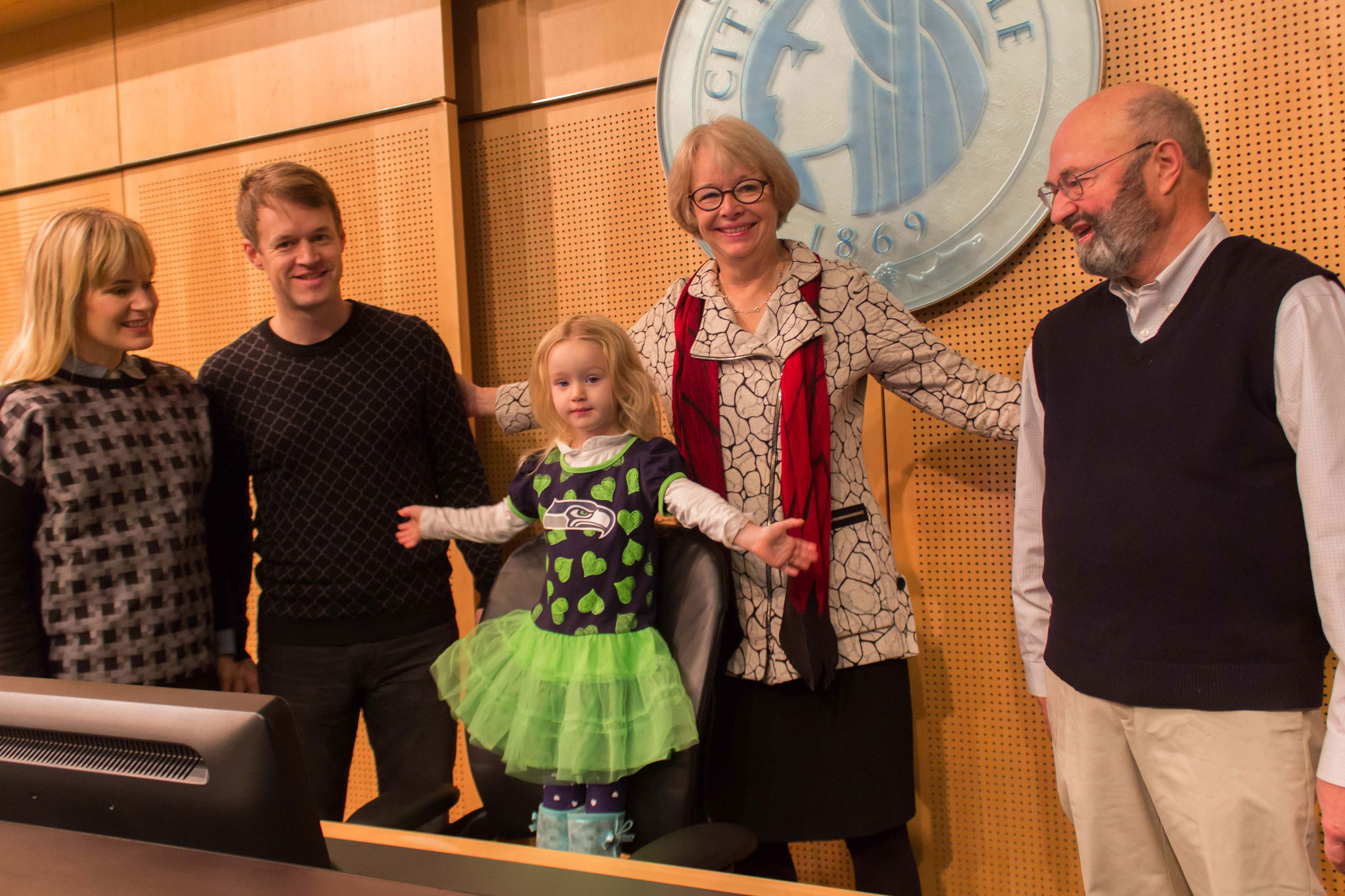 In this series, guest columnists respond to one of three topics selected by ELGL co-founder Kent Wyatt. This week Kathy Nyland writes how Seattle Councilor Sally Bagshaw influenced her career path. Hear more from Kathy on this GovLove episode – Podcast: Broadening Neighborhood Engagement.
---
People often ask me about my path into government. I am the first to acknowledge it's rather unconventional and likely hard to repeat, but I am always happy to share the story and offer some advice.
I've always been politically aware, reading every page of my voter pamphlet with highlighter in hand and always having extra stamps on hand for people's ballots. That awareness suddenly got elevated to new heights. The year was 2009.
I was minding my own business, advocating for some community issues, attending meetings with the EPA about water quality in our local river, encouraging the City of Seattle to embrace a zero-waste policy, and just trying to make the world a better place when my phone rang. A candidate who was running for City Council wanted to meet. Apparently, her campaign team suggested she reach out to me because I was someone who was familiar with neighborhood issues and "knew stuff".
So, I agreed to meet.
I met with the candidate and answered every question to the best of my ability. We talked issues- the three Ps (potholes, parking and public safety)….it's always the three Ps! We talked about what prompted her to run and what she hoped to accomplish if she won. After an hour or so, I wished her the best of luck and we went our separate ways.
And then my phone rang again.
The candidate had been thinking about our conversation and asked if I would join her team, the kitchen cabinet. While I was quite appreciative, I politely declined. There weren't enough hours in the day and my plate already felt full. After several conversations, the ask changed from joining her campaign team to help running her campaign. It was an interesting offer and also a unique opportunity. I agreed and with that decision, the journey began.
My life was now focused on (more!) community meetings, coffee chats, endorsement interviews, questionnaires, and that was just the first week! It was non-stop and there were no lulls.
The many, many, MANY months of discussions and debates paid off. The candidate, Sally Bagshaw, received nearly 70% of the vote and easily won her seat on the City Council. One of her first acts was asking me to be her Chief of Staff. It was an offer I couldn't refuse.
When Councilmember Bagshaw took office, all nine Councilmembers were at-large. This structure has since changed but that's another story for another time. Being at-large meant you served all of the city. Every resident was your constituent and every issue was under your purview. This applied to Council staff as well.
They say the learning curve for a new job can be several months. And sometimes the curve feels more like a vertical wall. There were days when this was the case, or so it felt. As much as I was familiar with the workings of City Hall, it was a completely different experience working in City Hall. There were phones to answers, emails to acknowledge, and meetings to schedule, let alone attend. There were memos to write, reports to read, and legislation to craft. There were budgets to analyze and budget asks to make. The list of to-dos was long as were the days, and nights.
This job encompassed everything. Yes, it was drinking from a firehouse while being equipped with a straw. Since I mentioned a straw, I feel compelled to provide a quick PSA: plastic straws are now banned within Seattle city limits as of July 1. Once a policy wonk, always a policy wonk! And that is exactly what this job provided, a chance to learn about policy, the ins and outs, and how to connect the dots. The job was an opportunity to be exposed to every part of government and learn about every issue. Whether it was a park development of a land use code amendment, there's a chance I had a file about it.
I served in this role for one term, which honestly flew by. I assisted with the reelection campaign, in hopes that the Councilmember could build upon the work and serve another term on Council. Thankfully, the voters agreed.
And then my phone rang again.
After the election, the incoming Mayoral administration reached out and asked if I would join their team to help with neighborhood issues. Since then, the calls have continued, doors have opened, chapter have closed, and opportunities have presented themselves. It's been a fascinating journey that I have not taken for granted. My advice for anyone interested in getting more involved is as follows:
Be prepared. You never know when you'll face an opportunity.

Be flexible. You may have a plan in your mind but be open to the possibilities.

Be curious. Ask questions. Provide feedback. Listen and learn.
And answer your phone!