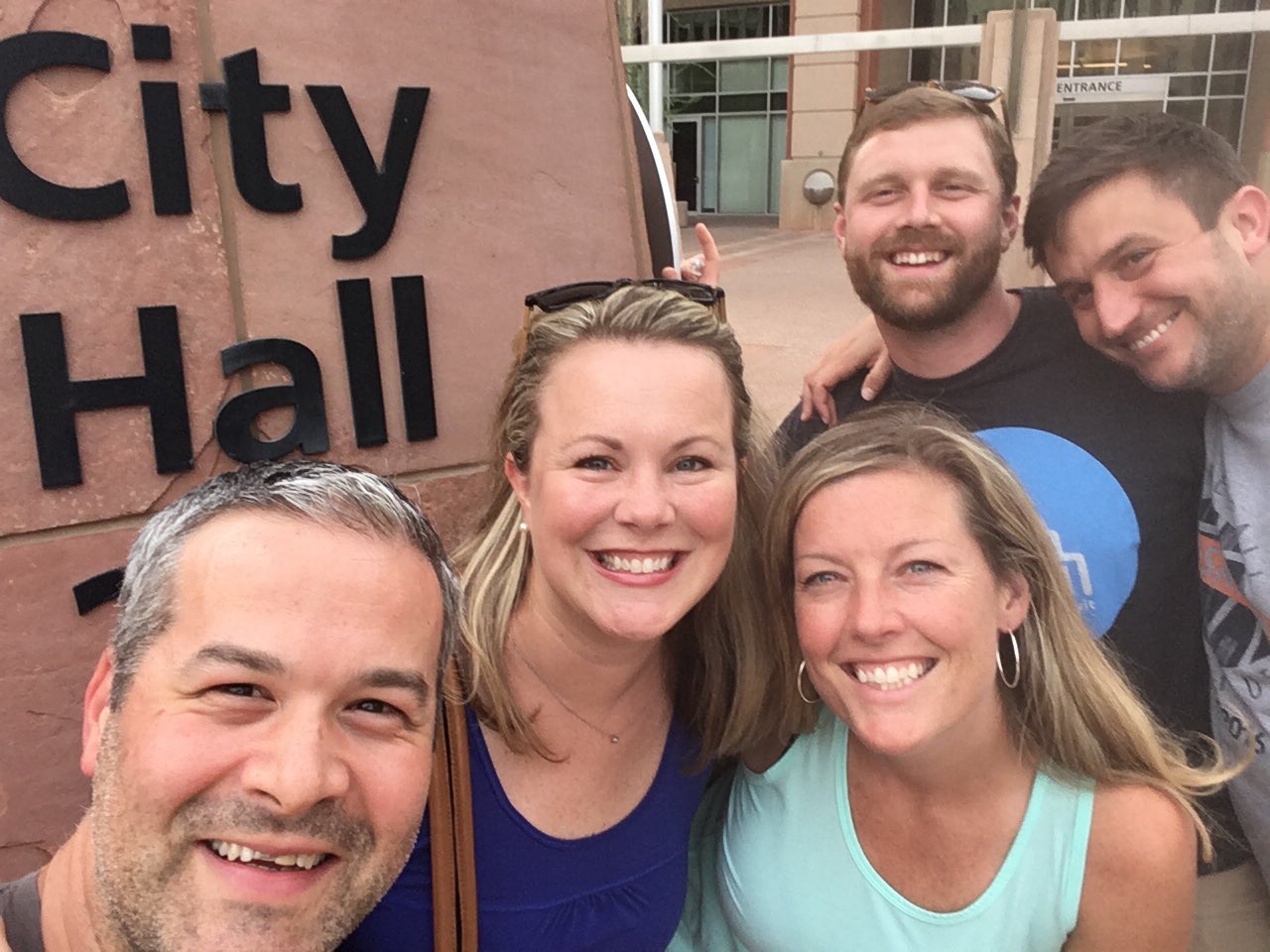 ELGL is committed to offering differing perspectives. While my wife, Kirsten, might be melting at the Board of Directors retreat in Phoenix, Arizona, I will be freezing. I love the heat. I embrace 117 degree temperatures. I wish it wasn't a dry heat in Phoenix. I want the air full of humidity. This is what I'm used to from growing up in North Carolina and Virginia. So while, Ben, Dan, Kirsten, and Stacy are huddled around the air conditioner unit, I'll be cooling off by the pool working on my base tan.
I'll use this blog post to keep you posted on the retreat. We'll be discussing a number of important issues – free content vs. exclusive content, grant funding, new programs. I cannot confirm whether there will be trust falls.
---
July 9
….And We're Out
Phoenix has been very, very good to us.
Our award-winning members failed to land us a private suite with free drinks and food, so we skipped the Diamondbacks game. Instead we landed at the Victory Bar (H/T to Christian for the recommendation) and Cornish Pasty Co. (think gourmet hot pockets).
Check out the highlights here.
---
On the Flight Home…
I'll be reading about the lack of traffic on a highway with a 85 mph speed limit, cities who regret selling their water system, and Parks and Rec tattoos (thanks Jackie).
Clay Pearson pointed out the the Lawrence Police Department is heating up again.
You should spend at least 15 minutes of your Sunday Funday watching this video.
I could watch this bulldog roll down this hill all day long (via @RonBaalke) pic.twitter.com/hkUi6oSe4A

— Barstool Sports (@barstoolsports) July 8, 2017
---
July 8
M-Word….
Hunter George shared this gem about the m-word.
Fam, I'm Not Here for your Millennial Shaming
I was born in 1979, the tail end of Generation X and Boomers have dominated American politics my entire adult life. They've waged a pointless, polarizing, five decade long culture war. Boomers wasted billions in a racist and classist war on drugs that has militarized local law enforcement, and fueled mass incarceration. They've delayed maintenance on the infrastructure they inherited to the point that bridges are literally falling down and our rail system falls somewhere between Poland and Morrocco's. They have poisoned our politics through congressional gerrymandering, corporate media consolidation, and dumbed-down-cable news-soundbite politics. Most damaging, they killed the idea of "Americans as Citizens" — people with a shared sense of shared obligation and ushered in the period of "Americans as Taxpayers" — atomized, lone wolves with no appreciation of history, civics nor the common good.
---
Hot Pics…
We've put together exclusive pictures from the Board of Directors retreat. Link: BOD in PHX
---
Llama Llama Red Pajama….
I've been looking for a reason to dust off the Migos' rendition of Llama Llama. I found it with this news story – Migos Was Kicked Off A Delta Flight, But No One Agrees Why.
---
---
Proof that you're a #BigLocalGovBaller? You go to restaurant and sit outside in record-breaking temperatures.
---
Proof that ELGL defeats record-breaking heat.
Few other observations.
Ben Kittelson may be allergic to sleeves. I'd say at least 90% of his wardrobe  is either a tank top or sleeveless t-shirt. Classy.
While on the topic of Ben Kittelson, he made a couple interesting song selections at the karaoke bar:
---
The crowd reacted like:
Mixed reaction from the crowd. pic.twitter.com/7QuwcnJPoL

— Kent Wyatt #ELGLPopUps (@kwyatt23) July 8, 2017
---
Christian Williams wins best ELGL male vocalist. From Kings of Leon to soul, he was on fire behind the mic.
I know that this may sound crazy but Kylie (aka The Bacon Diaries) is the Beyonce of ELGL.
Sad song….Kirsten, Dan, and I did not take the stage. We're saving our energy to put our heart and soul into ELGL today. That's our level of commitment to our award-winning members.
You will be happy to know that Kirsten alerted the City of Phoenix to this important information.
.@CityofPhoenixAZ pop tarts. @ELGL50 #boardretreat pic.twitter.com/KQ3DDdnqVc

— Kirsten Wyatt (@kowyatt) July 8, 2017
Thanks to Ryan and Karen from the Alliance for attending Supper Club. Learned a lot about the Phoenix area from the both of them including this, Roosevelt Row restaurant sues city over new tower.
Part of the group made a detour to land a city hall selfie in Phoenix.
What will you be doing tonight, Kent? We're going to the Diamondbacks game. If you (that's right you) have a suite that you want to loan us for tonight's game, the Board has voted and we're willing to accept your kind donation. You can slide into my DM's with details.
We'll be pre-gaming at the Valley Bar in downtown.
---
July 7
SUPPER CLUB! It's time! We'll be shaking hands like….
---
While We Were Retreating
Oregon was passing a bike tax. Phoenix is demolishing buildings. Philly is working on water rates.
---
#BigLocalGovBaller(s)
Stop what you're doing….perfect….now, let's go on Facebook and follow Chad Doran's new adventure.
---
Hot Dog 1 (aka Sarah Manning Henricks) has an important announcement….
I'll be starting as a Management Analyst Fellow with the city of Los Altos on Monday. I'm über excited for the learning opportunity and the chance to use my MPA in a meaningful way as I collaborate with city manager's office to improve the lives of Los Altos' residents.
Sarah will be working with ELGL member and Los Altos city manager Chris Jordan.
---
Clyde the Glide
What a surprise! Look who dropped by the Board of Directors retreat.
---
Missing….
Has anyone seen Kirsten's blog? Did she eat too much skyline chili? Did the Russians hack into her computer?
---
Words to live by….
---
Routt County Is Not a Big Baller….
Fun Fact: Routt County does not have a logo. Feel free to draw up a logo and share with Dan.
---
Cougar Sighting
Yet another reason that I'm glad to be in Phoenix. There's been a cougar sighting in Tigard, Oregon. Not one, but two cougars. In contemplating a move to Wisconsin, I thought that WI might be a safe place but according to ELGL Sconnie, cougars also like cheese curds.
You be the judge…Is this a cougar or not?
---
Have you heard the word….
The solar eclipse is coming. Cities throughout the United States are getting prepared including Carbondale – A College Town Gets Ready for Its Moment Under No Sun and Central Oregon – Eclipse brings optimism and entrepreneurship in rural Oregon.
One Oregon city is developing talking points for the big event.
---
Skate or Die
Wake up, wake up, it's time to begin retreating. Before we begin, Stacy and Ben are dropping knowledge about DC Shoes and Rob Dyrdek. I apparently am ignorant since I have heard of neither. Stacy, on the other hand, seems to have a mancrush on this Rob fellow. Why is Stacy obsessed with Rob? Apparently, Rob has a lot of cash money which he used to build a skate park in Kettering, Ohio.
Quite honestly, I thought Stacy was lying about her interaction with Rob but then I searched the ol' Google.
---
Groundbreaking: The story of the DC Skate Plaza
SLSF Plaza of the Week: Kettering Skate Plaza
Rob Dyrdek Recalls Bringing The Very First Skate Plaza To Life
---
A Challenge for Our Award-Winning Members
Help the City of Phoenix, Arizona spread the word about hiking safety.
Challenge 2 @ELGL50 peeps in #PHX. Who will RT our hiking safety message and #TakeaHikeDoitRight logo? https://t.co/djGGCPyIgH #ELGL​ #FF pic.twitter.com/NOO0jMXTWl

— City of Phoenix, AZ (@CityofPhoenixAZ) July 7, 2017
---
Love this…
Watch: The Beastie Boys' 'Sabotage' Video Remade With Sesame Street Muppets
---
---
Exclusive….
Here are the results of the Board of Directors Enneagram test.
---
#BigLocalGovBaller
---
Who Did It Best?
Two board members. Two different shirts. Kirsten arrived with the ELGL sleeveless shirt. Stacy went straight bright yellow tank top.
You be the judge. Tell us which one you like the best by tweeting either #ELGLSleeveless or #ELGLTank.
---
Shut it down, shut it down….
This isn't going down in Phoenix but it is in San Francisco.
---
Housewarming Gift
The fine folks (note: I know the use of the word 'folks' makes me seem like an 80-year old. I don't care. Folks. Folks. Folks.) from the City of Phoenix, Arizona rolled out the red carpet for the ELGL Board of Directors retreat.
We are thrilled that @ELGL50 is calling #PHX home for a few days. And yes, we are getting ready for #CityHallSelfieDay. #woohoo #PHXCityHall https://t.co/OCQmeritNR

— City of Phoenix, AZ (@CityofPhoenixAZ) July 6, 2017
---
Reader Question
Kent, what are you listening to during the 2 hour 11 minute flight to Phoenix, Arizona. 
As you might have guessed, the Khalid album is on repeat. Favorite tracks: 8Teen, Coaster, and Another Sad Love Song
---
My Heart
While Kirsten bad mouths my dad breath, I want to take this opportunity to publicly state how much I love Kirsten and how much she means to me. I am nothing without her. She completes me. She is the heartbeat of my soul. I am empty without her. The worst thing I can say about her is that she's too beautiful. She is the music in my ears. She is the flower in my garden. I invite you to tell Kirsten why you love her. You can tweet those compliments to @kowyatt.
---
Straight Bloggin' from Alaska….
Alaska Airlines, that is. Good one, huh.
The blog life is undefeated and can't be stopped by a fellow passenger breaking out fish and chips before we're wheels up. The whole plane smells like a Red Lobster kitchen.
A passenger on this @AlaskaAir flight is eating fish and chips. Might be grossest thing of all time to eat on plane. cc: @TheBaconDiaries pic.twitter.com/8HtVS36AYl

— Kirsten Wyatt (@kowyatt) July 6, 2017
I should probably remind our award-winning members from the Phoenix area that we'd love to connect this weekend. We're hosting a Supper Club on Friday night. RSVP here. We'll be rolling up to the Diamondbacks game on Saturday night, and hold onto your seats, it's Collectible Cup Giveaway Night.
---
Home Is Where Your Heart Is
A conventional hotel is inadequate for this retreat. We've turned to our friends at Airbnb to find the perfect location. They helped us secure a house in suburbs with swimming pool access.
Wow Kent, that house looks nice. Tell me more about it. Sure thing…here's what you should know…
My place is close to the airport, family-friendly activities, nightlife, and public transport. You'll love my place because of the views, the location, the people, the ambiance, and the outdoors space. My place is good for couples, solo adventurers, business travelers, and families (with kids).
---
July 6 at 6:28 a.m PST
I know very little about Phoenix, Arizona. I have been there once on the back from Mexico. We went to the Fiesta Bowl in Glendale, Arizona and had a flight home the next day. I know Christian Williams and Pam Weir live in the area so it must be good. I also know that I like the band, "Phoenix."
---
---
And as Nick Smith should remember, UNC won the NCAA basketball championship in the Phoenix area.
---
ENTJ
I am skeptic (surprise) of the personality tests that have flooded the market – Myers-Briggs, The Color Code, and DISC. In prepping for the retreat, each of us completed the Enneagram test. I must say that I actually found this test to be useful. I graded out as The Achiever.
People of this personality type need to be validated in order to feel worthy; they pursue success and want to be admired. They are frequently hard working, competitive and are highly focused in the pursuit of their goals, whether their goal is to be the most successful salesman in the company or the "sexiest" woman in their social circle. They are often "self-made" and usually find some area in which they can excel and thus find the external approbation which they so desperately need. Threes are socially competent, often extroverted, and sometimes charismatic. They know how to present themselves, are self-confident, practical, and driven. Threes have a lot of energy and often seem to embody a kind of zest for life that others find contagious. They are good networkers who know how to rise through the ranks. But, while Threes do tend to succeed in whatever realm they focus their energies, they are often secretly afraid of being or becoming "losers."
If you have ten minutes to spare, you can complete the test here.