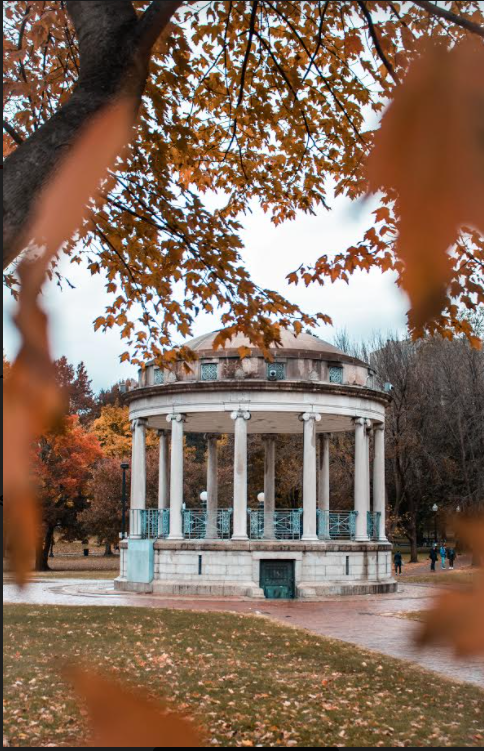 U.S.'s first city park, built in 1634
Today's Morning Buzz is brought to you by Rebecca Cormier, Government Technology Consultant – connect with her on LinkedIn and Twitter!
What I am reading: How to Win Friends and Influence People by Dale Carnegie
What I am listening to: Armchair Expert podcast
What I am watching: The Other Two
---
With warmer weather approaching, what better time is there to learn about our local, urban, parks, as well as appreciate those organizations and people who make them possible.  Over time, urban parks have become increasingly popular in the United States, starting with the Boston Commons in 1634, and it is easy to understand why. Parks are known to add economic value, increase health benefits, contribute to a cleaner environment, and promote social well-being.
According to the Center for Sustainable Systems at the University of Michigan, 83% of Americans live in urban areas, causing an ever growing need to develop and maintain these parks. It is fascinating and hopeful to learn the ways that parks are formed in dense cities, including building parks from abandoned transportation routes, industrial ruins, empty shopping centers and parking lots, and in small unused areas of land.
1. Abandoned Transportation Routes
The United States has thousands of miles of abandoned railways. Thanks to the National Trails System Act in 1983, cities and non-profit organizations have been able to transform these railways into parks and trails that benefit their communities. According to Railway Technology, some of the longest trails in the U.S. are over 90% built over former railroad corridors. The non-profit organization, Rails to Trails Conservancy (RTC), consists of over 160,000 supporters who work hard to create a trail network out of abandoned railway. According to RTC's website, they "believe trails have the power to transform communities and create joyful, vibrant public spaces that are equitable and inclusive".
One of the more famous examples of a rail transformation is the New York High Line in New York City. According to the Guardian, the last train ran on the High Line in 1980. The abandonment led to local residents to join together and protest developers so the city could utilize this railway as a public space. Funded in large part by the non-profit, Friends of the High Line, the park opened in 2009. While it costs millions of dollars per year to maintain, according to the Globe and Mail, it has brought in over 2.2 billion dollars in new economic activity.
2. Industrial Ruins:
As industrial factories close, the land they pollute often is left contaminated, creating brownfields, defined by the Environmental Protection Agency as, "real property, the expansion, redevelopment, or reuse of which may be complicated by the presence or potential presence of a hazardous substance, pollutant, or contaminant". Hazardous Waste Experts explain that there are at least 425,000 of these sites in the United States, however, there are likely many more since property owners do not always know their property's true status. To make matters worse, Groundwork USA points out, "Brownfield sites are stark physical evidence of unresolved environmental justice issues facing historically marginalized neighborhoods."
The silver lining to this problem exists in turning some of these hazardous and abandoned sites into land reuse projects, creating parks and safe, public spaces. Many organizations like Groundwork USA, work hard to make this a reality. Groundwork USA states on their website that they, "plan and implement high-impact brownfield transformation and land-reuse projects, in long overlooked neighborhoods, transforming environmental liabilities into community assets".
One example of a park built from an abandoned industrial site is Seattle, Washington's famous, 20-acre, Gas Works Park. Curbed Seattle writes that Gas Works Park was once a major synthetic gas manufacturing plant that was abandoned by 1956. The pollutants from this plant caused devastation to the local community. The soil and water was heavily polluted, the site was an eyesore, and it was dangerous.
A landscape architect, Richard Haag, saw beauty in abandoned industrial sites and lobbied to create a park, which included removing toxins from the soil, while at the same time, keeping the site as a reminder of the city's past. The park has been around for over 50 years and has inspired many others across the United States.
3. Pocket Parks
Pocket parks, which Landscape Architects Network describes as "small oases in urban settings that are usually the size of only one or two lots…usually classified as neighborhood parks", have become more and more popular and for good reason.  The Parks Alliance explains that pocket parks have many benefits, from "reducing crime and improving health to building social capital, enhancing biodiversity, reducing pollution and mitigating climate change."
One award winning pocket park is Franklin Street Park, in Cambridge, Massachusetts. According to the Landscape Architects Network, this park is 4,400 square feet, and one of the smallest in the Boston area, but is one of the most beloved. According to Cambridgema.gov, the benefits of this park, aside from being visually pleasing, includes improving the safety of the community by encouraging positive activities and behavior, increasing biodiversity, and offering a relaxing location to escape for a break.
4. Abandoned Shopping Centers and Parking Lots
As needs change and cities progress, many of us are no stranger to seeing our local malls stand empty or to noticing the vast amounts of unused space from abandoned parking lots and shopping centers. These sites can be daunting and cold, especially for the environmentalists among us. In addition, these sites can breed crime due to low lighting, abandoned buildings, and a lack of passer-byers.
One way cities address these empty spaces, is by turning them into public parks. On January 30 2021, according to Greensourcedfw.org, the city of Dallas officially opened Hillcrest Village Green Park. Hillcrest Village Green Park is a 1.5-acre park that emerged from an abandoned shopping center. Initially, developers had wanted to turn this park into apartments, but former city council member, Sandy Greyson, and others like her, fought for years to have a park instead. Today, the park consists of trees, plants, benches, a playground, an encircled lawn, and plenty of room for outdoor dining.
In Santa Monica, California, a 7.4-acre parking lot was transformed into a green park with meadows and rolling hills. Fast Company explains some of the many benefits of these transformations, "As Climate change makes heat waves more common and average summer temperatures rise, parks can help offset the urban heat island effect that makes neighborhoods around paved surfaces even hotter…As heavy storms also become more common because of climate change, the park can absorb rainwater rather than overload sewers."
To conclude, while there are many abandoned or contaminated sites in the United States, every day, people are working hard to transform these areas into safe, healthy spaces for their communities. As a result of government efforts, concerned citizens, and non profit organizations, progress continues. I hope these examples encourage you to seek out your city's urban parks, learn their history, support those who have made them possible, and get outside to enjoy them!