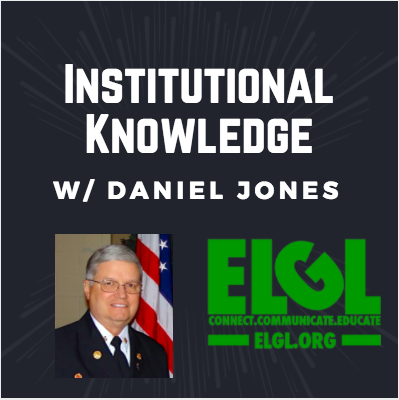 As a part of the Institutional Knowledge project, we are recording the wisdom and experience of retiring and retired leaders in local government. If you know someone who could add something to this project, let me know! You can reach out to me on Twitter/ LinkedIn or send me an email.
Former Fire Chief of Chapel Hill, North Carolina
---
As a part of the Institutional Knowledge project, I have had the wonderful opportunity to meet some incredible government leaders. One of those leaders is Daniel Jones. I had the pleasure of asking him a few questions about his experience as a public servant over the course of several years. Big thanks to Chapel Hill for introducing me!! 
---
How did you decide to enter public service?
During my first year of College at St. Petersburg College, I planned to become an attorney. I didn't have quite the grades to get accepted into Florida State University, but St. Petersburg had a two-year pre-law program. I started down that path, and planned to go Florida State after finishing at St. Petersburg College. During that freshman year of study, in the summer of 1973, I was bored silly. I expected that it would be something more, but it felt like grade thirteen to
me.
One of my good friends, a few years older than me, invited another young man and me to St. Petersburg Fire Station 7 in the fall of 1973. He had been with the fire department a couple of years and invited us to come visit him. One a Monday night, we went down and visited him.
When we got there, all of the firemen were sitting around, watching Monday night football, and eating ice cream. I asked, "They pay you to do this!?"
The firemen responded, "Yeah, but there's more to it than just this."
Listening, to their stories, I got a better understanding of what it's like working at a fire station. The next morning, I applied at the four largest fire departments in the area: St. Petersburg, Pinellas Park, Largo, and Clearwater. The St. Petersburg and Pinellas Park fire departments both put me through their processes, and so I waited to get a call. Pinellas Park called and offered a position first, and I accepted.
During the process, the civil service board interviewed me. At the interview, this great, big guy smoking a cigar—the chairman of the board—asked me, "Well son, why do you want a career in the fire service?"
I responded, "Oh I'm not interested in a career in the fire service. I'm just looking for something fun to do for a few years, and then I'm going back to school to get my law degree."
They all laughed and hired me anyway. Nowadays, if you said something like that in an interview, they'd show you the door.
And so I was hired, went to the fire academy, and got hooked on it. I got hooked on the adrenaline rush, the excitement of not knowing what you'll be doing day-to-day, and the camaraderie. While at the fire academy, I was inspired by some of the instructors and aspired to be like them. That's how it all got started. I never did go back and get my law degree.
You worked for Pinellas Park for 16 years, until 1990. Tell us about your experience with that fire department.
I grew up there. I spent several years as a fire fighter, and then they sent me to paramedic school. I was a paramedic for a few years, and then became a lieutenant. I then served as a district chief, then training chief, and ultimately began working as the deputy chief of operations in about 1986. During this time, the department grew tremendously, and I worked my way up through the ranks. There were a number of us that rode that wave of growth and progress career-wise; I became the deputy chief at a very young age.
By that point, I had become very involved in training. I was an adjunct faculty in the fire academy of St. Petersburg College, working there on my off-duty days. I also continued to work on my degree. I got involved in professional organizations, like the International Society of Fire Service Instructors (ISFSI).
My career really took off. In 1985, I was selected to head up the countywide hazardous materials team in Pinellas County. That team covered all of the jurisdictions in the county expect St. Petersburg. It was a three-department joint effort, between the Pinellas Park, Seminole, and Largo departments. We provided hazmat services for the county.
I began to fulfill board of director roles with ISFSI, and got a tremendous amount of experience in a very short amount of time.
After working in Pinellas Park, you moved up to Chapel Hill, NC in 1990.
That's correct. Cal Horton and I had an agreement that I would stay for at least three years, with a two-year renewal. I

ended up staying there for another 25 years. I fell in love with the community and the opportunities that being near UNC provided.
Actually, I did look to leave in 1995. I began apply for jobs, and was a finalist for several positions. I was offered a job in
High Point, NC, accepted the offer, and resigned from Chapel Hill. Overnight, I had some serious second thoughts about my decision.
A good friend of mine, a police captain at the time, helped me to understand why. My daughter was entering high school, and I had been a workaholic up until this point. My friend helped me understand that if I moved, and took a new position just as my daughter was beginning high school, I would miss a lot of my daughter's final years at home, just as I had missed a lot of her first years.
The next day, I went to Cal and asked if I could withdraw my resignation. He said I could, as long as I tore up my resumes and quit applying for jobs. We agreed on that. I called the city manager at High Point and withdrew my
acceptance. He was very gracious and understanding. I never applied for another job.
Of all of the positions that you have filled, which was your favorite
Probably, being a trainer. I have had many opportunities to be a trainer: teaching at the fire academy in the early part of my career, serving as a training officer, and then teaching at the national level in workshops and deliver conferences addresses in the second half of my career. It's actually what I'm doing now in my retirement. Several of my mentors told me that there was no way I'd just sit on the couch after retirement. I decided that I wanted to go back to teaching. Teaching is what I really love.
---
Have you learned something new as part of your career in local government? Or do you know someone who has had an outstanding career in local government? We want to hear about it! Contact Jacob Johnson to nominate someone for the #InstitutionalKnowledge series: Twitter | LinkedIn | email