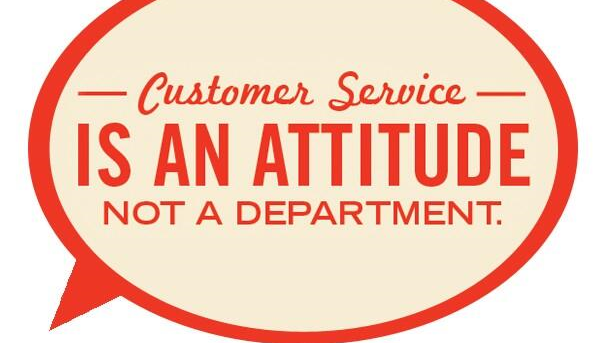 If you asked your employees to rate the service they receive from other divisions and departments, would you get a thumbs up or thumbs down?
During a budget hearing presentation one of my coworkers stated one of her division's biggest challenges is cross-departmental customer service. This statement struck me as something we don't discuss enough.
If asked, most communities identify providing exceptional customer service as a high priority. This discussed from the perspective of a community member– the external customer.  Are local government staff not community members too? In order to serve those customers well, an often overlooked – but critical – ingredient is internal customer service.
"There's a remarkably close and consistent link between how internal customers are treated and how external customers perceive the quality of your organization's services. A commitment to serve internal customers invariably shows itself to external customers. It's almost impossible to provide good external service if your organization is not providing good internal service." – Benjamin Schneider, University of Maryland
What is internal customer service?
Internal customer service is the service we provide fellow employees and other departments within our own organizations. Every division of government interacts with many others. There are entire divisions of government that primarily serve as support for public-facing divisions. There are divisions that have to exchange information to achieve their purposes. Cooperation between each is necessary to enable each to provide quality service to the public that they serve.
The real work of transformational government comes through transforming staff attitudes about internal customer service. Moving away from the standard of doing only the job we have been assigned and instead serve our fellow staff members. Through this attitude shift, we learn and build relationships that ultimately lead to a better functioning government.
Employee growth is a benefit of transforming internal customer service. Seeing each other as team members even if from different divisions allows employees to learn how all the pieces of the puzzle fit together and identify pain points.
What does high-quality internal customer service look like?
Calls and requests get routed to the wrong person and wrong division quite often. It is so easy to blindly transfer a community member on to the next person with no regard to the other division who has to pick it up. When something doesn't quite fit in the box, a better approach would be to make a preemptive call to the person you think would be appropriate to help them and confirm, give a few details, and then make the connection for the customer. This is a tiny example of what a internal customer service driven employee would do.
I recall a very specific incident at my prior city where a community member contacted the police department to request that a dead deer be removed from the main street.  The police department informed her that public works would handle the request and transferred the call. Public works then informed her the police department would handle the request and transferred her back. The police department then transferred the call to Community Development. Community Development simply took the address and assured the caller that they would make sure the information got to the right person. Community Development was not the appropriate reciever, but they realized the customer had already been confused by internal failures. One internal phone call later, the dead deer was now a work order and a crew had been notified to make the pick-up.
This is a simple example, but one that occurs in city halls across the country daily. Other real examples of internal customer service include legal review of agenda items, triage of email outages, purchase orders and check requests, air conditioner maintenance, etc.  A larger scale example could involve public works closing a bridge due to a failed inspection and providing notification to emergency services, school buses, transit authorities, and the communications officer. If internal customer service breaks down, so does the system.
Approaches to improve internal customer service:
Set the expectation – Emphasize the importance of quality internal customer service from the top level of the organization by talking about it.
Empower a problem-solving attitude – Empower staff to take a few extra steps to ensure problems are solved.
Measure the service level – Create feedback mechanisms to identify internal service delivery issues staff may experience. We typically do this with our external facing customer service already.
Celebrate the wins – Give recognition to those providing excellent internal customer service.
Be a good customer – Internal customer service begins with staff who can be good customers. Be on time for meetings, return phone calls and emails, set realistic deadlines, meet deadlines, provide updates, and set up logical processes.
Superior internal customer service is the foundation of doing the external work well. Improved internal customer service translates to better perceived external customer service. Stop and take a few minutes to evaluate the quality of your organization's internal customer service.
---
Morning Buzz by Jordan Rae Hillman
What I'm listening to –  Imagine Dragons Pandora Channel
What I'm watching – Re-watching The Wire
What I'm reading – The New Jim Crow by Michelle Alexander