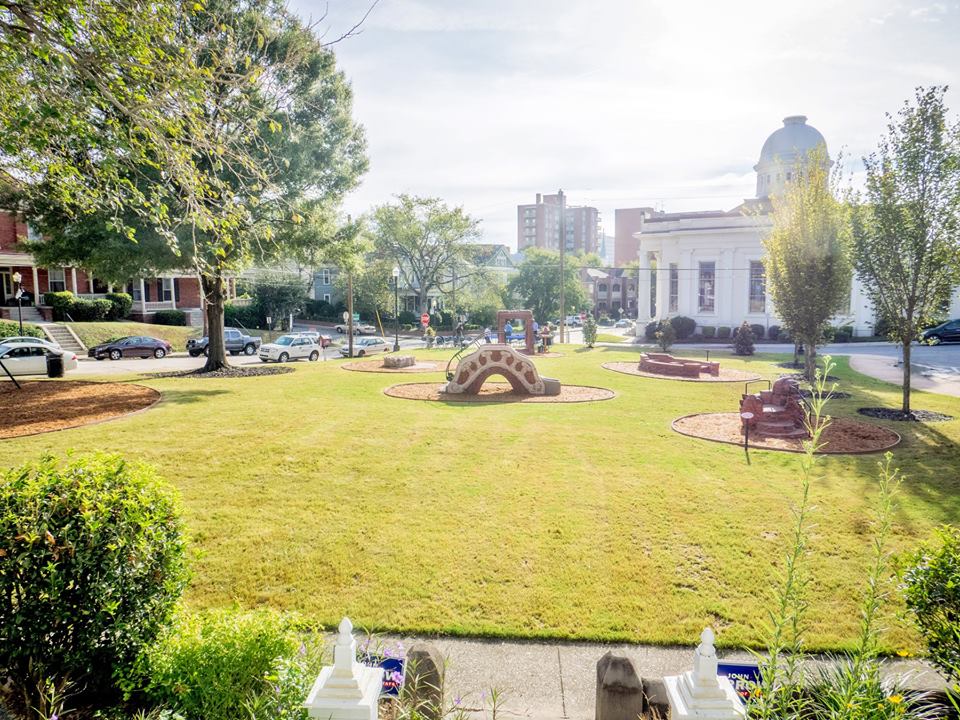 This #ELGLKnope guest blog is by Chris Floore, Public Affairs Director for Macon-Bibb County, GA.
---
When governments talk about or the public hears about infrastructure, I imagine it's referencing mostly roads, bridges, sewers, sidewalks, etc. The one component about improving a county that is typically missing from the infrastructure conversation, I've noticed, is parks and recreation. Just like good roads and bridges, we need an investment in parks and recreation for our quality of life.
In Macon-Bibb County, we are in the midst of a nearly 16-year, $90 million investment in our recreations centers and parks, thanks to a voter-approved Special Purpose Local Option Sales Tax (SPLOST), bonds floated by our Commission to attack neighborhood blight, and federal funds. Because of this investment and by working directly with the people the parks serve, we are changing the look of our community, improving the spaces where people gather to play and socialize, and providing more places for people to lead healthier lifestyles.
Below are just five of the recent or ongoing projects to highlight a small fraction of what is being done. Three of these – Amerson River Park, Filmore Thomas Park, and Central City Park – were all part of the #ELGLKnope Awards. Only Amerson made it past the 64, and it's now in the Final Four against some amazing parks!
Amerson River Park
Using a federal grant, we created a 160+ acre park along the Ocmulgee River that features a boat launch and takeout, playground, more than 4 miles of paved trails (and more planned), multiple pavilions, wide-open lawns, scenic river views, and more. About 450,000 visit the park each year, and it's only been open since May 2015.
We've already begun expanding the trail network to connect to three historic cemeteries that have trails, the Ocmulgee Heritage Trail on the east side of the river, and the Ocmulgee Mounds National Historic Park. When all the connections are made, we'll have between 12 and 15 miles of uninterrupted trails along our river and through some amazing greenspaces and parks. It will also connect our historic neighborhoods these spaces and to our rejuvenated and growing Downtown.
Bernd Park
A small corner park in Downtown sat at the juncture of a very awkward and unsafe intersection, and its size, lack of signage, and lack of features made it appear to be a neighboring house's front yard. The neighbors in the area wanted a larger park and safer area, so they improved the park itself using grants and private donations to improve the park. Macon-Bibb used SPLOST funds to realign the intersection (making it safer) and enlarge the park.
Central City Park
Once the crown jewel of Macon-Bibb's park system, Central City Park had fallen into disrepair from overuse, lack of investment, and deferred maintenance. It is in the middle of a more than $15 million investment of SPLOST funds, which included a new Elaine H. Lucas Senior Center, skate park, sidewalks, playground, and fields, and a major overhaul of Historic Luther Williams Field to welcome the opening season of the Macon Bacon.
Filmore Thomas Park
A neighborhood was promised for nearly 30 years a vacant lot would become a park, but it never happened. By combining $1.7 million in SPLOST funds and $376,000 from the Blight Remediation Program, and then pairing that with $1.8 million in SPLOST funds to improve the roads and add sidewalks leading to the Park, we fulfilled a long-overdue promise, built a park named for one of the neighborhood's leaders, and made the area safer for residents and visitors. The second phase of this park is already underway and is greatly anticipated by the hundreds of people using it every weekend.
South Bibb Recreation Center
The second phase of our brand-new South Bibb Recreation Center is already underway thanks to the SPLOST, which will bring 24 new tennis courts, new fields, trails, playground, splashpad, and more. The first phase has only been open a year and a half, but it and its pool have already proven to be very popular. Prior to construction, there was not a recreation center in this area of the county, and it has been very well received.