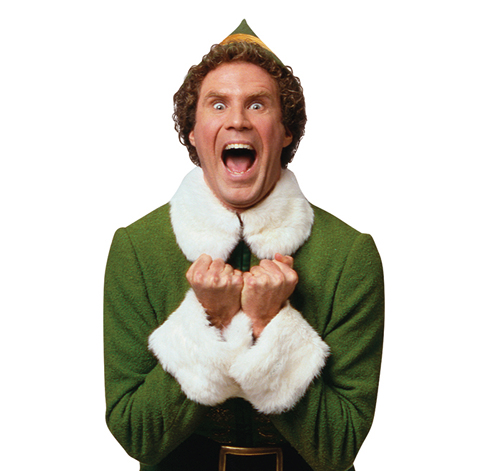 Today's Buzz is by Meredith Reynolds, Park Planning & Partnerships Manager for the @LongBeachCity. Follow Meredith on

Twitter,

LinkedIn
, and
Instagram
.
What I'm Watching:
The Bing Crosby classic,
White Christmas
What I'm Planning: What I will be doing on my January birthday off from work (more on that below)
---
December… the last month of the calendar year. It's the month when pumpkin spice lattes retreat to make way for peppermint mochas; when there is an overabundance of seasonal treats in the breakroom; when white elephant gift exchanges allow you to re-gift that awful chia pet you got last year; and when your colleague asks for that one final assignment right before you leave on vacation. It's the most wonderful time of the year!!!
Who doesn't love cramming what feels like an entire year of planning into a single month? I mean, from planning holiday parties, scanning Pinterest for the next Elf on the Shelf idea, making your list and checking it twice for those last-minute holiday gifts, and trying to figure out what your child will be doing over winter break, it feels like there is not much time left for anything else. 
Amidst the stress of the holiday season, I offer a gift… the gift of planning. Taking time to plan ahead for the upcoming year is just the thing you need to set yourself up for success in the coming year.
Having heart palpitations yet? Take a deep breath…Here are some planning tips that I recommend for starting your new year off on the right foot:
Get A Jump On Your Time Off: Paid time off is a fundamental benefit of working in local government. And despite the culture of today's fast-paced world, and possibly your organizational culture, time off is meant to be taken. Would it surprise you to know that more than half of Americans left vacation time on the table last year, totaling 768 million unused vacation days? That equates to $65.5 billion in lost benefits. January 28, 2020 is even National #PlanForVacation day.
Time off is good for your mental and physical health, and you can come back more productive and effective. It can reduce stress, prevent illness and heart disease, improve productivity, and cause better sleep. And if you don't set boundaries by allowing yourself to take your time off benefits, you become part of the organizational culture that perpetuates the sentiment that it's ok to work without a break. This could send the message that you do not trust your employees or colleagues to handle issues while you're away, or are the person that doesn't say no, both of which can be detrimental to what you represent as an employee. Take it from ELGL'er Danielle Rogers, who used her time to unplug after feeling overwhelmed and overloaded, time off could be that jump-start you need to return refreshed and focused.
Identify the amount of vacation and other time off you have or will earn in the upcoming year and talk with your family about how you plan to spend that time off. Maybe you look at next year's calendar to determine what holidays you already have off and bundle existing holidays with your time off. Maybe you take time off when your kids are out of school. Maybe you allow your staff to take popular time off around holidays and you opt for an alternative time. Or maybe you're like me, who takes my birthday off…because let's face it: I've found nothing good ever happens when you work on your birthday. Even if you don't ultimately stick to the exact days you planned to take time off, taking the time is part of your mindset and if you are purposeful in your planning, you are more likely to take the time. Plus, it's fun to have something to think about and look forward to in the upcoming year!
Find Room for Professional Development: Modeling a culture that encourages seeking out training for professional growth can result in employees with upgraded skills, working to their full potential and equipped to deal with the shifting dynamics of the work environment; employees with higher morale, career satisfaction, and motivation; and can increase productivity and responsiveness when meeting agency objectives. And for those who receive a professional development stipend each year, not prioritizing training means you leave money on the table and don't fully use this benefit.
Ask yourself, what are the conferences, training or other professional development opportunities you simply must attend next year. Do you have any Continuing Education Units that you need to complete to continue your certifications? Prioritize these and look up the event dates. (The ELGL Annual Conference is May 13-15 in Portland… just saying.) Determine if these events conflict or can be bundled with your planned time off.
Save Time to Celebrate: Celebrating can be rewarding and fun but is an important part of organizational culture and work norms. We have been conditioned to immediately move onto the next objective rather than celebrating our successes, which can result in a high probability of burning out. When you accomplish something and don't take the time to celebrate, you are robbing yourself of an important feeling that reinforces your success.  And there are added benefits to strengthen your relationships when you expand your circle to include your colleagues to share in your success.
Do you want to be a speaker at a conference to share how awesome your organization is? Do you want to apply for a special award to highlight your organization's achievements? Most industry groups that acknowledge the good work local government does have similar schedules from year to year. Determine what conferences your speaker talents would fit with best and strategize what awesome projects your organization has to highlight and look up these 'call for speaker' and 'call for award submission' schedules.
Make Routine Assignments Routine: We all have routine assignments that fall within the same deadlines each year. Review last year's calendar to determine when these assignments were generally due, and estimate how much time they took you and other contributors to complete. For example, each year my City's budget process begins in January with budget kick-off assignments, and each November we prepare information that is submitted to the Trust for Public Land ParksScore that evaluates parks in the 100 largest U.S. cities. Remember to include the fun stuff, like colleague birthdays, and local events. For example, each year, I include the Long Beach Grand Prix View where our community can walk, bike or skate the Grand Prix Indycar race route. I encourage my team members to attend during the workday to get out of the office and experience our City!
Curate Your Calendar: So much of our work time each year is spent in other people's meetings. So start the year off right by prioritizing what's important. Start with a blank calendar with your organization's holidays. Then lay out all of your important items on the calendar first. Add your anticipated time off, conferences, training, deadlines for speaker proposals and award applications.  Include the timelines for your routine assignments, staff meetings, local events and staff birthdays. You may even revisit last year's new year's resolutions for exercising before or after work or during your lunch break. Add each of these items to next year's calendar. This will dictate your priorities, reserving time to build new habits and purposefully making time for these activities. It also means you start the new year off having set aside time, leaving time for other assignments and priorities as they come.
These are tips that may help you as they help me. I do this planning every year in December because, despite the silliness of the season, this activity helps refocus on what will be important in the upcoming year and makes me feel like I am organized and have a handle on what's to come. I am now onto a more advanced level of planning where I lesson-plan my monthly staff agendas, creating the agendas based on the routine items we encounter each month and include training topics and articles (like the ELGL Morning Buzz!). Even if you only attempt one of these, the important thing is to try. Don't be afraid to get on the escalator. Happy holidays!